If you have decided to move to Chrome as your default browser on Windows 11/10, then you might want to move all your settings and data from your existing browser to Chrome. You can easily transfer or import Bookmarks, Favorites, Passwords, Autofill data, Search engines, and Browsing History from Edge, and Firefox into Google Chrome browser, on Windows 11/10, by following this procedure.
Import Bookmarks, Passwords into Chrome from another browser
Fire up you Chrome browser and click on the hamburger-shaped Customize your Google Chrome button on the extreme top right side. You will see the following menu appear after you hover your mouse pointer over the Bookmarks link.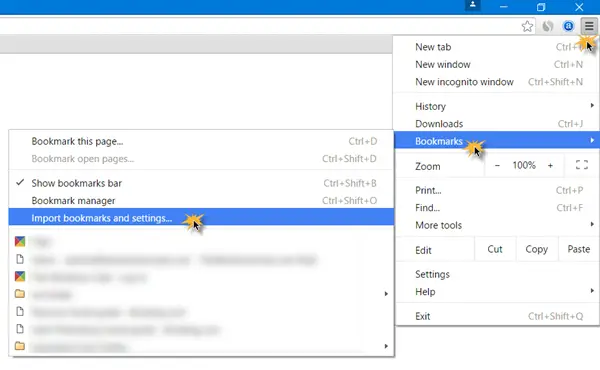 Now click on the Import bookmarks and settings link to bring up the following interface. Here you can select the browser from where you want to import the settings into Chrome. You can transfer settings from Microsoft Edge, Mozilla Firefox browsers or directly from a Bookmarks HTML  file.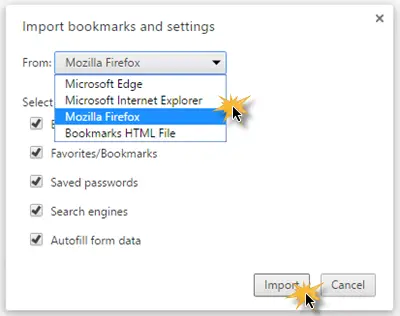 You can also select the settings you want to import. The options available are – Browsing history, Bookmarks, Saved passwords, Search engines and Autofill form data.
Once you have selected your preferences, close the other browsers and click on Continue.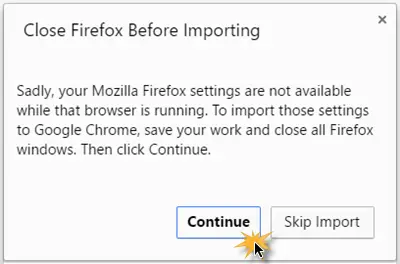 Within a few seconds, the transfer process will be completed and you will see the following message.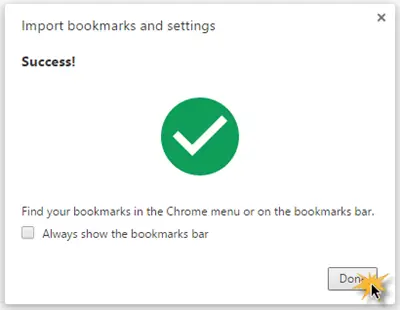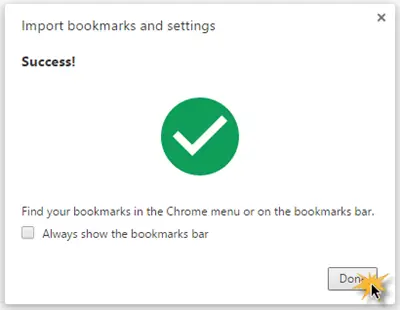 If you wish, you may check the checkbox against Always show the bookmarks bar, if you want this done.
After that, click on the Done button to complete the process.
In this way, you can transfer or import all your settings from another browser to Chrome browser.
Related posts that may interest you: