Windows 11 will now allow you to display Windows Spotlight backgrounds on the Desktop and change the wallpaper every day automatically. Microsoft has recently introduced this feature. Most of us are aware of the Windows Spotlight feature that allows you to set the Bing image of the day as your lockscreen automatically. Now, Microsoft has introduced this feature for the desktop background, too.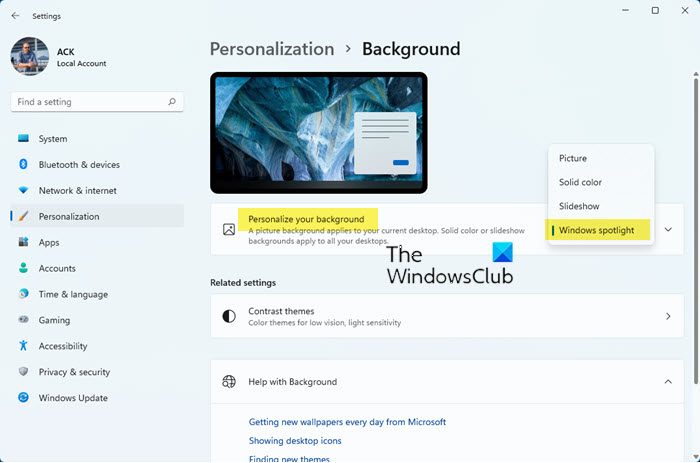 Display Windows Spotlight backgrounds on Desktop
To use the Windows Spotlight feature to display new wallpapers automatically on your Windows 11 desktop, follow these steps:
Press Win+I to open Settings
Open Personalization settings
Click on Background on the right side
Against the Personalize your background setting, click on the arrow to open a flyout
Here, select Windows Spotlight.
The feature will be activated immediately.
You will now see the Spotlight images displayed on your desktop and changed every day.
If you do not see this feature, make sure that you have installed the KB5014697 update.
Where are Windows Spotlight wallpapers stored?
Open File Explorer, switch to the 'View' tab, and check the box adjacent to the title 'Hidden Items' to force your Windows OS to display all hidden files and folders. The background images are stored in the same location where Spotlight Lock Screen images are saved.
Next, open up the 'C' drive (the location where usually your OS is installed) and navigate to the following location:
C:\Users\<username>\AppData\Local\Packages\ Microsoft.Windows.ContentDeliveryManager_cw5n1h2txyewy\LocalState\Asset
Kindly note that in the above path, in place of <username> type your own PC user name.
In the Assets folder, you will find a list of files.
Sort them by size as we will be needing the large files only. These files represent Windows Spotlight images downloaded from Bing.com.
For viewing them, rename each file and use image formats such as .PNG or .JPG as an extension. To do this, simply right-click on a file and select the Rename option and save them in JPG format. Proceeding in the same manner, you can rename all the files and when done, open them in the default Photos app.
Can you have Windows Spotlight as desktop background?
Yes, you can now have Windows Spotlight as a desktop background. As explained in detail in this post, simply open Personalization settings > Personalize your background setting and select Windows spotlight.
Related tips:
You can use the Dynamic Theme app to set Bing and Spotlight images as background or lock screen in Windows 11/10, automatically.
Windows Spotlight Tool can help you save Spotlight Lock Screen images & use them as Wallpapers.
How can I change the desktop wallpaper automatically every day?
You can download and use the Bing Wallpaper app will set the daily Bing image on your Windows desktop automatically. You can also use one of these free Automatic Wallpaper Changer apps to Auto change Wallpapers on Windows 11/10 desktop.
Read: How to reset Windows Spotlight feature?