Windows 10 and Windows 11 includes a feature that helps a user to stay connected to their task across their devices. This feature was earlier marketed as Windows Timeline. With this, the user could continue their task across Windows computers as well as on devices running iOS and Android as well. This feature was shipped in Microsoft Launcher and Microsoft Edge on Android devices, and to Microsoft Edge only on iOS devices. To make this feature work, the user had to send either Basic or Full data and diagnostics of their machine to Microsoft which would sync it across devices with the help of the cloud. All the data is stored on your Windows PC, and with Microsoft under your account. This makes it easy to access them back, and start working from your left. This is known as Activity History.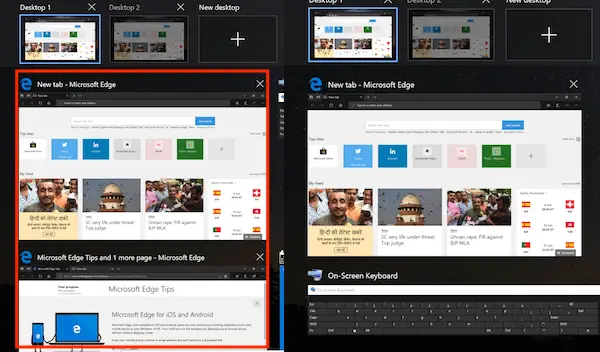 We have already seen how to View and Clear the Activity History data. Today, we will be checking out how to disable Windows Activity History permanently using Group Policy and Windows Registry.
Disable Activity History permanently in Windows 11/10
I would recommend that you create a System Restore Point right now before proceeding with the changes. This would be a precaution in case something goes wrong after you make the changes. We will be looking at two methods to achieve the same goal. They are-
Windows Settings
Using the Registry Editor.
Using the Group Policy Editor.
1] Windows Settings
Windows 10
Windows 10 allows you to configure two things—storing of activity history on this device (publish activities to timeline) and sending activity to history to Microsoft (activity are not allowed to be uploaded and across devices). Turning off Activity History or TimeLine is a two-step method. First, you need to check off from the setting, and then you need to clear it.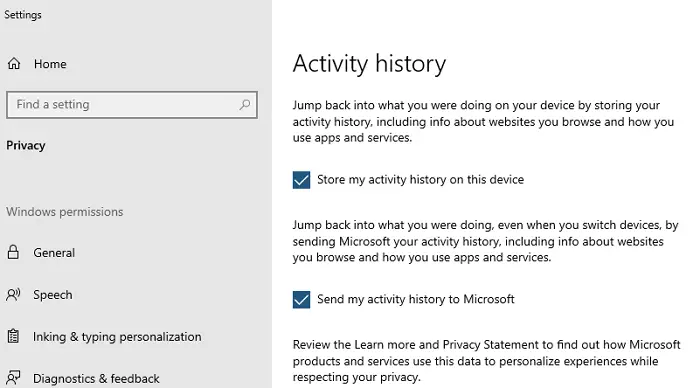 Open Windows 10 Settings > Privacy > Activity History
Check off "Store my activity history on this device."
Clear TimeLine or Activity History
Your activities will not be recorded anymore on this device. There is another option. Send my activity history to Microsoft. If you disable this, nothing will be uploaded to the servers. However, if you keep the timeline on and uncheck this option, it will not sync Activity History across Windows 10 devices.
Windows 11
Click on the Start button and select Settings. Alternatively, press Win+I in combination to open Windows Settings. From the side panel on the left, select Privacy & security heading.
Move to the right side and locate the Activity History tile. When found, click it to expand its menu of options.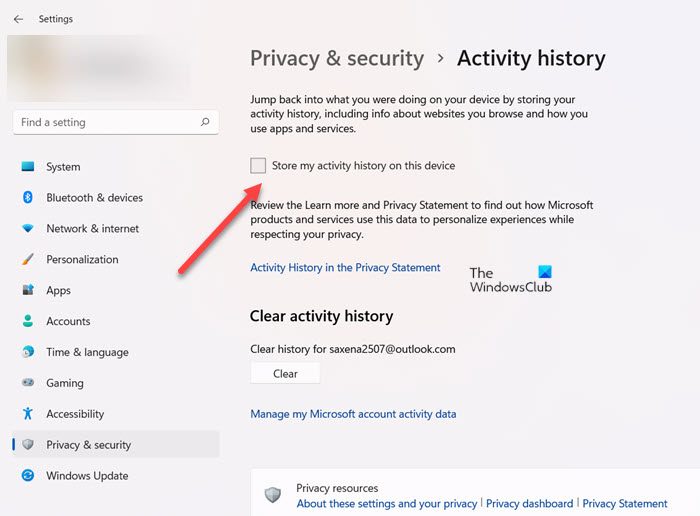 On the new page that opens, scroll down to uncheck the Store my activity history on this devices box under the Activity History privacy page.
2] Using the Registry Editor
Hit the WINKEY + R button combination to launch the Run utility, type in regedit and hit Enter. Once Registry Editor opens, navigate to the following key-
Computer\HKEY_LOCAL_MACHINE\SOFTWARE\Policies\Microsoft\Windows\System
Now, check if you find a DWORD named as PublishUserActivities. If you don't, just create one with the same name. Make sure that the base is selected to Hexadecimal.
Double-click on it and change its Value to 0 to disable it and, to 1 to enable it.
Reboot your computer for the changes to take effect.
3] Using the Group Policy Editor
This method will not work at all if you are using Windows 10 Home Edition. This is so because the Group Policy Editor does not come with Windows 10 Home.
Start by hitting the WINKEY + R button combination to start the Run box and type in gpedit.msc and then finally hit Enter.
Now, navigate to the following path inside the Group Policy Editor-
Computer Configuration\Administrative Templates\System\OS Policies
Double-click on the configuration listing named as Allow publishing of User Activities to open the configuration page.
 This policy setting determines whether User Activities can be published. If you enable this policy setting, activities of type User Activity are allowed to be published. If you disable this policy setting, activities of type User Activity are not allowed to be published. Policy change takes effect immediately.
You can select Enabled to Enable Publishing of User Activities or Disabled or Not Configured to Disable Publishing of User Activities depending on your preferences.
Click on OK and exit the Group Policy Editor.
Reboot your computer for the changes to take effect.
What this will do is disable the syncing between your devices and will shut down the Timeline feature on the particular computer at once.
IMPORTANT NOTE:
We have just talked about disabling or enabling the timeline using Registry or Group Policy. You should know that they are all the same. Here is the mapping of Windows 10 Settings, Registry, and Group Policy for Windows 10 Activity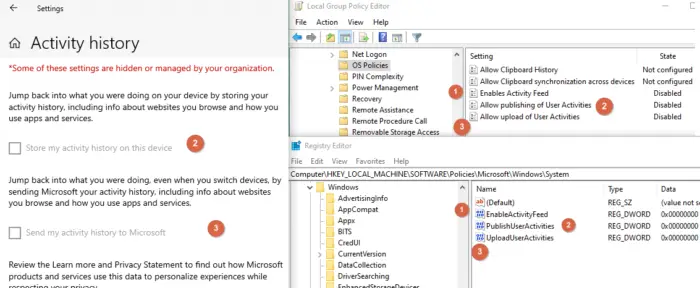 One of the policies—Enable Activity Feed is to Allow or Disable Windows Publish timeline activities and roam across devices. However, disabling the policy doesn't do anything. While changing the other two, Allow Publishing of User Activities and Allow Upload of User Activities are able to enable or disable the timeline. The later two policies and registry entries are also mapped to the Privacy settings of Activity history.
When using Registry, you can configure or create DWORD with the name "PublishUserActivities" and "UploadUserActivities" to enable or disable. It is handy for home users who do not have access to Group Policy by default.
Does Microsoft have a good privacy policy?
Companies like Google, Microsoft, and others do value privacy and offer tools to protect and defend it. Whatever data they gather is used in designing meaningful products and creating policies that empower users and help in improving productivity.
Does deleting Microsoft account delete data?
Closing a Microsoft account means you won't be able to use it to sign in to the Microsoft products and services you've been using. It also removes all the services associated with it, including your: Outlook.com email accounts and OneDrive service access.
Hope this helps!