The Windows 10 Timeline feature tracks everything you do on your PC i.e. apps you open, files you had accessed etc.  All the data is stored on your Windows 10 PC, and with Microsoft under your account. This makes it easy to access them back, and start working from your left. This is known as Activity History.
Activity History in Windows 10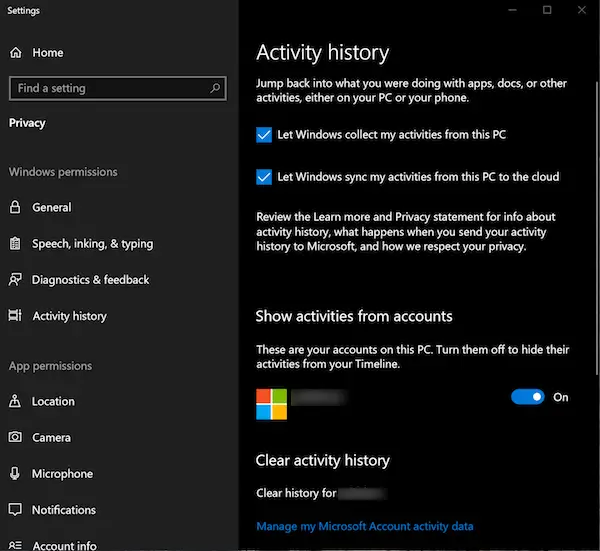 Keeping Windows 10 Privacy in mind, Microsoft offers you to manage your activity history, and restrict the Windows 10 PC to keep the track. Just before we start, there are few things you should know about Timeline and Activity History:
It collects activities from the PC you are using.
It can sync your activities from this PC to cloud.
You can access this history when you switch PC
All these are linked with the Microsoft Account you sign in to the PCs.
To manage everything, go to Settings > Privacy > Activity History.
How to remove your account from Activity History
Under Activity History, look for the section which lists all the accounts available on that PC. There is a toggle button, choose to turn it off. Windows 10 will not track any activity and create a timeline for that account.
Prevent Windows 10 from sharing Activity History data
To prevent Windows 10 v1809 from sharing Activity History data, you need to do the following:
Open Settings > Privacy > Activity history > Uncheck 'Send my activity history'.
Open Settings > Privacy > Diagnostics & feedback > Set 'Diagnostic data' to Basic.
Read: How to disable Windows 10 Active History permanently using REGEDIT or GPEDIT.
How to clear Activity History from Windows 10 PC
Under section Clear Activity History, you can choose to clear history for your account. To manage & clear all your history, click on the link which says "Manage my Microsoft Account activity data". This will take you to the Microsoft Privacy website which may ask you to sign-in. Once you are into your account, switch to activity history page.
Here you can see the collected data based on Apps, and Services, Voice, Search, Browse, Media, and locations. That said, you can always go to Microsoft's Privacy Settings for your account, and directly do it from there even when you are not on your PC. The Privacy Section of your Microsoft Account can be accessed by following this link.
Microsoft has clearly said here that the info that appears on that page represents the most relevant personal data that they save with your MS account to help make your experience with products, and services better. So if you use Timeline, and have multiple PCs it actually delivers a great experience.
Since this page is related to you, the data is visible only to you, and you can clear it anytime you want by selecting a data type from the filters available on the page. The Privacy Dashboard also offers you to download your data, access Cortana's notebook, change ad settings, and so on.