Microsoft Outlook is the most popular email client used on the Windows operating system. Millions of users love this program for good reasons, but you may prefer another email client for your computer.
The problem here is that although you configure your preferred email client, Windows continues to suggest that you create a profile on Outlook. When you want to send emails, your computer automatically prompts you to do it with Outlook.
Keep in mind that disabling the program won't delete any of your data. It only hides it from view so it doesn't clutter up your computer screen. In this blog post, you will see how to disable or delete Outlook in Windows 11.
Why do some people disable Outlook?
There are a number of reasons why someone might want to disable or delete their Outlook account. The following are the key points:
Vacation is right around the corner, and you want to take a break from work emails.
You don't want your spouse reading your emails.
The email account you use for work is your personal one, and you don't want anyone to use it.
You have been hacked and now don't feel safe using Outlook.
Whatever the reason for disabling or deleting your account, follow the below suggestions to complete the process.
How to disable or delete the Outlook client
To get rid of Outlook, you have the following options:
Disable Outlook from Startup List
Change your default email client.
Disable Microsoft Outlook.
Uninstall Microsoft Office.
The first two solutions keep Microsoft Outlook on your computer system but get the program out of your way. But the third method will completely uninstall Outlook together with every other Microsoft Office application.
Read the sections that follow to learn how to perform these operations.
1] Disable Outlook from Startup List
Open %AppData%\Microsoft\Windows\Start Menu\Programs\Startup location in Explorer. If you see the Outlook shortcut there, delete it
Open Task Manager > Startup tab. If you see Outlook there, disable it
2] Change your default email client
Windows 11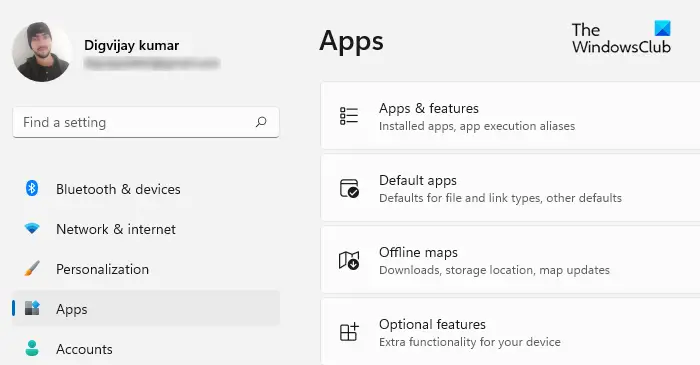 Aside from being an email client, Outlook also functions as a personal organizer. If you would prefer not to be suggested by Microsoft Outlook all the time, you can switch to another email program in its place. Follow these steps to do it.
To access the Windows Settings, press Windows + I on your keyboard.
Select the Apps menu item in the left pane.
Now select the Default apps option in the right pane.
Scroll down and click on Mail.
You will see that Outlook is set as the default email client.
Click Outlook and choose another program to handle your emails.
After you perform the above steps, Outlook will no longer be your default email client.
Windows 10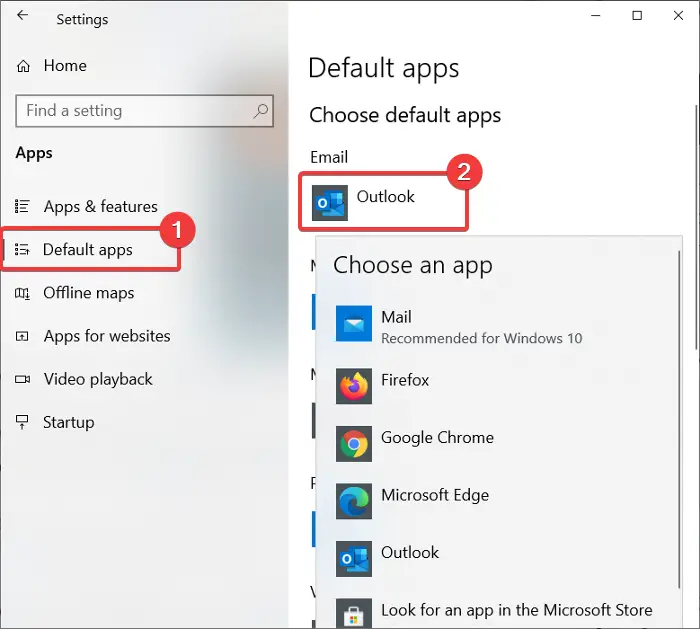 Outlook doubles as an email client and personal organizer. If your reason for wanting to disable Microsoft Outlook is that you don't want Windows to keep suggesting it, then you can set a different program to handle your emails instead.
Press the Windows key + I combination to open Settings. Here, click on Apps.
Select the Default apps option from the left-hand pane.
Under Email, you should see Outlook set as the default app for handling emails.
Click on the Outlook icon and change it to your preferred program from the dropdown.
While this method doesn't uninstall Microsoft Outlook, the program will no longer be your default email client.
3] Disable Microsoft Outlook (for Office 365)
This method is tailored for users of Outlook for Office 365. Microsoft has three versions of Outlook:
The Outlook mail client is a part of the Microsoft Office suite.
The free, web-based Outlook.com, which was previously called Hotmail.
Outlook Web App (OWA), also known as Outlook for Office 365.
Outlook for Office 365 is the direct alternative to the traditional Outlook application and maybe what you have installed on your computer. If you use Outlook for Office 365 and want to get rid of it, follow the guide below:
Press the Windows key and I together to open Settings.
Click on Apps and select Apps & features from the left-hand pane.
Locate Microsoft Office Desktop Apps from the list and click on it. Go to the Advanced options link that is revealed.
Find Outlook from the next screen and click on it the reveal the Uninstall button.
Click on the Uninstall button finally.
4] Uninstall Microsoft Office
We've explored methods of disabling Microsoft Outlook without removing other applications in the Microsoft Office suite. If you don't care about MS Word, Excel, and other Office apps, you can thoroughly uninstall Microsoft Office to get rid of Outlook.
The steps for uninstalling Microsoft Office depend on how you installed it in the first place. You might've installed Office either using the MSI (Microsoft Windows Installer), the Click-to-Run installation, or from the Microsoft Store.
After a successful uninstall of Microsoft Office, your computer will no longer have Outlook and all other Office applications.
Will I lose all my emails if I Uninstall Outlook?
Microsoft Outlook has the option of storing emails on a hard drive. Therefore, even if you uninstall Outlook without exporting your emails, you can still retrieve them. In this way, Outlook will not let you lose your emails even if you uninstall Outlook.
Which is safer Gmail or Outlook?
Both Google and Outlook offer two-factor authentication and password protection. As of right now, Gmail's spam filter is more robust. However, Outlook offers more encryption options for sensitive data.
TIP: You may want to check out our list of the best free email clients for Windows 11/10.