Like Google Chrome, Microsoft Edge, and other modern browsers, there is a built-in feature to create and manage multiple profiles in Firefox. Each profile contains a separate set of user information. You can access Firefox Profile Manager (about:profiles) page and then create a new profile, rename a profile, set a profile to default, launch a profile in a new window, and more. If you don't want anyone to open that page, then you can simply prevent or disable access to the Profile Manager page of Firefox on Windows 11/10 computer. This post will help you with that.
Once you have blocked access to that page and when you will type about:profiles in the address bar of Firefox and press Enter, you will receive the following message:
Blocked Page

Your organization has blocked access to this page or website.
Disable access to Profiles in Firefox in Windows 11/10
To prevent access to Profile Manager of Firefox, there are two native features in Windows 11/10 OS. These are:
Using Group Policy Editor
Using Registry Editor.
Before you start using any of these features for this task, we recommend you create a system restore point, just in case. After that, you can try any of these features.
1] Using Group Policy Editor
To use this option, you must integrate Firefox with Group Policy by downloading its templates and putting the necessary files in the required places. Then only you can access settings related to Firefox in Group Policy Editor. So, once you have done that, follow these steps:
Open Group Policy Editor
Access Firefox folder
Open Block about:profiles setting
Click on the Enabled option
Press OK button
Relaunch Firefox browser.
Open Group Policy Editor window using Windows 11 Search box, Run command box, or another way you want.
In that window, access the Firefox folder. To access that folder, use the following path:
Computer Configuration > Administrative Templates > Mozilla > Firefox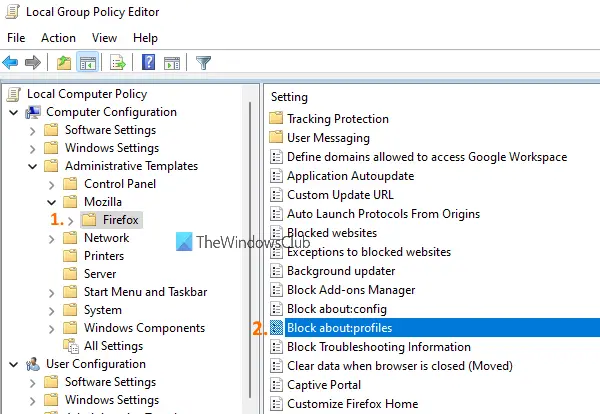 On the right-hand section of that folder, scroll down and you will see a Block about:profiles setting. Open that setting by double-clicking on it.
This opens a separate window. There, click on the Enabled option, and then use the OK button.
Now relaunch the Firefox browser (if opened) to apply the new setting/change.
To re-enable the Profile Manager page of Firefox, you need to follow the steps mentioned above and open Block about:profiles setting. After that, select the Not Configured option, and press the OK button.
2] Using Registry Editor
The steps are as follows:
Open Registry Editor
Access the Policies key
Create a Mozilla Registry key
Create a Firefox Registry key
Create BlockAboutProfiles DWORD value
Set its Value data to 1
Press OK
Close Registry Editor.
In the very first step, you need to open Registry Editor window.
Once it is done, access the Policies key by following this path:
HKEY_LOCAL_MACHINE\SOFTWARE\Policies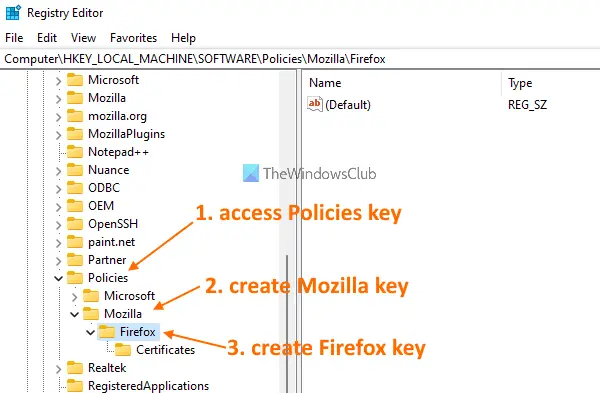 Now, you need to create a Registry key under the following keys:
A Mozilla name Registry key under Policies key
A Firefox name Registry key under Mozilla key.
After that, create a BlockAboutProfiles value under the Firefox key. To create it, right-click on the right-hand section, access the New menu, and click on the DWORD (32-bit) Value option. When this new value is created, simply rename it to BlockAboutProfiles.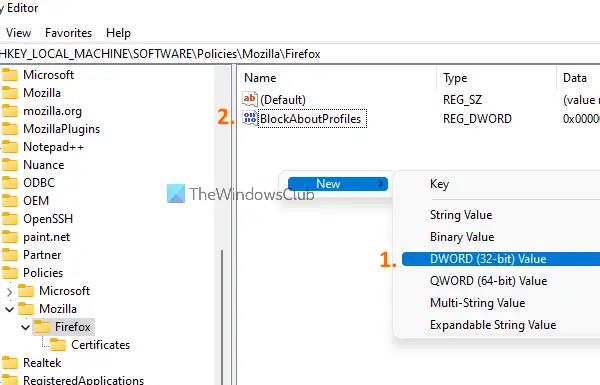 Proceed further and double-click on BlockAboutProfiles value. This will pop up a small box. There, put 1 in the Value data field. Finally, press the OK button, and close the Registry Editor window.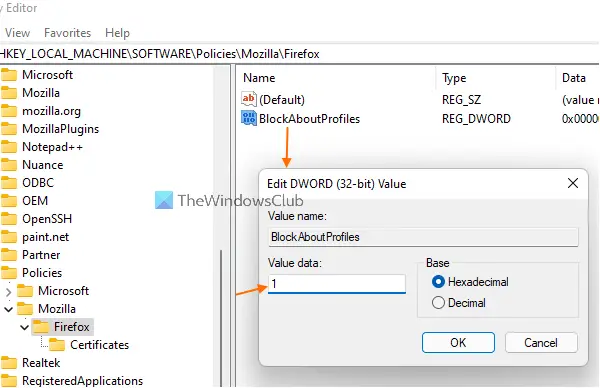 Close and re-open Firefox browser and profiles page will be blocked.
To re-gain access to the Profiles page, use the steps mentioned above, and delete the Mozilla Registry key.
What are Firefox profiles?
A Firefox profile is like a separate user account where you can have separate add-ons, cookies, browsing history, bookmarks, etc. If you have something related to your work, then you can create a work profile. In a similar way, you can create a personal profile where it will save data related to your personal work.
How do I use multiple profiles in Firefox?
As mentioned at the starting of this post, you can access the built-in Profile Manager page of Firefox and then you can create and use different profiles, rename them, delete them, etc. Just type about:profiles in the address bar of Firefox to access the Profile Manager page. After that, you can create separate user-profiles and use the same page to manage them.
Read next: Enable or disable Profile Manager in Chrome.