Creating separate profiles in a web browser can serve different purposes. For instance, one profile can be used for work and another for play. This helps you in splitting up your tasks at your convenience. Browsers like Google Chrome are capable of allowing users to create and manage separate profiles. The plus point of this feature, you can have access to multiple profiles while being logged into different accounts. Google Chrome now has The Profile Manager feature enabled by default. Let us see how you can disable it if you feel you have no need for it.
Disable Profile Manager in Chrome
This feature in the Chrome browser is a handy way to juggle multiple Google accounts on a single machine. It adds a new menu near title bar buttons that allows you to manage all users present in Google Chrome. If you chose to browse the Internet as a guest, the mode will not store visited websites in browser history and it'll not store any personal information, cookies on the computer.
When enabled you'll see a new avatar menu is visible, as part of the primary Chrome window title bar. If you click the menu option, you'll see a list of Google user accounts that have logged into the Chrome profile manager.
Open Google Chrome and type chrome://flags/ in the address bar and press Enter.
This will open the advanced configuration page.
Now, press "Ctrl+F" keys in combination to launch the Find box and enter the following in the Find box:
enable new profile management
You will be navigated to the option – Enable new profile management system.
This setting enables or disables the new profile management system, including profile sign-out and the new avatar menu UI.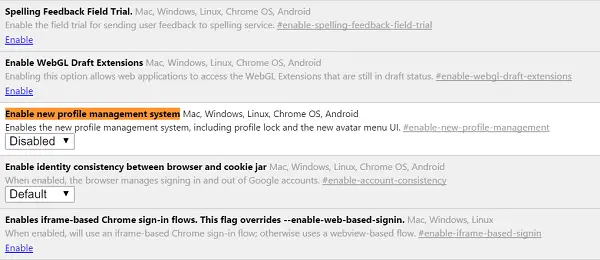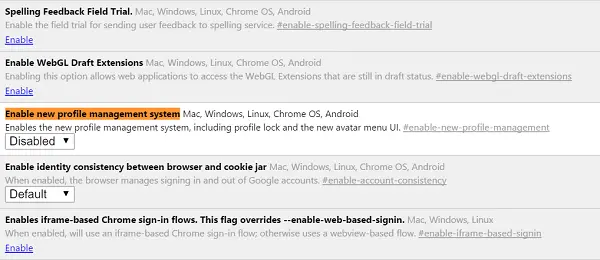 From the drop-down menu, select "Disabled" to disable it. It is Enabled by default in Chrome, since recent versions.
You will be asked to re-launch Chrome. Hit the "Relaunch Now" button.
Alternatively, you can create profile-specific shortcuts to have them loaded straight away. The command -no-remote -P "profile name" loads the Chrome profile "profile name" in a new instance making the Chrome window that opens independent from other open instances of the browser.
For this, right-click on the Chrome browser shortcut on the desktop screen, and from the list of options displayed select Properties.
Next, look for the target field under the shortcut and add the line to the very end. Remember to give space-character between the end of the path and the command.
For instance, "C:\Program Files Google\Chrome\applications\chrome.exe" -P "testprofile -no-remote".
The action when confirmed will load the Chrome profile testprofile in a new instance.
The feature is very much similar in function as Private/Incognito Browsing in web browsers, except that you also have an option to quickly switch between Google user accounts through the window menu.