Firefox in its current form supports the creation of multiple profiles, but it is not as straightforward when compared to Microsoft Edge or Google Chrome, and that's disappointing. The feature is quite useful, and since Google is now making a big deal about it, we can only hope Mozilla sees the light before long.
Why you may need multiple Firefox Profiles
Some users may want to have multiple profiles for different reasons. For example, having a single profile for work, and another for personal reasons all on a single computer makes a lot of sense. This is important since not all companies can afford to give employees a work computer, which means, they are forced to use their own.
For those who do web development work, having different profiles is beneficial. With this, there is no need to test websites and apps on a single profile, just run it all in a newly created profile and that's it. The only downside is how we go about activating this feature.
How to create Firefox Profiles
Using the Firefox User Profile Manager you can create one or more Firefox Profiles on your Windows 10 PC, in a few easy steps.
Launch Firefox browser
Type about:profiles in the address bar and hit Enter
The About Profiles page will open
Press Create New Profile to launch the wizard
Enter the required details
Click Finish and restart the browser.
The first thing you will need to do is type about:profiles in the URL bar and hit the Enter key on the keyboard.
You should now see the About Profiles page with a short description at the top.
Now, in order to create a new profile, please click on the button that says Create New Profile.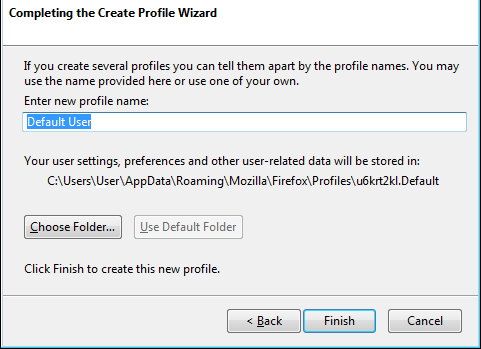 Follow the instructions and be sure to give it a name in order to better separate it from the others on the list. Once you're done, click Finish.
From the same About Profiles page, look for the one you've just created, and click on Launch profile in new browser.
After doing this, a new Firefox browser window should appear that is separate from the current one.
OK, so using about:profiles is the easy way, but there are other ways you might want to consider.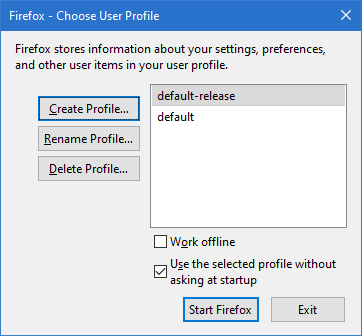 Press "Wind+R" on your keyboard.
Type firefox –new-instance –ProfileManager and hit Enter.
Alternatively, you could type firefox.exe -p and hit Enter.
Rename and Delete Firefox Profile
When it comes down to renaming a profile and deleting, the task is simple. Just return to the Profile Manager section, then from the profile, you want to rename, simply click on the Rename button. In terms of deleting the profile, hit Remove and that's it.
Set default Firefox profile
After creating a profile, it becomes the default automatically after you've opened it. However, if you have multiple and want to manually make one of them the default choice, then click on the button that says Set as the default profile.
Hope this helps!