If you have some animated PNG (*.png or *.apng) files that you want to convert into animated GIF images on your Windows 11/10 computer, then this post will be helpful. An animated PNG (APNG) image looks similar to a GIF image. Though animated PNGs have some better features like less file size, 8-bit transparency support, etc., animated GIFs are way popular and supported by tons of platforms. So, if you want to convert animated PNG to GIF, then you can do this with some free tools covered in this post.
Convert Animated PNG to GIF on Windows PC
Here is a list of some free tools for converting animated PNG to GIF images on a Windows 11/10 computer:
APNG to GIF Converter
RealWorld Paint
Ezgif
Aconvert
FreeConvert.
Let's check all these APNG to GIF converter tools one by one.
1] APNG to GIF Converter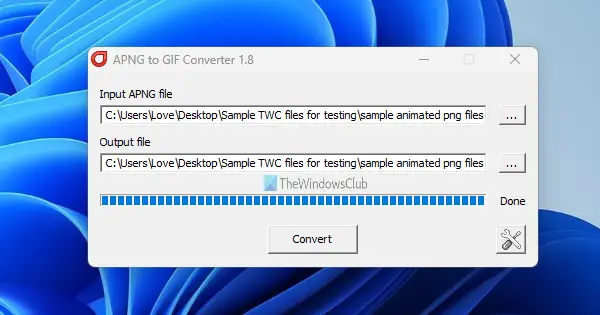 Its name itself explains the purpose of this tool. APNG to GIF Converter is a tiny tool for Windows 11/10 OS that comes with a very basic interface but the task to convert an animated PNG image to an animated GIF is done quickly. You can perform the conversion process in just three steps.
It also lets you use transparency options (to adjust threshold or blend values in RGB) using its Settings, but the default setting is good enough for a satisfactory output.
To use this tool, grab its ZIP archive from sourceforge.net. Once the ZIP archive is extracted, run the apng2gif_gui.exe file to open its interface. There:
Click on the Browse button available for Input APNG file to enter the animated PNG for conversion
Use the Browse button available for the Output file to provide the path of the output folder
Click on the Settings button if you want to adjust transparency values or leave this step
Press the Convert button.
This is it. The conversion process is completed immediately and you will get the output GIF.
 2] RealWorld Paint
RealWorld Paint is actually an image editing tool and it is a good competition to other similar photo editing software. This tool lets you add effects, set transparency, and color saturation, add layers, set canvas size, rotate an image, add watermark to an image, and use many other tools. The feature to convert an animated PNG to GIF is also present. Moreover, you can also use it to edit an animated PNG image and save it as an animated WebP or animated GIF image.
To use this tool for converting APNG to GIF, follow these steps:
Download its MSI file from rw-designer.com
Install the tool and open its interface
Use the Open option present in the File menu to add an animated PNG image
This step is optional but useful. Once the image is added, you will see all its frames on the bottom section of its interface. You can select frames and use available options to change the animation speed, duplicate frames, remove frames, insert frames, etc. After that, you can also access the Preview tab using the right section to see the output. It's your choice if you want to perform editing or leave all options to default
Finally, use the Save as option from the File menu, and then you can select output as GIF image and save it to the desired folder.
3] Ezgif
Ezgif is a popular service for creating as well as editing GIF images. This service comes with many useful tools like applying effects to GIF images, cropping, resizing, rotating GIF images, compressing GIF images to reduce their size, using video to GIF converter, and more. A separate Animated PNG to GIF converter tool is also there. This tool lets you preview input APNG as well as output GIF which is a good feature.
To use this tool, open its page from ezgif.com. There you can either add an online image URL or upload an animated PNG from your computer using Choose File button. You can add a maximum 50MB size image which is sufficient for the APNG format file.
When the image is added, press the Upload! button. Once the image is uploaded, press the Convert to GIF! button and wait till the output preview is visible. Finally, you can download the output GIF image. Before saving the output, you can also use other tools like resize GIF, reverse GIF, optimize the output, etc. Or else, simply hit the save button available on the right section to store the output GIF on your computer.
4] Aconvert
Aconvert website also brings multiple tools to convert PDF documents, audio, archive, webpage, image, eBooks, etc. A separate APNG to GIF converter tool is also there which has some good features. It lets you convert multiple animated PNG images to separate animated GIF images at once. The maximum size limit is 200 MB if you upload images from your computer and 40 MB file size for an online file which is sufficient.
Apart from that, it also lets you set the output image quality (between 1 to 100). And, you have the choice to keep the original size for output or change width and height, only width, or only height. So, some nice options are present that you can try.
You can access this tool from aconvert.com. After that, you can use Choose Files button to upload multiple APNG images from your computer or use the drop-down menu available just next to the FILE button to upload images from your Dropbox or Google Drive account.
Once the files are added, set the target format to GIF, set image quality (if needed), and keep the original image size or change height and/or width as needed.
When everything is set, press the Convert Now! button and it will provide the output file(s). For each output file, it provides a separate View button and a Save button to view the output in a separate tab and download the output to your computer.
5] FreeConvert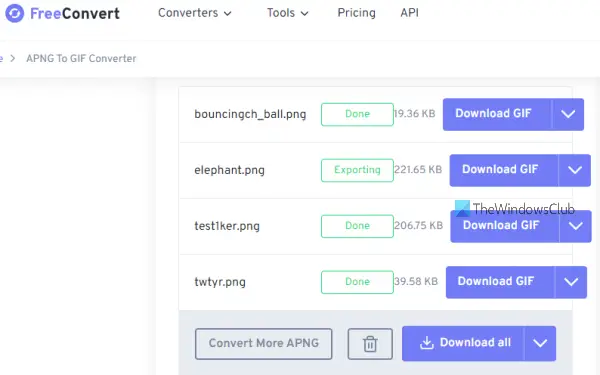 FreeConvert website also provides an APNG to GIF Converter tool that lets you batch convert animated PNG files to GIF images. Its free plan lets you upload a maximum 1GB size file and 25 conversion minutes are provided per day. You will also have the choice to convert APNG images from a computer, Google Drive, or Dropbox. An online APNG image can also be added for conversion.
You can open the homepage of this tool from freeconvert.com. There, use the drop-down icon to add input images from any of the supported platforms. When the files are ready, press the Convert to GIF button. This will upload the images and process those images.
When the conversion is completed, you can download all images at once or download them one by one using the Download GIF button. Moreover, you can also place the mouse cursor on the drop-down icon (available in the Download button) to use options to save the output to your Google Drive or Dropbox account.
How do I convert APNG to an animated GIF?
You can convert an Animated Portable Network Graphics (APNG) file to an animated GIF using some free online tool or some software. We have created a list of such free tools in this post above. While some animated PNG to GIF converters are straightforward, other tools provide extra features like set transparency, resize output, remove frames from input, etc.
How do I create an animated GIF in Windows 10?
Whether you want to create an animated GIF in Windows 10 or Windows 11 OS, there are multiple tools that can help you create an animated GIF in different ways. You can:
Use some free online GIF maker and editor tools to create an animated GIF from images
Read next: How to convert GIF to APNG (Animated PNG).