PowerPoint is the preferred tool for anyone who wants to deliver a presentation at work, school, or anywhere a presentation is required. Over the years, Microsoft has improved the tool a great deal with new features and bug fixes, and one of those features is all about saving GIF content.
Create an animated GIF from PowerPoint Slides
The question, then, is how we can get this done in the best possible way. Well, worry not because we've got all the information you need.
In this article, we will discuss how to create an animated GIF and convert slides into GIFs via the PowerPoint platform. We can say for sure that we will not be using third-party programs to get this done; therefore, you won't be asked to download anything else to your system.
What is a GIF, you ask?
To make things as simple as possible, a GIF (also pronounced as JIFF) is merely an animated picture, but not in the same aspect as a video. You see, folks can use this file extension to create still images like JPEG and PNG, but also to create pictures that move.
The animated pictures will look like a video, but at much lower quality and without sound. Additionally, we should point out that the GIF file format was not created with animations in mind, but things just went down that road, and the rest is history.
Keep in mind that GIF was created in 1987 and last updated in 1989, making the format older than the internet itself.
Convert PPT to GIF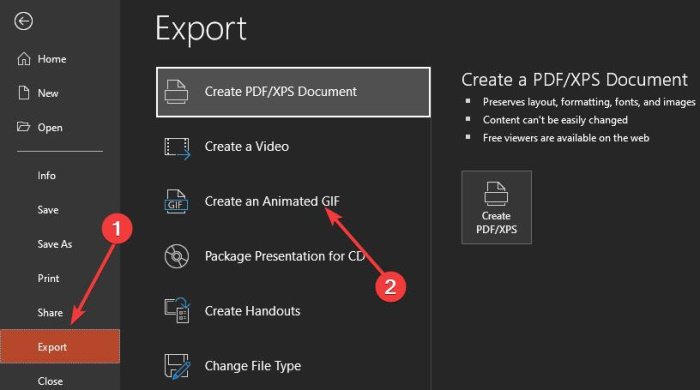 OK, so to create an animated GIF from your Slides, one must first open the PowerPoint document, then click on File. After that, be sure to select Export from the menu that comes up because we're going to save the information in GIF format.
The final step here is to click on Create an Animated GIF, and from there, you will want to select the resolution of the GIF before creation. By default, it is set to Medium, which is 720p. Click on Medium, and from the dropdown menu, choose the resolution that makes sense to you.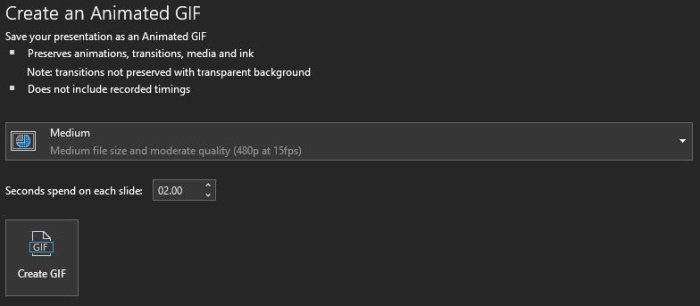 After doing all of that, change the time spent on each Slide. It is around 1 second by default, so you may want to make it longer.
Finally, click on Create GIF to complete the task.
Open the saved GIF in the Photos app, or any third-party tool that you're most comfortable with. As long as it supports the animated GIF format, then you should have no problems going forward.