Notepad in its current form now makes it possible for users to set change themes. This is an essential feature, as many wanted a Dark theme for Notepad. Bear in mind that this version of Notepad is only available for Windows 11, so if you haven't upgraded yet, well, this is time.
The customization options are not vast, but they should be more than good enough for a note-taking tool. If you want more options, then we suggest using OneNote as it comes with more features overall.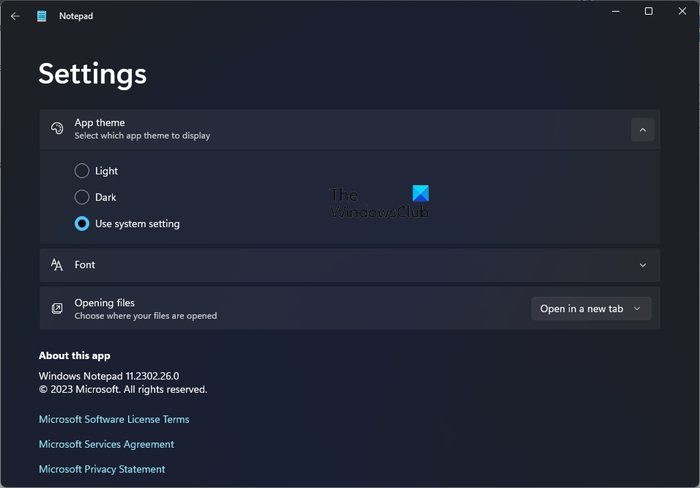 How to change Notepad Theme to Dark
To change the theme to Dark in Notepad for Windows 11, follow the steps laid out here.:
Open Notepad.
Click the Settings icon at the top-right section. That's the icon that looks like a gear.
You will see App Theme. Click on it.
You will see Light, Dark, and Use System Setting.
The default is Use System Setting, but you can choose any from the list.
Select Dark to use Notepad with a dark theme.
TIP: This post will show you how to change Notepad Font and Size in Windows 11.
READ: How to count words in Notepad?
How do I customize Notepad?
Open Notepad on your Windows 11 computer, and from there, click on the Gear icon at the top-right section of the app to open the Settings area. From this section, you can perform basic customizations of Notepad.
Read: Notepad Programming Tricks to have some fun with
How do I add a theme to Notepad?
You cannot add a theme to Notepad. You can use the Light or the Dark theme only. A thitd-party tool called Notepad++ however lets you add colors or themes to it. There are several other Dark Mode Black Notepads that you can check out.