Although users can enable Dark Theme in Windows 10 or Windows 11 via Settings, it doesn't apply to the traditional Notepad app. If you want to use a Notepad app with dark mode or black theme on your Windows 11/10 PC, then this article will interest you. Here are some of the best notepad apps that have a dark mode facility.
Notepad is an essential utility in Windows that lets you take notes, save relevant data, etc. It is basic, and it doesn't have a lot of complex options like other code editors for programmers. However, one essential feature is missing in this tool, and that is Dark Mode. It is quite handy when users need to write a lot of paragraphs in low-light surroundings. In simple terms, dark mode or a black theme might help you get rid of eye strain. For that, you can try out these third-party notepad apps that will let you turn on dark mode without third-party extension.
Dark Mode Black Notepad for Windows 11/10
These are the best notepad apps with dark mode or black theme for Windows 11/10:
Notepad++
Black Notepad
Black NotePad by WinTools
To know how to enable and use the dark theme in various notepad apps for Windows 10, read on.
1] Notepad++
Notepad++ is a free and excellent code editor for Windows 11/10, and here is how to turn on the dark theme in this tool.
At first, open your Notepad++, and select Settings on the menu bar, and choose Style configurator.
There are several black themes available in Notepad++. You need to select the theme called Obsidian. You can try out some other dark themes as well.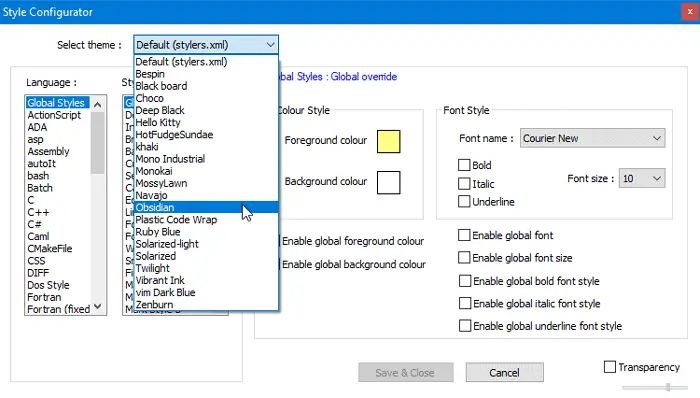 After that, go to Global Styles > Global override, click the Background color.
Click More Colors, and use: red: 43, blue: 43, green: 43 (which is 0x2B2B2B).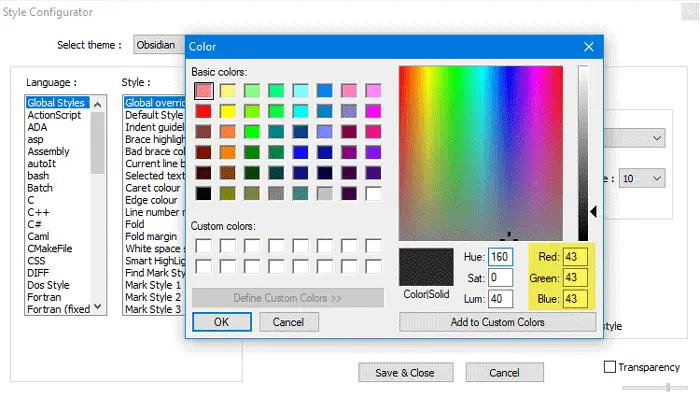 Check the Enable global background color option and click the Save & Close button.
Now you should find the black theme in your Notepad++ window. You can tweak the color of the background. For that, you need to open up the Background color window and select something according to your requirements.
2] Black Notepad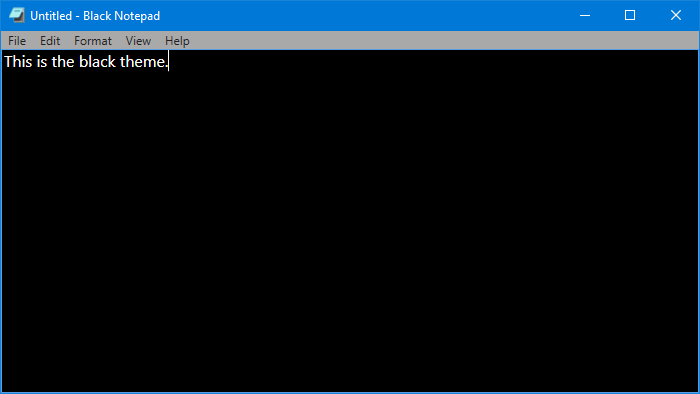 If you like the interface of the native Notepad app for Windows 10, and you want to get the dark theme on it, you should check out this tool. Introducing Black Notepad, which is a replica of the traditional Notepad for Windows 10. Options are almost the same, and that's why you should not have any issue while making the switch.
It doesn't have a lot of customization related options, but you can change the font color. It is possible to turn them green instead of using white, which is the default text color. Talking about the system requirements, you can download it on Windows 10 Build 15063.0 or higher. As it is available in the Microsoft Store, you can open the app and search for it. Alternatively, you can get it from the Microsoft Store.
3] Black NotePad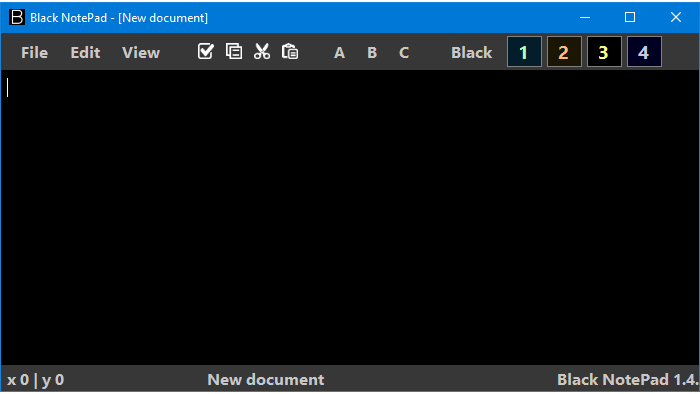 Black NotePad is a portable Notepad alternative for Windows 10 that comes with dark mode functionality. Unlike the utility, as mentioned above, it includes a lot of options. For instance, you can do these-
Change font family
Change font color
Change background-color
Create a color profile and apply them whenever needed
Search from inside via Google, Bing, or DuckDuckGo
You can find all these options in the top navigation bar. To be precise, you need to visit the View menu to disclose everything mentioned on the list. For your information, you can set "white" as the background color and keep enjoying the interface like the default Notepad app for Windows 11/10.
It is compatible with Windows 11/10/8/7, and you can download it from the official website.
These tools should help you get a black Notepad on Windows 11/10.