I find the default icon size in Windows small and so I always keep my icon size bigger to avoid squinting while working on my PC, not just on my Desktop but also in the File Explorer and the Taskbar. We know how customizable Windows OS is, and it's pretty easy to change the icon size in a Windows 11/10 PC. There are also people who want to reduce the icon size on their PC because they want their desktops to look clutter-free or clean.
How to change Icon Size in Windows 11/10
Today, in this post, I will share a quick and short tutorial on how to change the icon size in Windows 11/10 on the desktop, File Explorer, and Taskbar. If you are not comfortable with the default icon size on your Windows PC, this guide will help you out. You can easily change the desktop icon size and view to Details and List view.
How to change the icon size on your Desktop?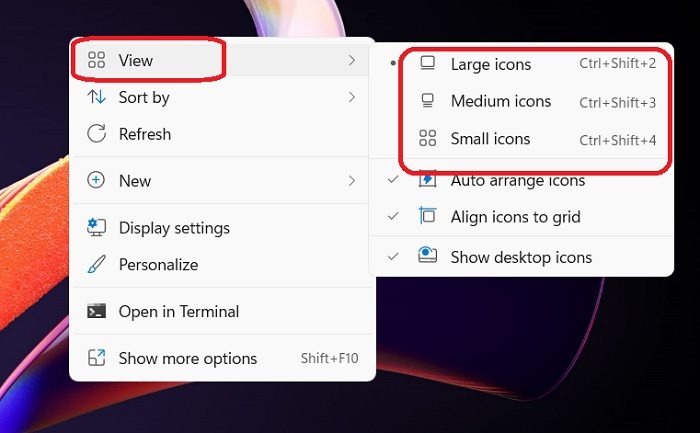 Go to your Desktop and right-click anywhere.
Click on View and from the context menu select the icon size you want.
There are three options available- small, medium, and large icons.
You can select anyone you want and can also revert to the original size whenever you want.
You can also use the shortcuts like- Ctrl+Shift+2 for large icons, Ctrl+Shift+3 for medium icons, and Ctrl+Shift+4 for small icons.
Simply go to your Desktop and press these keys as per the requirements.
How to change the icon size in your File Explorer?
To change the icon size in your File Explorer:
Open File Explorer and right-click anywhere on a blank space.
Click on View and the context menu has a few more options than the Desktop.
You can view the icons in Extra large size, large size, medium size, small size, in a list, in details, in tiles, and as content.
There are different shortcuts for all these sizes like Ctrl+Shift+1/2/3/4/5/6/7/8 respectively.
Alternatively, you can also do that using the View tab in the main Menu Ribbon on the top.
Another method to change the icon size in your File Explorer is via Display Settings. Right-click anywhere on your Dekstop and click on Display Settings- > Go to the Scale and Layout section and click from the Scale option to select the size of your text, apps, and other items. Remember that this will change the size of every item available on your screen including the icons. Basically, it will zoom in on your entire screen.
Change icon size using the Ctrl + Mouse wheel on Desktop or Explorer
You can easily resize the icons on your Windows 11 PC. We have covered multiple ways to resize icons on the Desktop, File Explorer and Taskbar on your Windows 11 PC. But the quickest way is using the mouse Ctrl+Scroll way.
If you are using an external mouse, you can also change the icon size by using the scroll wheel on your mouse. Simply, press and hold Ctrl while you scroll the wheel to make icons larger or smaller.
How to change the icon size in Windows 11 Taskbar
Before Windows 11, we had a very simple setting for changing the icon size in our taskbar but for no good reason, Microsoft has removed it. You cannot change the icon size in your taskbar from the Settings menu on Windows 11 PC. You can do it using the Registry method as follows:
Press Win+R and type Regedit in the Run dialog box. You can also go through the Start button.
Click Yes in the UAC prompt to open the Registry Editor.
Go to HKEY_CURRENT_USER\Software\Microsoft\Windows\CurrentVersion\Explorer\Advanced
Right-click on the Advanced registry key, and click on New > DWORD (32-bit) Value.
Right-click on the new DWORD Value, name it TaskbarSi and press Enter.
Double-click on the TaskbarSi DWORD key, then put the Value data 0 to 2 to change the taskbar icon size.
TIP: You can also follow this post to change the Windows 11 Taskbar size.