OK, if you are here, you were probably trying to configure your Windows firewall, and maybe something went wrong somewhere, and you messed up! In such a case, you may want to import, export or restore Windows Firewall Policy default settings with Windows Firewall with Advanced Security.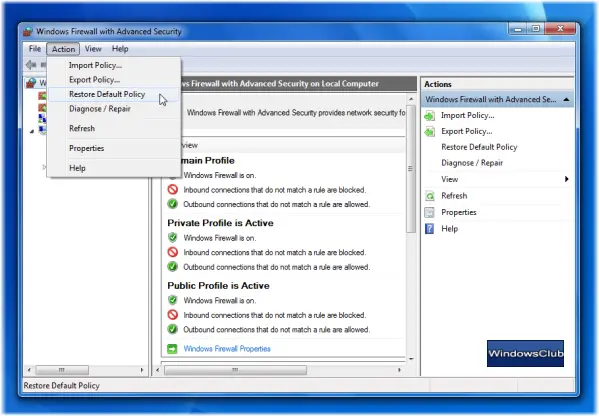 Restore Windows Firewall Policy to Default
If you wish to reset your Windows firewall settings & rules, to its defaults, you can do so, as follows:
Type Windows Firewall or wf.msc in start search and open Windows Firewall with Advanced Security. In the tab bar, click on Action and select Restore Default Policy. If a prompt appears, click Yes.
Do remember that, when you restore it to its default settings, you will lose all your custom settings & firewall rules. Group Policy applied rules & settings, however, it will not be disturbed.
Backup or Export Windows Firewall Policy
Before resetting the firewall to default, should you wish to backup your current firewall settings & rules, you can do so, as follows:
In the tab bar, click on File and select Export Policy. Save the file as a .wfw property sheet.
Restore or Import Windows Firewall Policy
To restore the backed up policy settings, use the Import Policy option, and navigate to the folder where you have saved the .wfw file.
Repair Windows Firewall Policy
If you are facing some problems, clicking on the Diagnose/Repair button will repair your Windows Firewall Policy.
You can carry out these actions on your Windows 11/10 Firewall policy and settings if you ever feel the need to.
BONUS TIP:
To restore the firewall settings, open an elevated command prompt, type the following and hit Enter:
netsh advfirewall reset
The command will restore the Windows Firewall with Advanced Security policy to the default policy and return all Group Policy settings to Not Configured and delete all connection security and firewall rules.
These links may also interest you: