The display of a laptop, tablet or monitor of a computer is one of the most important components of a computing machine. Whatever interaction that we do with that machine shows up on the monitor. With the introduction of GUI or Graphical User Interface, it has been made very easy for anyone to use that computer. And by all means, these GUI software are displayed on this display screen. So, it becomes unpleasant and difficult to use these computers once they start getting problems. One such disturbing issue is the sudden appearance of vertical or horizontal lines on the computer display. This can be caused due to both hardware and software factors. Now, we will be discussing every possible fix for this issue.
What causes lines on monitor screen?
If your monitor displays the wrong resolution, it could cause vertical or horizontal lines to appear. Outdated, corrupted, or incorrect Display drivers or a damaged monitor can also cause this issue.
Fix Horizontal or Vertical lines on Laptop screen or PC Monitor
If you see horizontal or vertical lines on your laptop screen or desktop monitor, the problem could be the hardware or the software. Lert us see how to fix such white, black, colored, flickering lines problem on your Lenovo, HP, Dell, etc, computers.
Check operating system default resolution settings
Check if the issue is software based
Check if the issue is hardware based
Check operating system default resolution settings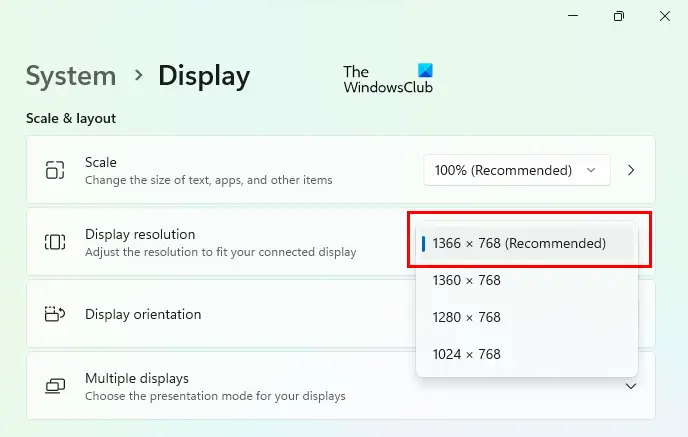 To set the recommended resolution for your PC:
Open Windows 11/10 Settings.
Go to "System > Display."
Click on Display Resolution and select the recommended resolution.
Fix: Screen Resolution problems in Windows
Check if the issue is software based
If this fixes your error, then the issue was probably software based. This error might have been caused due to some issues in incompatibility between the Operating System and the Drivers.
If you recently updated your graphics drivers and the issue started, then you should consider rolling back the driver.
Fix: Resolution not supported Monitor error on Windows
Check if the issue is hardware based
All your video drivers and other chipset drivers are used for your operating system to work better with your hardware. But the BIOS (Basic Input Output System) is not a part of that Operating System at all. Hence, this means that those driver-related errors would not cause any effect on the drivers. Hence, just boot up to your BIOS. For that, follow the following steps,
Restart your computer, and boot into the BIOS.
If you see the same vertical or horizontal line, the hardware is responsible for this error.
To fix this issue, there is a different approach for every device type.
If you are using an external display, ensure that the cable connected to the main CPU and the Monitor is plugged in properly at all the terminal points.
Also, check if the cable that you are using does not have any bends or physical damage.
Lastly, you can also check by replacing the connector cable at once to check if that fixes that issue.
If you are using a laptop, I would recommend taking it to a qualified technician.
If nothing helps, maybe your hardware has been damaged and you need to take it to hardware repair support.
Read: Adjust your Monitor for better screen resolution in Windows
How do I fix Horizontal and Vertical lines on my monitor?
The common steps to fix Horizontal and Vertical lines on your computer screen are:
Restart your computer
Reseat the cable
Update or roll back your Display drivers
Use a different HDMI or DisplayPort
Replace the cables
Reset the BIOS
Take it to hardware support.
How did you fix your problem?