Despite the fact that Hollow Knights is a great hit in the action-adventure genre, some gamers are complaining that the Hollow Knight game keeps crashing at the startup or during the gameplay. In this article, we will find the reasons behind the issue and how to fix it. So, if Hollow Knight keeps crashing or freezing on your computer, try the solutions mentioned in this post.
Why do my games keep freezing and crashing?
There are various reasons a game would crash or freeze on your computer. Usually, a game would crash if it is not compatible to run on your computer, that is why it is important to make sure that your computer is meeting the system requirement mentioned by the developers. Also, if some of your game files are missing or corrupted, Hollow Knight will crash on your computer. That is not something you can stay clear of, there are a lot of instances when a game file is not installed during the installation process.
Whatever the case is, it can be resolved by following the solutions mentioned in this article.
Hollow Knight keeps crashing, stuttering or freezing
If Hollow Knights keep crashing, stuttering or freezing, take a look at the solutions mentioned below:
Restart your computer
Update your Graphics Driver
Verify game files
Run the game as an admin
Disable Vsync
Remove the console
Install Visual C++ Redistributable and DirectX
Reinstall the game
1] Restart your computer
Starting with as simple as restarting your computer might do the job for you as doing so will remove temporary glitches, and the services related to it will restart. You could also just restart the game and the launcher, but rebooting the system is an easier alternative.
2] Update your Graphics Driver
Have you updated your Graphics Driver in a while? If not, then please do as most of the time, outdated graphics drivers are not compatible with the game and give rise to compatibility issues. It is absolutely necessary to make sure that the driver version we are using is not an outdated one. Here are some ways to update the Graphics driver; select the one that suits you.
After updating the driver, check if the game is still crashing.
3] Verify game files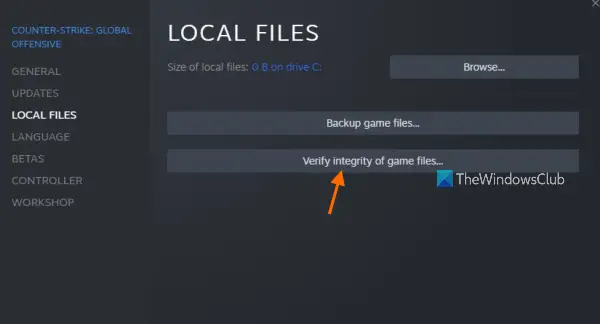 Corrupted game files can abruptly crash the game, therefore, we will make sure that none of the files are corrupted. We are going to use Steam as it can help us not only verify the files but also repair them. To do the same, follow the steps given below:
Launch Steam and navigate to the Library.
Right-click on Hollow Knights and select Properties.
In Local Files, click on the Verify Integrity of game files.
Wait for some time and launch your game to see whether you can play the game or not.
4] Run the game as an admin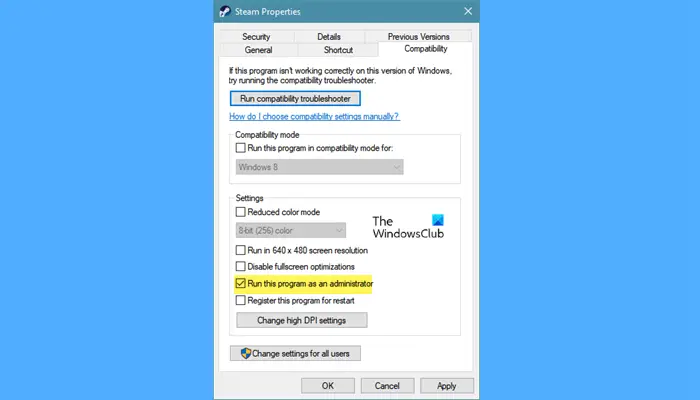 You can right-click on the launcher and select Run as administrator. But that would require you to every time do this two-step process. Therefore, we are going to alter the properties of the launcher to run this game as an admin always, and you can follow the prescribed steps to do the same:
Right-click on Steam.
Click on the Properties and then on the Compatibility tab.
Select the box next to Run this game as an administrator.
Now, click on the Apply option and OK button.
You can now launch the game every time with administrative privileges
5] Disable Vsync
Vsync is known for providing smooth gameplay by synchronizing the monitor's frame rate with that of the game. However, it can also be the reason behind the said issues. Therefore, it's better to disable the Vsync. Turn off in-game Vsync and for other apps on your computer as well.
6] Remove the Xbox console
According to some users, the game freezes or crashes either at the start-up or in the game when they are using Xbox consoles. Try removing the Xbox console from your computer and see if the issue persists.
7] Install Visual C++ Redistributable and DirectX
Both Visual C++ Redistributable and DirectX are required to create an environment for the game to run on a Windows computer. That is why it is required to keep the latest version of both these tools installed on your system. We would recommend you install the latest version of DirectX and Visual C++ Redistributable.
8] Reinstall the game
If nothing worked, your last resort is to reinstall the game. This will install any files that were missing and force your game to crash. In case, reinstalling once didn't work, restart it again, as this worked for a lot of users.
Hopefully, you will be able to resolve the issue using the solutions mentioned in this post.
System Requirements
It's a must to make sure that you're using a good-tier computer and your system has it all to run Hollow Knights, otherwise, your computer will not be compatible to run the game, and ultimately, your game will freeze or crash. Following are the system requirement to run Hollow Knights.
Minimum
CPU: Intel Core 2 Duo E5200
RAM: 4 GB
Operating System: Windows 7
VIDEO CARD: GeForce 9800GTX (1GB)
PIXEL SHADER: 4.0
VERTEX SHADER: 4.0
FREE DISK SPACE: 9 GB
DEDICATED VIDEO RAM: 1 GB
Recommended
CPU: Intel Core i5
RAM: 8 GB
Operating System: Windows 11/10
VIDEO CARD: GeForce GTX 560
PIXEL SHADER: 5.0
VERTEX SHADER: 5.0
FREE DISK SPACE: 9 GB
DEDICATED VIDEO RAM: 1 GB
Make sure that your computer is compatible before installing the game.
Read: Squad not launching, responding or working
How do I stop the Hollow Knight lag?
Hollow Knight will lag or freeze if there are a lot of apps running in the background. You can try to disable all apps in the background to attain fluid gameplay. Also, make sure that there is no overlay app running in the background, V-sync is disabled, and you are running the game on a dedicated GPU.
Also Read: Dead by Daylight keeps Crashing or Freezing.