HDMI is a standard that allows sending uncompressed audio and video data from one device to another. It means there is no compromise in the quality. You get better sound and clear video. However, one of the most common issues noticed with HDMI is that while the video shows up on the monitor or TV, the audio goes missing. That issue happens even when everything is connected, and all you expected is a plug-n-play setup. This post will suggest how you can resolve the problem when you get an error No HDMI Audio device is detected.
Basic Troubleshooting HDMI issues
Before we talk about the advanced level of troubleshooting, let's get a few things straight. First, Make sure your HDMI cable is not at fault. You can try it with another computer or another TV. Second, figure out if both sides of the ports are HDMI. If you are using VGA to HDMI or DVI to HDMI, they do not support audio. Third, the audio is not at mute either from the TV or the monitor.
HDMI Audio device not showing in Windows 11/10
Done with the basic troubleshooting, let's take a look at these to resolve the audio problem.  Some of them will need admin permission, so make you have access to that account.
Reconnect the TV or monitor
Adjust TV or Monitor sound settings
Run the Audio Troubleshooter
Set the HDMI device to default
Restart Windows Audio service
Update the sound card
Enable Audio Controllers and reinstall Audio Controllers
Check HDMI Playback settings in Sound Panel.
Some of the settings for TV and Monitor may differ depending on the brand.
1] Reconnect the TV or Monitor
At times, it just happens, and If you plug it out and plug it back in, it starts working. Make sure to try a different port as some TV and monitor come with multiple ports. That will also help you understand if you have a port issue.
2] Adjust TV or Monitor sound settings
TVs and Monitors come with built-in audio control. Even if you are playing on full volume, but its volume is mute or almost 10%, you may not hear the audio and assume it's missing.
TVs remote control should help you check with this problem. When it comes to monitors, you need to use the buttons available at the bottom or side of the monitor and change the volume settings.
Smart TVs are different as they come with Android TV, and you will need to go to External Inputs > HDMI signal format and select HDMI 1.4.
3] Run the Audio Troubleshooter
Now that we are done with external connection troubleshooting let's get started with the software-based troubleshooting.
Open Windows 11 Settings, and navigate to System > Troubleshoot > Additional troubleshooters > Playing Audio. Select it, and run the audio troubleshooter.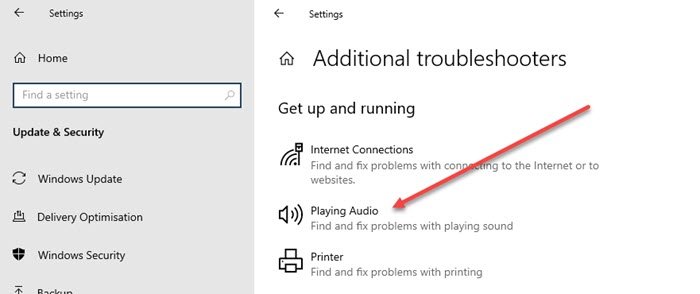 Go to Windows 10 Settings, and navigate to Update and security > Troubleshoot > Additional troubleshooters > Playing Audio.
4] Set the HDMI device to default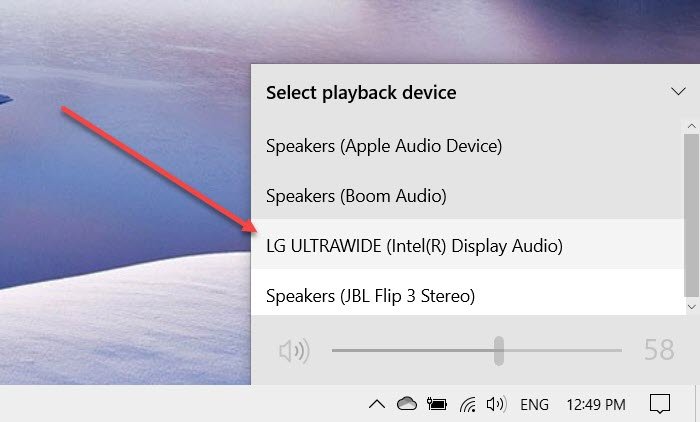 It is important to set the default sound device as output. You might have a monitor with an external speaker, but the audio output is set to some other device.
In the system tray, locate the audio icon, and click on it. It will list all the connected audio devices. Select the name of the monitor. Play any audio, and you should be able to listen to it.
5] Restart Windows Audio service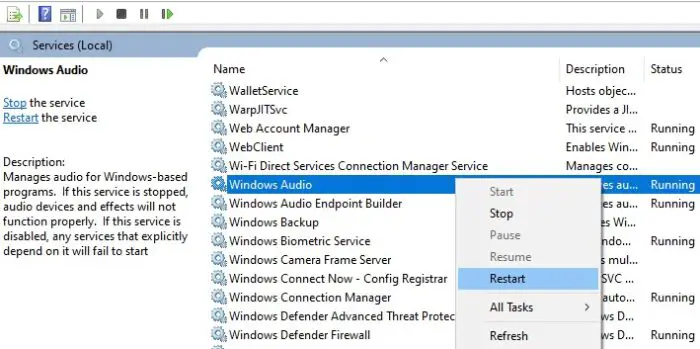 Like all other components, Audio is also available as an audio service. If the service keeps stopping or has stopped, you will not listen to the audio.
Type Services.msc in the Run prompt (Win +R), and press the Enter key. In the services list, locate Windows Audio service. Right-click on it, and choose to restart. If the service is stopped, you can choose to start.
Also, make sure to do the same for Windows Audio Endpoint Builder as the Windows Audio service depends on it.
6] Update the sound card
The next suggestion is to update the audio driver, listed as Intel Display Audio or AMD Display Audio.
Go to Device Manager ( Win + X, followed by M), and then locate and expand the Sound, video, and game controllers section. Right-click on the  Intel Display Audio or AMD Display Audio, and choose to update the driver.
You can also check the OEM website and update the driver by downloading the file. Make sure it is for the version of Windows installed on the computer.
7] Enable Audio Controllers and Reinstall the device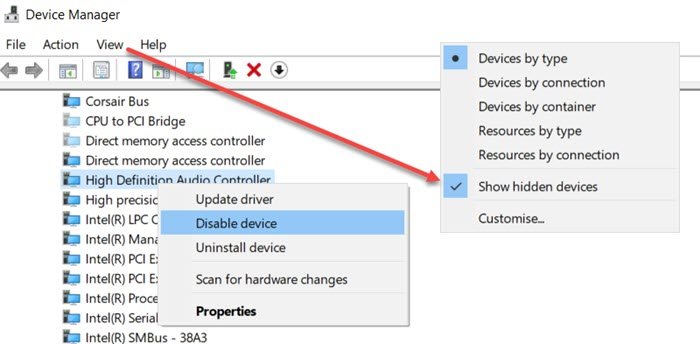 HD Audio offers a multi-streaming feature that allows more audio signals to be sent to different audio devices using different media. Intel offers a controller that takes care of this, and for any reason, there is a problem with it, then you need to check if it's enabled.
Open Device Manager, and click on View, and click on Show hidden devices. Next, navigate to System Devices > High Definition Audio Controller. Make sure it is enabled. If it is already enabled, then disable, and enable it. You can also choose to uninstall it and then reinstall it.
8] Check HDMI Playback settings in Sound Panel
Open the Sound control panel, and locate the speaker in the Playback list of devices. If you cannot figure it out, right-click on it and select properties. If you see HDMI Digital or anything similar, then that's your speaker.
You can then right-click on it to test the speaker, disable and enable it, and set it as the default communication device.
Follow these steps to set the device as Default Device
Open Control Panel> Click on Hardware and Sound
Click open Sound applet
Under the Playback tab, right-click in the blank space
Select both 'Show Disabled devices' and "Show Disconnected Devices".
Now right-click on HDMI Output.
Click on Properties
Under the General tab click on Device Usage and select Use this Device:(Enable).
Click Apply. Click OK.
After doing this, under the Playback tab, click on HDMI Output and select Set as Default.
Click Apply > OK and exit.
I hope the post helped resolve the issue.
Related reads: