Many monitors support audio over HDMI, and they also come with a speaker or come with an audio port to connect to an external speaker. These speakers show up as HDMI Playback devices.  However, if it doesn't, then this post will help you to figure out to resolve the problem when the HDMI playback device does not show up on Windows 11/10.
How do I get HDMI to show in playback devices?
Sometimes HDMI Playback devices get disabled. So if you want to show it in the list of playback devices, go to Control Panel > Hardware and Sound > Manage audio devices. Right-click on an empty area and select show disabled devices and disconnected devices. Once you find it, please enable it.
Why is the HDMI device not detected?
It can be because it is not connected properly or your monitor doesn't support HDMI audio. Unless the monitor has a built-in speaker or an audio port, it will not appear in the list.
How do I add a playback device to Windows 10?
If you cannot find the device listed, then Open Device Manager. Then right-click on the computer name, and select scan for hardware changes. This will make sure if the HDMI audio device were not listed, it would appear.
HDMI playback device not showing in Windows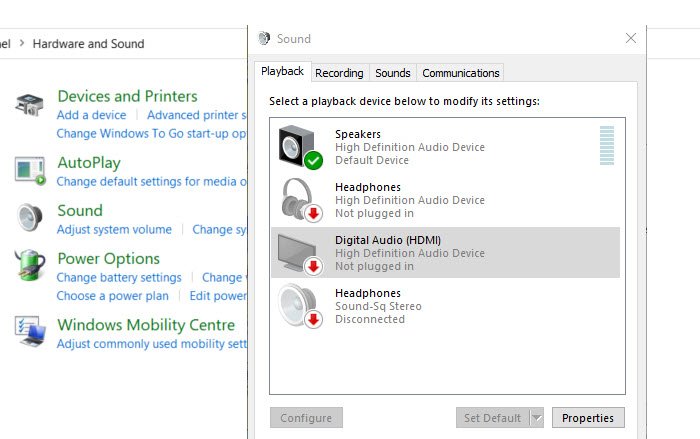 Follow these tips to get the HDMI Playback devices.
Enable Playback Devices
Update HD Audio Device Drivers
Update Display Adapters.
Since these involve updating drivers, you will need admin privileges to install it.
1] Enable Playback Devices
Open Run prompt (Win +R),  types control, and then press the Enter key
Go to Hardware and Sound, and then click on Manage audio devices
Right-click on any of the listed device, and select show disabled devices, and show disconnected devices
If the HDMI Playback device is listed, and enable it
2] Update HD Audio Device Drivers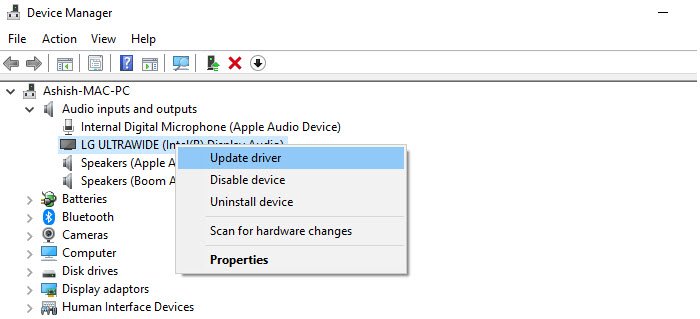 Open Device Manager by using Win + X followed by pressing the M key
Locate Sound, video, and game controllers
Locate the AMD High Definition Audio Device  or NVIDIA High Definition Audio Device or Intel Display Audio
Right-click the device, and choose Update driver.
Follow the wizard and update the driver through Windows update or using the available driver.
3] Update Display Adapters
While it may sound out of place, users at forums have reported that sometimes updating the display adapters has helped fix the problem. Similar to how we updated the HD audio device drivers, we can update the display adapters.
Open Device Manager and expand the Display Adapters section. Right-click on the display adaptor of your computer, and choose to update the driver. You can choose from the list and select the right display adaptor.
Related reads: