Halo Infinite multiplayer are seeing No Ping to our datacenters detected error message when playing the game. If you too are seeing it then this post is sure to help you resolve the problem on your Windows PC.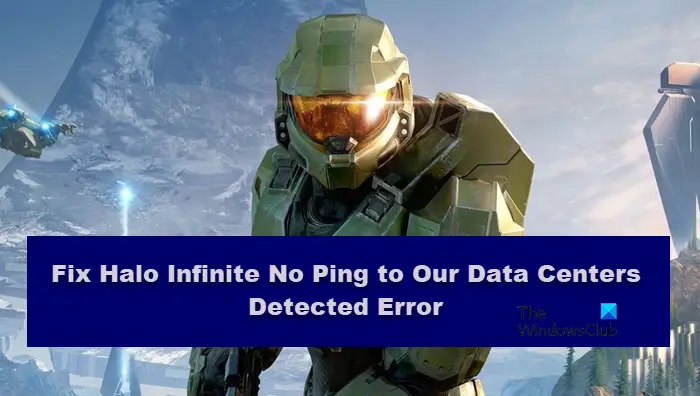 Why am I seeing "No Ping to our datacenters detected" error in Halo Infinite?
The issue can occur when some specific pores are closed by your Internet Service Provider. It can also be because you have a slow network or no internet connection. And if you have a glitch in your server then also you will be seeing this error. Keep in mind that you don't have any temporary issues with the network hardware. Such as your Router or Modem. We will be solving each of them and some workarounds as well.
Halo Infinite – No Ping to our datacenters detected
If you see No Ping to our datacenters detected error in Halo Infinite then these are the solutions that are sure to help you resolve the issue:
Fix Internet connection.
Verify the game files.
Update your network driver.
Use a VPN.
Flush DNS.
1] Fix Internet connection
Plug out your router and modem. You need to wait for a few seconds after plugging out the router and modem. Now plug it in again and relaunch Halo Infinite to see if you are still having the No Ping To Our Data error.
You should also contact your ISP if you are constantly seeing slow Internet. Also, you can cancel out the devices connected to Wi-Fi or disconnect them. If yours is the only device facing this issue, then fix the slow Internet Connection.
2] Verify the game files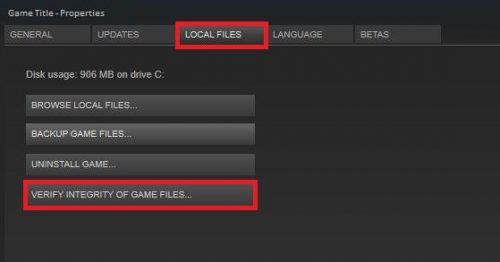 This error can also be caused if the game files are missing or corrupted. Verifying the game files has a positive effect on solving this error. Execute the following steps to verify the game files.
Open Steam and go to the LIBRARY.
Search Halo Infinite and right-click on it.
Now go to Properties.
In the LOCAL FILES tab, click on VERIFY THE GAME FILES.
The process takes some time. After it is done, launch the game again and see whether the error message is still popping up or not.
3. Update your network driver
Your Network driver also plays its part in this error. Outdated Network drivers can cause poor Internet reception so update your Network driver. It would hopefully solve this issue. But, if it didn't then move on to the next fix.
4] Use a VPN
Using VPN allowed users to connect to different servers and sometimes if there is a lot of traffic on your countries server then this is the way to go. This builds a strong Internet connection thus solving any issues related to the Internet.  You can go for a free VPN service if you just want to see how it works, but the usually comes with limitations, such as low bandwidth or less available service. Therefore, if you don't want to comprise it is better to invest in a good quality VPN service.
5] Flush DNS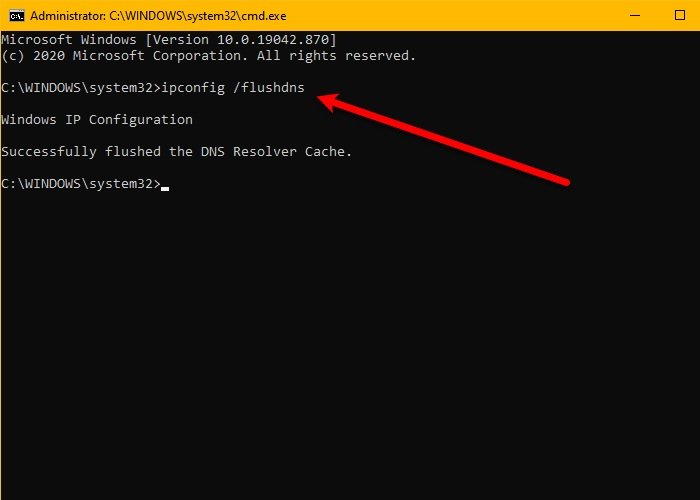 A glitch in the DNS can also cause this issue, hence, it is better to flush the DNS cache as the issue will be resolved by doing so. Open Command Prompt as an administrator and execute the following command.
ipconfig /flushdns
Finally, restart your computer and see if the issue is resolved.
Hopefully, you are able to resolve the issue with the solutions mentioned in this article.
Read: Halo Infinite to support cross-play and cross-progression.
Bonus Tip: Use Ethernet Connection
Even if you are able to resolve the issue with the solutions mentioned here, it is still advisable to use Ethernet Connection. It is better if you play a lot of games and hence, the speed won't fluctuate and you will get the most out of your plan.
Read Next: Halo Infinite keeps freezing or crashing on Windows PC.