In this article, we will look at the reasons why Google Voice Search is not working on your Windows PC and various solutions to fix the issue. The error happens when you click the microphone icon, but it shows an error such as 'Voice search has been turned off', 'Voice search unavailable', or, in extreme situations, the browser turns black.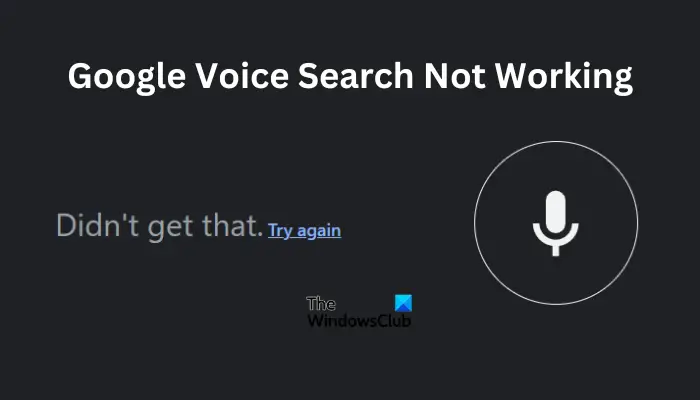 Google Voice Search is an essential tool for many users, as it allows you to search for something online by speaking instead of typing queries on the search bar. It is frustrating when the feature is not working, and even more so when you cannot figure out how to resolve the error.
Why is my Google search by voice not working?
Google Voice Search not working on Windows can be triggered by various issues like a poor network connection, outdated audio drivers, misconfigured microphone settings on Chrome, outdated Chrome, incorrect language browser settings, or something to do with the Google Assistant app. There could be a bug or temporary technical issue with Chrome. We will now see how we can fix these issues and resume your Google search seamlessly.
Fix Google Voice Search not working on Windows PC
If Google Voice Search is not working on your Windows PC, it grays out, you get an error, or the browser turns black when you click the microphone icon, we recommend fixing the issue using the following solutions:
Perform preliminary steps
Check Google Voice and Language settings
Reset Chrome Settings
Update Google Chrome
Download and install the voice search extension
Reinstall Chrome
Update, Reinstall, or rollback your audio drivers
Let us look at these solutions one by one in detail.
1] Perform preliminary steps
Some general steps can fix the voice search issues on Google. We recommend starting with the following workarounds before proceeding to more advanced fixes.
Restart Chrome and Windows. By doing this, you fix temporary bugs and hitches that might have triggered the voice search problem. Type chrome://restart in the address bar and load it to restart Google Chrome.
Check your Internet connection. You can test your internet speeds, and check your routers or modem. If there is no internet connection or extremely slow speeds, you might browsing issues such as voice search not working.
Try using another browser like Edge with Bing Voice Search to confirm that the issue is only with the Google microphone. From here, you will know if it's Chrome with an issue or if it's your Windows PC.
2] Check Google Voice and Language settings
If Chrome and other sites do not have permission to use your device's microphone, Google Voice Search will not work. To check the microphone permission settings on Chrome, go to Settings and select Privacy and Security. On the left side, click Site settings and scroll to locate Microphone. Ensure that the correct microphone is selected from the drop-down list. Also, check if the box next to Sites can ask to use your microphone is ticked.
Next, check the Language settings. To do this, go to Settings again and then select Languages. Here, select the language you want to use. You can click Add languages to select your preferred language.
3] Reset Chrome Settings
Some settings might be blocking your voice commands in Chrome. To fix this, you need to reset the settings to their default state. Do the following:
Click the three dots next to your Google profile picture, and click Settings.
Scroll down and select Reset settings.
Click the arrow next to Restore settings to their original defaults.
You will see a new wizard showing what your action will achieve; select Reset settings to proceed.
4] Update Google Chrome
If you are using an older version of Google Chrome, you need to update it and see if Google Voice Search will start to work. To update Chrome, click on the three dots next to your profile picture. Next, hover the cursor next on top of the Help option and then select About Google Chrome. Chrome might start to update immediately or you will need to click Check for updates.
5] Download and install the voice search extension
This is not a solution but it can work as an alternative when there is a bug with Chrome servers. As you wait for Google to rectify the issue, you can install a voice search extension.
Go to the Chrome web store, and type Voice Search in the search bar. You will see an extension by the name Voice Search; click Add to Chrome to download and install the extension. Once the installation is complete, go to the extension area, click the Voice Search extension, and then allow it to use your microphone.
6] Reinstall Chrome
If nothing works, your Chrome app might be having issues that can only be resolved by reinstalling it. First, you need to uninstall Chrome and to do this, open the Control Panel on your PC, and under Programs, select Uninstall a program. Locate Google Chrome, click it, and select Uninstall.
After the uninstallation is done, you need to install Chrome again. Use another browser such as Microsoft Edge to search, download, and install Chrome. Also, if you have no other browser on your PC, you can explore other methods to install a browser without a browser.
Related: Google Docs Voice Typing not working
7] Update, reinstall, or rollback your audio drivers
You can only perform these steps if you have confirmed that your device is the culprit. If the voice search feature is not working in other browsers, your Windows audio drivers might be the cause for this error.
Update, reinstall, or roll back your audio drivers and see if you fixed the Google Voice Search not working on your Windows PC. If nothing really works, you can contact Google support for further assistance.
We hope one of the solutions works for you.
Read: Voice Activation Troubleshooting in Windows
How do I turn on voice search on Google on my PC?
If you just downloaded Chrome and want to turn on Google Voice Search, open a new tab and click the microphone icon in the search box. You will get a pop-up asking you to allow Google to use your device microphone; click Allow to turn on the voice search feature. After that, you can use speech to search on Google.