Google Drive is one of the leading cloud storage services on the Internet. They provide a free 15 GB of storage for every Gmail account and give good competition to other cloud storage services like OneDrive, Box, Dropbox, etc. Sometimes its users may face some errors and glitches which lead to an interruption in the normal workflow. Some of these Google Drive errors are-
Google Drive sync won't start, run.
Google Drive won't sync.
Google Drive won't sync with the desktop.
And there are many more errors that have the same kind of fixes as we are talking today.
Google Drive keeps disconnecting or stuck on trying to connect
If you face this issue, you need to:
Check your connection
Terminate Googledrivesync.exe
Restart Google Drive Syncing
Clear browser browser
Turn off Windows Firewall
Manually sync files
Disconnect & reconnect your account
Disable Encrypted Connection Security Scan
Reinstall Google Drive.
Let us see in detail.
1] Check your connection
Check if you are connected to the Internet. You can try to configure your IP settings – Or you can just try connecting to another network.
If you are still not connected to the Internet, try configuring your router.
2] Terminate Googledrivesync.exe
If you are running Google Drive for Windows 10, you might have to follow some steps. Close Google Drive.
Open the Task Manager. You can do that by hitting the CTRL+Shift+Escbutton combinations or right clicking on the taskbar and click on Task Manager.
Now, look up for a program called GoogleDriveSync.exe and select it. If you see it, right-click and select End Task.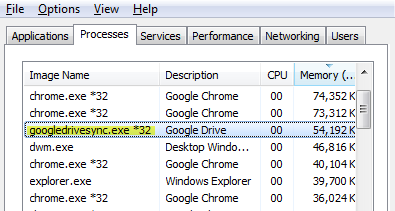 Start Google Drive again and see.
3] Restart Google Drive Syncing
In the system tray, click on the Google Drive icon. Click on More button in the context menu denoted by 3 vertical dots.
Now select Quit Google Drive.
Finally, open Google Drive from the Start Menu.
4] Clear browser browser
You can try to clear your browser cache and see if that helps.
5] Turn off Windows Firewall
Windows Firewall might be interrupting some connection of your computer with the Google Drive servers. You might have to try to disable Windows Firewall and see if that helps.
6] Manually sync files
After you manually sync files, it will take some time for Backup and Sync to complete. On your Windows computer, click Backup and Sync Backup and View unsyncable files. Click Retry all.
7] Disconnect & Reconnect your account
Disconnect your Google Drive account and then sign in again. You will be asked to choose a new location for the Google Drive folder.
8] Disable Encrypted Connection Security Scan
If your security software blocks the computer's connection to Google Drive servers, then you may have to disable it. You may find this under the settings of your security software.
9] Reinstall Google Drive
You can also try to uninstall and then reinstall Google Drive application.
Once you have uninstalled Google Drive, just head here to get the latest version of Google Drive, and then install it like any other software.
Related read: Google Drive keeps crashing continuously.