Microsoft Word has been there for all those who scribble away each day on a digital canvas until Google, the apparent heir came up with a cloud-based solution. The company's word processor is cross-platform, automatically syncs, and easily shareable.
While most of us have been devotedly using Microsoft Word to draft everything from college projects to school essays to resumes to important documents for the last 30+ years, that finally started to shift with Google's web-based Google Docs platform.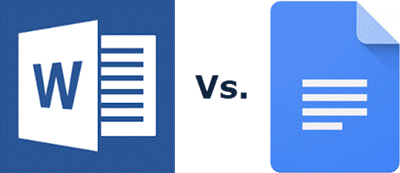 Considering the fact that the Microsoft has been working on the word processor for 30 years, Google Docs still needs to do a lot of working to match Microsoft Word's features.
With all of that being said, now the question comes – which is better? Let's explore the features, capabilities, and the difference between these cloud word processing tools.
Google Docs vs. Microsoft Word Online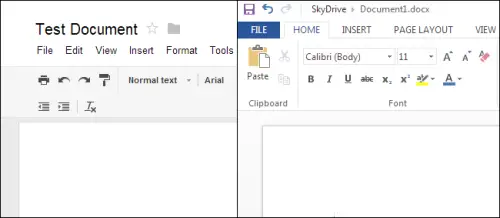 Accessibility
Let's look at each and every aspect step by step and analyze who would better from which tool. Microsoft Word has been prevailing since long and gives you access to a high number of impressive features and professional tools at your disposal.
To ease things here, Microsoft Word online has plenty of features for casual users. However, it is not the full-fledged functional version of Microsoft Word, but it is comprehensive and works well with most documents formats. Although there are few complex documents that don't work with the Microsoft Word Online version, everyday editing and documentation won't be too much of a problem.
You just need a Microsoft account to access Microsoft Word online free version. However, if you want to use advanced editing features as well, Microsoft Word Online comes in Microsoft Office 365 package including other programs like PowerPoint, MS Excel, Outlook, OneNote, Access, and Publisher. It can't be purchased as a standalone program.
Google Docs, meanwhile, is also an online and a completely free platform which syncs across the devices. It is a cross-platform word processor which contains simple, standard features for the basic documents.
You don't need to purchase or download any software to use Google Docs. Simply log in to your Google account and start using docs. There's no operating system or browser specific restrictions, unlike Microsoft Word. Hence, if you don't need more advanced functionality, Google Docs may suit you perfectly.
Interface
Microsoft Word Online is an apparent winner in terms of feature, but the same thing pulls it down when it comes to the user interface. There are so many features are available on Microsoft Word's ribbons and toolbar. It is great if you need a lot of fine-tuned features. But if you are a basic user, this can be exhausting navigating around the features looking for the one you need. Although, the online free version strips down few ribbons and toolbars to help it load faster.
On the other hand, Google Docs follows a comparatively simple approach. It narrows down the layout and toolbar features to give users an easily manageable workplace. It undoubtedly offers a more streamlined experience though it leaves user wanting more.

Google Docs places most of the frequently used buttons right in your reach. While everything else, you can find in the drop-down lists. Even Microsoft Word also liberates you to customize the toolbar and lets you place most used buttons in reach. But the lesser time you spend on customizations, the quicker work gets done.
Hence, unless you need a more advanced feature level, stick to Google Docs's easy to use interface.
Features
Microsoft Word Online works well with all the browsers, and we couldn't figure out any favors being given to Edge. Even if you use it in Chrome, there's an extension given for office that allows you to access the documents from your OneDrive account without having to log in every time.  That makes the entire process of creating documents and editing much more productive.
To deal with a cluttered interface, Microsoft has introduced a new feature 'Smart Lookup' to its online app. Right-click on a word shows a number of options whereby multiple actions can be taken from there only.
Google Docs maintains an image of being a bare-bones text editor. But don't be mistaken its simple layout with a lack of functionality. Just explore and dig into the menus, you won't find it lacking behind from Microsft Word Online.
You will find all the formatting and layout options including the ability to add tables along with powerful collaboration and sharing tool. Multiple users can access, edit, and leave comments with suggestions with variable permissions. While Microsoft Word online also liberates you with the collaborative feature, Docs is still much ahead in this regard.
File Compatibility
Both the platforms are compatible with the most common word processing formats. You can download Google Docs with extensions such as ODT, HTML, EPUB, TXT, RTF, PDF.
While Microsoft Word online lets you export the online documents as DOCX, PDF, or ODT files. Moreover, if you want to open a Google Docs file in Word, you need to convert it first.
Conclusion
I am currently using both, and they are both excellent document editing tools. Due to my personal requirements, I prefer the simplicity of Google Docs. But if your office and business do require advanced cleverly designed features, then there's no escape from Microsoft Word Online.
What has been your experiences with Microsoft Word Online or Google Docs? We would love to hear.
Related reads you may want to check out: