Windows 10 supports a nifty built-in feature that enables recording of video games and other apps. The Game DVR as it is called is readily accessible via a keyboard shortcut – Windows key + G. However when attempting to record a game or app, user sometime experiences trouble. They see the following message appearing out of nowhere – 'Sorry, this PC doesn't meet the hardware requirements for recording clips'. Although annoying, it can be easily fixed. Let's take a look.
This PC doesn't meet the hardware requirements for recording clips, says Game DVR
It's been observed that the error shows up mainly when your PC's graphics card does not meet the minimum specification required to record games using Game DVR. If your machine runs a powerful Graphics card, but you still experience this problem then, try the following solutions.
1] Download Game DVR Config.exe file
Visit this Github page and download the file named Game DVR Config.exe.
Go to your Desktop screen, right-click the file and choose 'Run as administrator' option.
Next, when the main window of the utility opens, select the option that reads as 'Force Software MFT (16 FPS + VBR)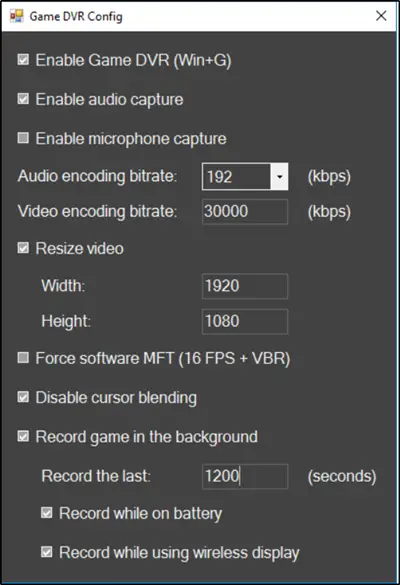 Close the app, open 'Task Manager' and locate the following option – 'Broadcast DVR server'.
When found, select it, and hit the 'End Task' button.
That's it!
2] Edit the Registry
Press Win+R to launch the 'Run' dialog box. Type 'regedit.exe' and hit the 'Enter' key.
Navigate to the following path address – HKEY_LOCAL_MACHINE. Expand the sub-folder, and navigate to the sub-location:
HKLM\SYSTEM\CurrentControlSet\Control
Now, switch to its right side-pane, double click on the entry PortableOperatingSystem to open its properties, change its value data from 1 to 0, and click OK button.
When done exit.
Now right click on the Taskbar, select Task Manager from the menu. Under the Process tab, click on the Broadcast DVR server process, and click End task button.
Finally, open the Xbox app, press Windows Key + G to bring the Game Bar while playing a game, and then click the red color button to get start recording.
Hope this works for you!