Email encryption is very helpful to protect confidential email data from being read by anyone other than the recipient(s). The entire content (text and links) is encrypted or turned into ciphertext so that it becomes unreadable until the email is decrypted.
The encryption part is done by the sender using the public keys and the decryption part is done by the recipient using his/her private key to read the email in plain text. If you use Microsoft Outlook desktop client and looking for easy ways to send encrypted emails, then this post is helpful. We have covered free add-ins to encrypt emails in Outlook.
Though you can manually set up email encryption in Outlook (Desktop client and Outlook.com) using the built-in feature, these add-ins make things easier.
Encrypt Outlook Emails using free email encryption add-ins
We have added 2 free email encryption add-ins for Outlook. The installation process is similar to installing any other software in Windows PC. But, before installation, you must close the Outlook desktop client:
Encryptomatic OpenPGP
Trend Micro Email Encryption
1] Encryptomatic OpenPGP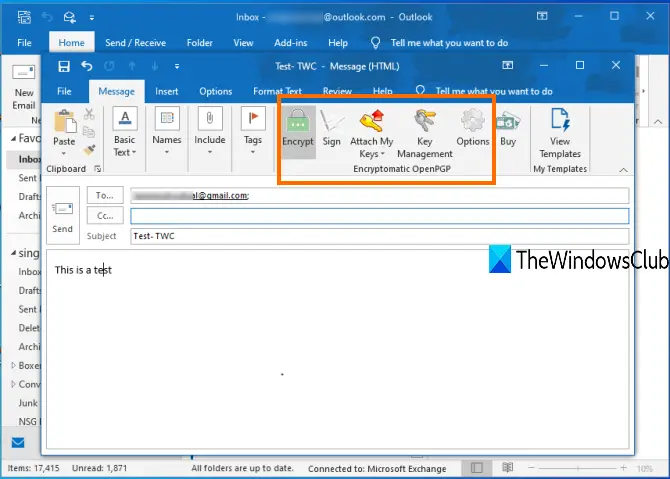 Encryptomatic OpenPGP Outlook add-in is free for non-profit and personal use. It brings a simple way to send encrypted emails from the Outlook desktop client. It lets you create a password or passphrase that is needed to unlock or decrypt the email to read its content. Both sender and receive must have this software to send encrypted emails and decrypt those emails.
The add-in brings three main buttons: Encrypt, Key Management, and Attach My Keys. Using the first button, you can enable encryption for your email, the second option helps to download the public keys of your recipients and upload your public keys to any of the available public key servers, and the third option lets you attach your public keys directly to the recipient in the email so that he/she can download it and then decrypt the email with his/her passphrase.
You can download this add-in here. After installation, open Microsoft Outlook, and it will prompt you to select the Outlook account for which you want to set up this software. Also, it lets you setup passphrase. You should also tickmark to Share your public key with public key servers so that others can send you encrypted emails without asking you manually to share your public key.
Now compose a new email, write your email content, press the Encrypt button, and Send the email. Apart from that, you can also access other features of this add-in. For example, you can add Digital Signature, and use Options to add/remove public key servers, create rules to automatically encrypt emails for a particular Outlook contact, remember passphrase for a defined number of minutes, turn on always encrypt option, and more.
2] Trend Micro Email Encryption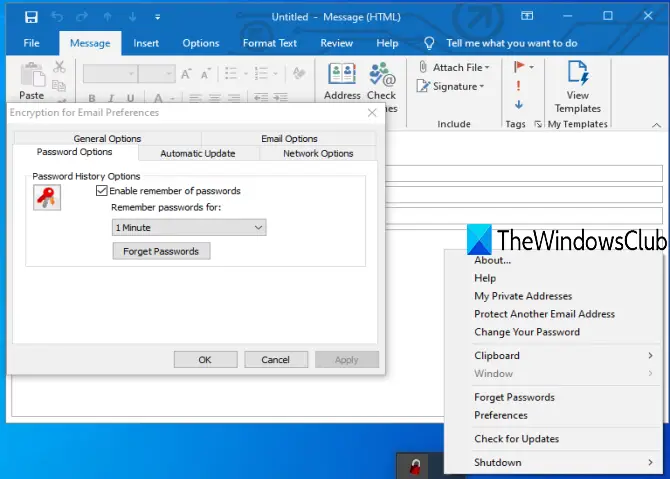 Trend Micro Email Encryption can work for email text as well as email attachments. It is free for non-commercial use and provides 256-AES encryption. It can integrate with Microsoft Outlook as well as the Windows Mail client. Another good feature is the receiver doesn't have to install this add-in to decrypt the email. The receiver can register with this add-in and decrypt email using a browser. All the steps are provided in the email for decryption.
Download it from here. During the installation process, you need to provide your email address connected with Outlook client and password for this plug-in. After that, you have to set security questions just like Windows ecurity questions.
Finally, it will send an activation code or link to your account registered with this add-in. You can open that account in Outlook and click on that link. Then it will update the certificates and complete the protection process.
Now you can compose a new email and then send an encrypted email using Send Private or Make Private button in the email toolbar.
In addition to that, you can also use its system tray icon to use more options. For example, you can right-click on its tray icon and access private email addresses, change password set during setup, make clipboard entry private, enable/disable remember of passwords, etc.
That's all.
These are two free add-ins that might come in handy to send encrypted emails from Outlook desktop clients. If you are already using the built-in encryption feature of Outlook and are happy with it, then it's good. Otherwise, you can try these email encryption add-ins for Microsoft Outlook.