When users try to launch a game or application on the Xbox Series XS or Xbox One console, they may run into this Xbox Error Code 0x8b0500B6. Through this article, we have explained some of the most effective solutions that you can apply to resolve the error.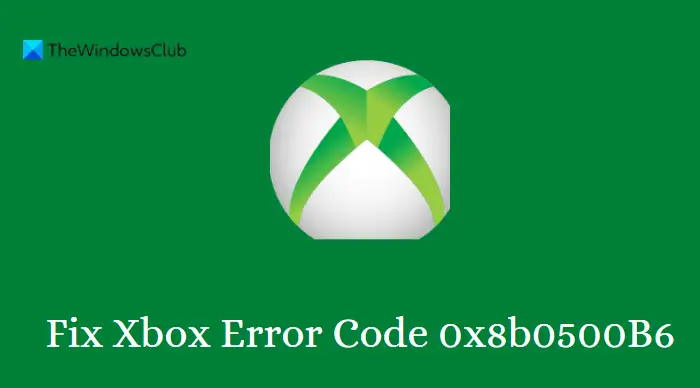 What is Xbox Error Code 0x8b0500B6?
Here are the details of the error message;
You need this update to use your console, but something went wrong. For help, visit xbox.com/xboxone/update/help.
This error message shows that there was a problem downloading the latest firmware for the Xbox console. The main cause behind the Xbox error code 0x8b0500B6 is a corrupted user profile.
Fix Xbox Error Code 0x8b0500B6
Before you begin, change your network connection and see if it helps; else try again after 1 hour. If it doe not help then, to fix Xbox Error Code 0x8b0500B6, use the following suggestions:
Power-cycle your Xbox console
Check Xbox server status
Remove and re-add the Xbox profile
Reset the Xbox Console
Perform an offline system update
Contact Xbox Support
Let's check out each of the methods listed above.
1] Restart/Power-cycle your Xbox console
In order to fix this issue, you must first restart your console, and if it doesn't work, you can power cycle it. Most people who have experienced this issue reported that power cycling helped resolve this issue.
To restart your Xbox, follow these steps:
Press and hold the Xbox button to open the Power center.
Select Restart Console from the list of options.
Click on Restart and let your console complete the process.
To power cycle your Xbox, follow these steps:
Press and hold the Xbox button for approximately 10 seconds. This will turn off your console.
Unplug your console from the wall socket.
Leave it unplugged for at least 30-60 seconds.
Connect your Xbox to the power outlet again when the time is up.
Press the Xbox button on the console to turn it back on now.
You can repeat these steps if you don't see the green startup animation when the console restarts. Also, make sure to keep the power button pressed until the console shuts down completely.
2] Check Xbox server status
The next thing you should do if you encounter this error is to check the status of your Xbox server. Check to see that your Xbox server is available and running. Here are the steps you need to take.
Visit support.xbox.com and check the status of the Xbox servers.
Make sure the Xbox server is up and running.
If your Xbox Live status shows green for all services, but you still see the error in view, make sure you are not experiencing any Xbox Live networking issues.
3] Remove and re-add the Xbox profile
In case your Xbox console fails to update, you may be presented with the error code 0x8b0500b6. If this happens, re-adding your Xbox profile can help you fix the problem. Let's take a look at how.
Press the Xbox button on the Home Screen of your console.
Then, navigate to the System tab and click on the Settings option.
Select Account and click the Remove account button on the right side of the page.
Now select the account that you want to remove.
Click on Remove to confirm.
After that, turn off your console and unplug the console's power cable from the wall socket.
You will need to wait around 2 minutes.
Reconnect the power cable and turn on your console.
That's it. Your Xbox profile has now been successfully removed. You now need to re-add your profile by doing the following:
Press the Xbox button on your console.
Select System > Add new.
Sign in with your Microsoft account using your email address or phone number.
Type in your password.
In case you forgot it, select I forgot my password. Then follow the steps to retrieve your password.
After signing in successfully, open the Xbox console and see if the error is solved now.
4] Reset the Xbox Console
Another possible solution for this issue is to reset your Xbox console and see if it fixes it. When you perform the reset, be sure to choose Reset and keep my games & apps. It will restore the Xbox OS without affecting your games or apps and delete any potentially corrupted data.
5]  Perform an offline system update
You may try to Perform an offline system update on your Xbox console and see if it works.
6] Contact Xbox Support
If all else fails and none of the solutions in this post worked for you, you can ask Xbox Support for help. Get in touch with Xbox via its official contact page. From there, you can select the green Contact Us button to speak with a representative.
Read: How to Fix Guide took too long to start (0x8027025a) error on Xbox console.
Why does Xbox Installer not work?
If everything works as expected, then it could be your security or antivirus software blocking connections from Xbox App to your Microsoft servers. In that case, you might want to temporarily disable it and then try again.
Related: Xbox Error 80151006, Sorry, this profile can't connect to Xbox Live on this console.