TurboTax is one of the known USA bases tax software that many people have been using for decades with no problem at all. However, recently, TurboTax error code 1603 is what users are seeing when they update the software. The error usually happens because Microsoft .NET Framework can't install or update the system. If you are in the same boat as many others, don't fret; in this article, we will discuss possible reasons and solutions.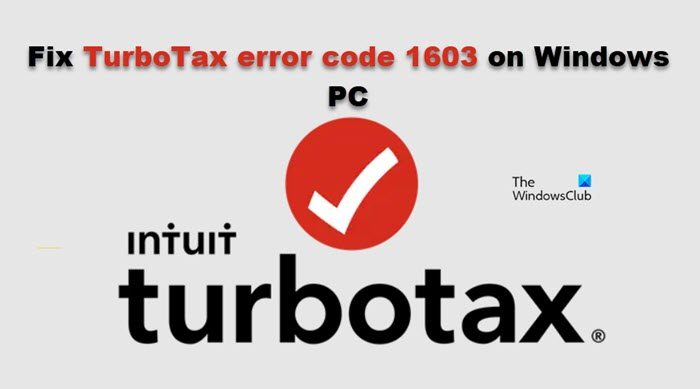 TurboTax error code 1603 on Windows PC
If TurboTax error code 1603 keeps appearing on your Windows PC, execute the solutions mentioned below:
Update OS and TurboTax
Clear up hard drive space
Disable antivirus or firewall
Troubleshoot in Clean boot
Install .NET framework dependencies
Reinstall TurboTax and run it with admin rights
1] Update OS and TurboTax
One of the known ways to fix error code 1603 is to update the operating system and the app itself. If it is not updated for some time, then make sure to install the latest version of the OS. Users should also manually update TurboTax by going to the Online menu at the top and then clicking on Check for updates.
2] Clear up hard drive space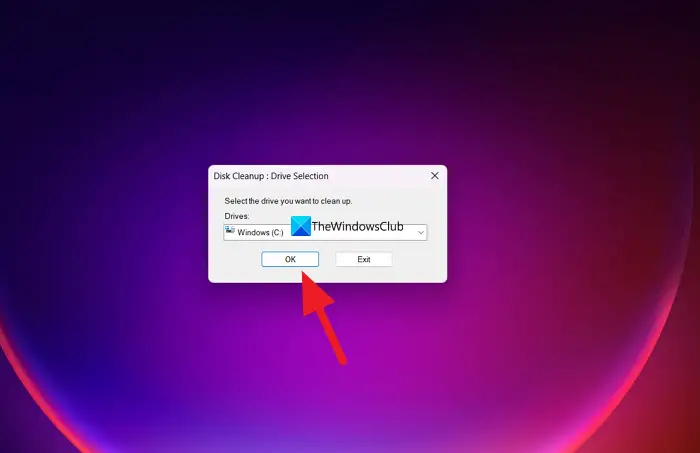 TurboTax errors can be due to a clogged-up device with Temporary and Junk files. These temporary files are stored by Windows stores automatically to enhance one's experience. However, these files tend to create issues and serve no purpose and users should delete them from time to time. Here we are going to do the same using Disk Cleanup Tool otherwise we can also clear up disk space via Windows Settings.
Hit Win + S and search out "Disk Cleanup".
Select C Drive and then proceed.
Make sure to tick Temporary Internet Files and Temporary Files.
Finally, click Ok
Launch TurboTax and see if the issue persists.
3] Disable antivirus and firewall temporarily
The antivirus installed is responsible for actively monitoring the data traffic and blocking suspicious and harmful web apps. They do so by not letting the app access important files of your computer, this can force TurboTax to show error codes such as 1603. In that case, we need to disable the antivirus as well as Windows' built-in Firewall to resolve the issue.
Follow the steps prescribed below to disable the Firewall:
Press Windows + I key to open the Setting option.
On the left side of the screen, click on Privacy & security option.
Now, click on the Windows Security option there and then on Open Windows Security.
Click on Firewall & network protection option and select Public Network.
Under the Microsoft Defender Firewall, click on the toggle-off button.
After disabling the same, check if the issue is resolved. In case, the issue is resolved, allow TurboTax through the firewall to ensure it never faces such an issue.
4] Troubleshoot in Clean boot
When troubleshooting in Clean boot, we can isolate a performance problem and pinpoint the one that is causing the problem. After performing Clean Boot, we will manually enable services one after another, and once the offender is identified, we can consider removing or disabling it.
5] Install .NET framework dependencies
A lot of users reported that if any of the dependencies are missing due to any reason, then this error is going to plague the screen. It is because TurboTax was made for Windows 7 and not for the current version of the operating system. We are going to install the missing .NET framework to fix Turbotax 1603.
Insert the disk or the drive that includes the ISO file of your OS
Click Win+R to open the Run dialog box.
Type cmd and click Ctrl + Shift + Enter to give the administrative right to Command Prompt and select Yes when prompted by UAC.
Run the following command, and make sure that in place of XXX, you write the letter of the installation media, and click the Enter button.
Dism /online /enable-feature /featurename:NetFX3 /All /Source:XXX:\sources\sxs /LimitAccess
After the installation process is over, reboot the system, update TurboTax and then launch it, and hopefully, this will resolve the issue. In case, you don't have a disk, just enable .NET from Control Panel and you will be good to go.
6] Reinstall TurboTax and run it with admin rights
Last but not least, if none of the solutions could resolve the issue, delete the software, reinstall it, and then before launching it, grant it admin rights, and see if the issue is fixed or not. To uninstall TurboTax, follow the steps mentioned below.
Open Settings.
Go to Apps > Installed apps or Apps & Features.
Search for TurboTax from the search bar.

Windows 11: Click on the three vertical dots and select Uninstall.
Windows 10: Select the app and then click on Uninstall.

Click on Uninstall when prompted.
Finally, download TurboTax from turbotax.intuit.com.
After downloading TurboTax, run the installation media with administrative privileges.
Hopefully, this will resolve the issue for you.
Also Read: Fix Error 1625, This installation is forbidden by system policy.