Are your encountering packet loss issue in Rocket League? The reason behind the error is pretty simple – a bad network connection. So if you have an unstable, and inconsistent network connection, then you are going to come face to face with a packet loss issue. Also, if your computer, which is a client, is unable to communicate with the server because of various reasons, this issue can occur.
The best way to tackle this issue is by restarting the device or router, or simply ensuring that your PC has a stable and fast Internet speed. However, there are a lot of other potential solutions that we will see here. In this article, we will discuss what to do in case you can't play the game.
Fix Rocket League Packet Loss on Windows PC
If you encounter Rocket League packet loss on Windows PC, follow the solutions mentioned below to resolve it.
Restart your computer
Check the network speed
Perform a power cycle on your router
Kill Network Hogging Programs
Run Internet connection troubleshooter
Update the network driver
Enable/disable VPN
Use Google Public DNS
Use a wired connection
Let's get this troubleshooting guide started.
1] Restart your computer
Simple steps like restarting your computer sometimes give better results than hard troubleshooting guides as it wipes out the glitches, leaving you a clean slate to work on. Therefore, we need to restart your computer in order to get rid of any glitches to resolve the issue. Turn off the device, remove all the cables, and then after some time, plug them back in and turn on the router. Now, restart your device and launch the game. Hopefully, this time, you won't see the error.
2] Check the network speed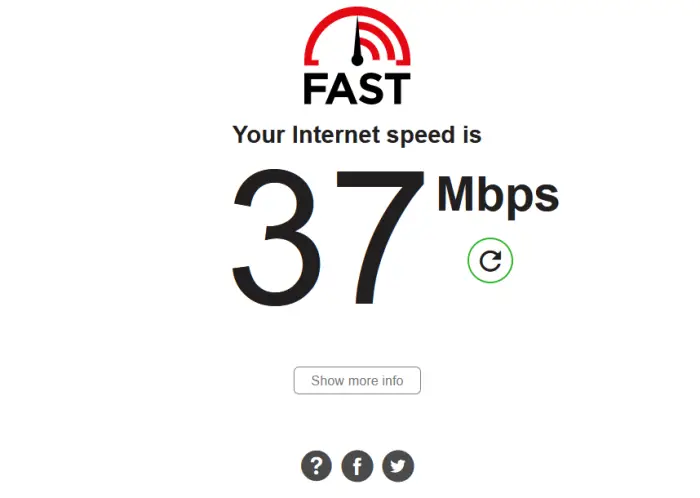 If restarting the device was of no help, then in order to resolve the issue you have to check if there is some problem with your Internet. To do the same, you can use any of the Internet Speed testers and check your bandwidth. If it is low, powercycle your network device. If your bandwidth is still low after restarting the router or any other network devices, then you need to have a conversation with your ISP.
3] Perform a power cycle on your router
Next, we are going to perform a power cycle on your networking device i.e., router/modem. Restarting your router/ modem may not remove the bad cache and the issue will continue to persist. So, in such scenarios, you can clear the router cache by power cycling your device. To perform a power cycle on your router/modem, follow the below steps:
 Tap the power button on your router until it turns off and remove the power cord of your router.
Wait for 30 seconds at least and then connect the power cord of your router to the main switch and switch on the device.
Once the router is turned on, connect to the internet and launch the game.
If the problem is still the same, you can try using the next potential fix to resolve it.
4] Kill Network Hogging Programs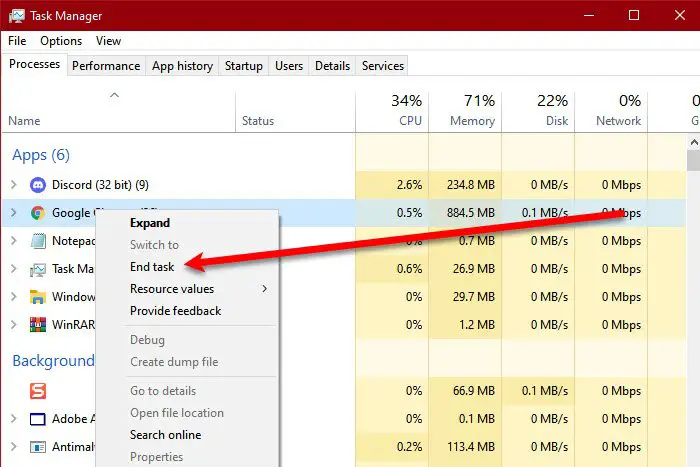 When playing a game, you need to make sure that no other program is running in the background, this is not just good for maintaining a constant FPS while gaming, but can also help if you are constantly facing network issues. To do the same, open Task Manager, and click on the Network tab, it will show all programs that are consuming the Internet. Finally, right-click on it and select End Task.
5] Run Internet connection troubleshooter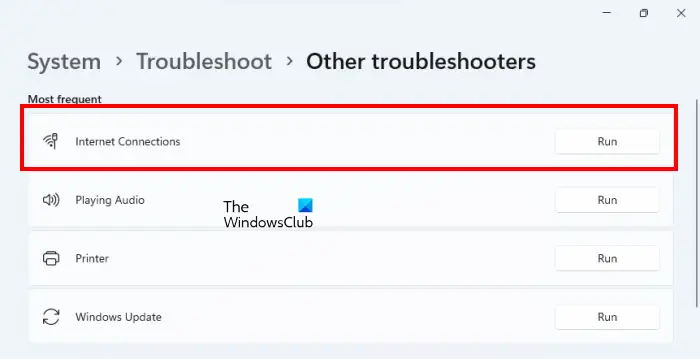 The error in question happens due to a bad Internet connection, therefore in this solution, we will run a Network troubleshooter. To do the same, follow the steps prescribed below:
Windows 11
Click Win+I to open Settings.
Now, go to System > Troubleshoot > Other troubleshooters. 
In the Most Frequent menu, click on Internet connections and select Run.
Windows 10
Open Settings.
Navigate to Update & Security > Troubleshoot > Additional troubleshooter.
Click on Internet Connections and then on Run the troubleshooter.
Once done, launch the game and see if you can still see the error. Hopefully, this will resolve the error.
6] Update the network driver
If you are running an older version of the network driver, there can be compatibility issues. Also, there can be bugs that can only be resolved by updating the Network driver. Whatever the case is, keeping everything updated is good practice in cases where games are concerned. You can download and install Windows Optional and Driver Updates from Windows Settings.
7] Enable/disable VPN
Packet loss happen when there's an issue regarding your network connection. This issue can be due to instability issues with your connection as some VPN software might not work. Hence to resolve the issue, you should disable it and then see if the issue persists.
On the flip side, if it continues to persist and you are currently not using a VPN, try VPN software and see if it helps you fix the problem at hand while keeping in mind that it can sometimes lead to crashing or freezing issues.
8] Use Google Public DNS
If you are fed up with network issues while gaming, switch to Google Public DNS. It might not be a solution but it a permanent workaround that can not only help you get rid of this error but also prevent your computer from encountering these kinds of issues in the future. So, go ahead and set up Google Public DNS and see if that helps.
Read: What is WiFi Packet Loss and how do you test and fix it?
9] Use a wired connection
If none of the mentioned solutions provide you with a stable Internet connection, switch to a wired connection. We recommend you do so because a wired connection is more reliable and stable, and it ensures better gaming performance.
First, click Shift + Ctrl + Esc to open Task manager and quit all the game-related processes. Now, disconnect the WiFi network and connect your PC to a wired network using an Ethernet cable. After doing so, launch the game and see if the packet loss Rocket League issue persists or if it is resolved.
Hopefully, your issue will be resolved using the solutions mentioned in this article.
Also read: Fix Halo Infinite Packet Loss Issue.