There are various reports by some Raft players that on their Windows 11 or Windows 10 gaming PC, either they can't join friends/world, or the multiplayer is not working. This post provides the most suitable solutions to the Raft Multiplayer and Connection issues on Windows PC.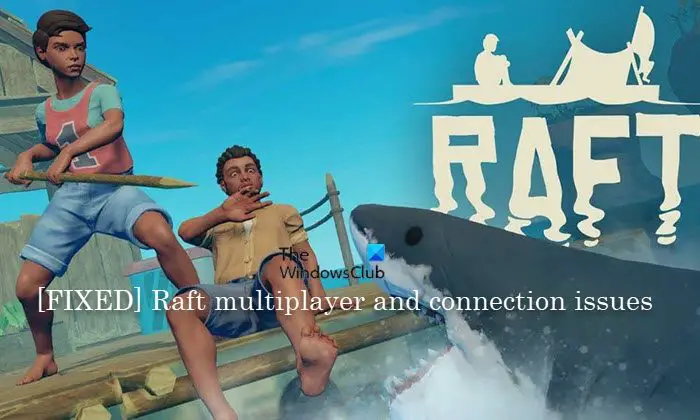 Why is Raft having issues connecting?
If the game Raft is having issues connecting on your computer, it is usually due to network issues. So, you can check if your internet connection is working as it should and also consider running an internet speed test. You can also check your Windows Firewall or any third-party dedicated firewall you have running on your system to make sure Raft is allowed through, then check your AV and make sure the game is added to the exception list.
Affected PC gamers are likely to encounter the issue for the following reasons.
Internet connection issues.
Raft game files issues.
A temporary glitch.
As per reports regarding the issue in view, in some cases, a blue screen appears whenever gamers are trying to join a friend's server. However, this particular occurrence seems to be isolated amongst some gamers.
Fix Raft Multiplayer and Connection issues on Windows PC
If you are experiencing the game Raft multiplayer and connection issues on your Windows 11/10 gaming rig, then our suggested solutions presented below in no particular order can be applied to easily resolve the issue so that you can get back to playing this game that has received thousands of positive reviews on Steam for its better graphics and survival tactics.
Initial checklist
Use VPN/GPN
Verify Raft game files integrity
Change Raft Process Priority
Flush the DNS cache on your PC
Temporarily disable security software
Reinstall Raft
Let's examine the process described in each of the stated solutions.
If you cannot join your friend's Raft game, then to troubleshoot the issue if you can't join your friend's Raft game, first of all, make sure both you and your friend have a good internet connection and your computers meet the minimum requirements for Raft. If you or your friend is using Wi-Fi, it might help to use ethernet instead. The game does require an internet connection to play so you will not be able to play the game without an internet connection.
1] Initial checklist
This initial checklist is intended to help you with quick solutions to the known common underlying causes of the Raft multiplayer and connection issues that you may be experiencing on your Windows 11/10 gaming PC. So, we suggest to you on completion of each task, check if the issue is resolved.
Verify system requirements. The game's system requirements are usually glossed over by PC gamers and then down the line might start having issues playing the game. You can verify if your PC build, or specifications are similar or higher than the listed minimum system requirements below then you should have a better gaming experience on your system. Otherwise, you will have to upgrade your PC/hardware.

64-bit processor and operating system are required
OS: Windows 7 or later
Processor: Intel Core i5 2.6GHz or similar
Memory: 6 GB RAM
Graphics: GeForce GTX 700 series or similar
DirectX: Version 11
Network: Broadband Internet connection
Storage: 10 GB of available space

Check the Internet connection. Poor or unstable or intermittent internet/network can easily give rise to the issue at hand especially multiplayer not working issue in most scenarios. So, as far as internet connection goes, make sure to try using both the wired (ethernet) and wireless (Wi-Fi) connection to troubleshoot the issue. Ideally, the wired connection is favored over the wireless connection. You can also contact your ISP for further technical assistance assuming there's no outage incident report from their end. In addition, you can power cycle your internet device (router/modem) and see if that helps.
Make sure Windows and the Raft game are updated. You need to make sure to install the latest available or pending updates for the game to get better stability and improvements. To do so: open the Steam client > Go to Library. Click on Raft from the list of installed games at the left pane. Click the Update option if there's an available update and then wait for a couple of minutes to complete the update process. Once done, close the Steam client and then reboot your PC to apply changes and launch the game to play hopefully without issues other things being equal.
Read: An error occurred while installing or updating the Steam game
Make sure your Steam profile is set to Public. You need to make sure that your Steam Profile is set to Public so that other players as well as your friends can connect with you easily and without issues for multiplayer gaming. To do that: open the Steam client, then click on your Username > View my profile > Edit Profile. Go to the Privacy Settings tab and then one after the other, set the My Profile, Game Details, Friends List, and Inventory options to Public.
Make sure the world isn't single-player or invite-only. Check if the friend world you're trying to join isn't a single-player mode or an invite-only session. If the latter is the case, then you can request an invite or try sending an invite to your friend or asking them to join the game via invite; if not, then just make sure to go to the player/friend's name in your Steam friends list, then right-click on it and select join the game. In some cases, directly joining the game from the in-game menu may not work properly so an invite can be used as a workaround.
Host a game server. Raft doesn't currently have dedicated servers. The game relies on a peer-to-peer network which means you have to host a game server or join an online session hosted on someone else's PC. The player who starts a game will act as host and this is an attempt to make multiplayer as easy as possible.
Read: Valheim Dedicated Server Disconnected or Failed to connect
2] Use VPN/GPN
You may experience Raft lagging or spikes due to large rafts on survival mode, so servers are unable to handle it. Also, the Raft high ping in multiplayer mode is due to a bad server response. The easiest way to fix this is to use a VPN with split tunneling or port forwarding under more server locations to change your location and try on a different server closer to the remote PC or hosted game server to connect which can also fix any packet loss issue.
3] Verify Raft game files' integrity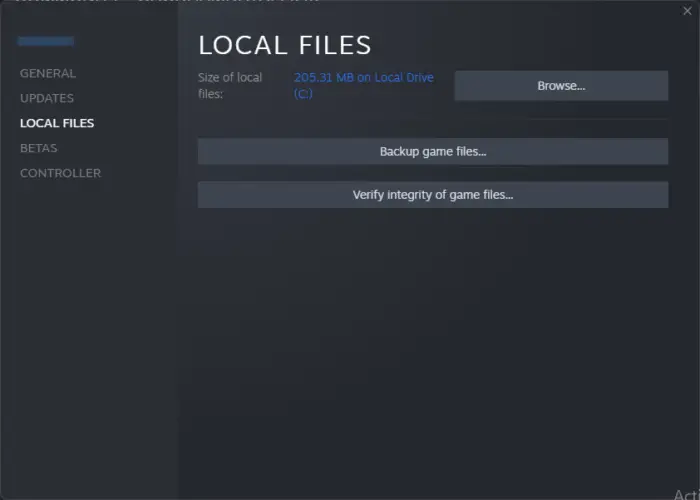 Due to some unexpected reasons, the Raft game files could become corrupted or missing. In this case, you can easily verify and repair the problematic game files via the Steam client by following these steps:
Launch the Steam client.
Click on Library.
Right-click on Raft from the list of installed games.
Now, click on Properties > Go to Local Files.
Click on Verify Integrity of Game Files and wait for the process to complete.
Once done, restart your computer.
If the issue is still unresolved, continue with the next solution.
4] Change Raft Process Priority
In the case whereby your game needs higher CPU & RAM resources allocated to run smoother, the Windows operating system may not be able to handle it. This is because sometimes, Windows may not recognize the resource-hungry game application and the unnecessary background running processes may take a lot of system resources like CPU & RAM without the user's manual allocation. In this case, you should manually set & save the Process Priority for the specific game task as a High Priority in Task Manager by following these steps:
Press the Ctrl+Shift+Esc keys to open Task Manager.
Now, click on the Details tab.
Right-click on the Raft game task/process to expand it.
Then click on Set Priority > High.
5] Flush the DNS cache on your PC
Another solution that seemed to work for some affected PC gamers is to flush the DNS cache (the system will automatically create a new DNS cache once connected to the internet) on the computer to remove stored cache files that are related to the internet configuration. Outdated or corrupted DNS cache data can potentially give rise to multiple issues with networking connectivity and speed in some cases. So, you can give this fix a try and see if that works for you too!
Read: Fix Halo Infinite Blue Screen on multiplayer gaming
6] Temporarily disable security software
Most game issues on Windows 11/10 computers can be attributed to your security software (antivirus or firewall especially from third-party vendors) that can block all the ongoing connections from your PC in the case of a firewall or the case an antivirus that can falsely flag a game file as suspicious and then delete or quarantine such files and this can affect the normal functioning of the game including experiencing multiple issues with the server connectivity and playing multiplayer online games smoothly. So, you can temporarily disable your security software via the software settings page and also check to make sure no legitimate game file has been quarantined in which case you can restore the file.
Read: Manage Quarantined Items, Exclusions in Windows Defender
7] Reinstall Raft
Ultimately, you may have to reinstall the Raft game on your Windows 11/10 gaming rig as there are some issues with the installed game files that unless you manually uninstall and reinstall the full game on your PC the issue will likely not go away. So, you can uninstall the Raft game via the Windows Settings app, Control Panel, or Steam client. Once done, you can then install the latest version of the game.
If this doesn't resolve the issue at hand, you may have to contact Redbeet Interactive Support by submitting a report at support.redbeetinteractive.com. If the issue is a widespread issue, the chances are high that after creating a ticket, developers will investigate the issue and possibly release a fix in a future update.
Hopefully, this post helps you!
These posts might interest you: