Halo Infinite multiplayer is out right now for anyone who wants to play. The title is free to play, and from what we can tell so far, millions of fans around the world are enjoying it. Now, since the game is new, one expects it to have a few problems, and one of them is that the players see a blue screen.
What is the cause behind the Halo Infinite Blue Screen?
From what we have come to understand, folks are seeing the blue screen error due to possible corruption. You see, when gamers began to download Halo Infinite multiplayer from the Microsoft Store, the title wasn't rolled out properly by the software giant, and as such, several people have begun to experience the blue screen issue.
Which gaming platforms are affected?
OK, so it would appear as if only the Microsoft Store and Xbox versions of the game are affected. We've seen no complaints of the sort from gamers on Steam.
Fix Halo Infinite Blue Screen multiplayer
Fixing this problem does not take a lot of effort when compared to other errors, so keep reading to learn a lot more.
Restart your Xbox
Restart your Windows 11/10 computer
Update Halo Infinite on Xbox One/Series
Update Halo Infinite on Windows 11/10
1] Restart your Xbox
OK, so the first thing you will want to do here, is to restart your Xbox One or Series machine. To do this, press and hold the Xbox button on the controller or console for around 5 seconds. The video game console will automatically power down.
After a 30 seconds period, press the Xbox button again to reboot the console. From there, you can try to play Halo Infinite multiplayer once more.
2] Restart your Windows computer
When it comes down to reboot your Windows PC, we suggest right-clicking on the Start Menu button. You can find it on the Taskbar, and it's the one that resembles the Windows logo.
Once you've done that, you should see Shut down or sign out. Hover over it and be sure to select Restart.
Finally, after the computer is up and running again, please go ahead and check if the blue screen issue is still affecting Halo Infinite.
3] Update Halo Infinite on Xbox One/Series
In terms of updating Halo Infinite multiplayer on your Xbox One/Series, you must press the Xbox button on the controller, then navigate to Settings > System. From there, go to Updates and wait for the system to check for any pending updates in the pipeline.
4] Update Halo Infinite on Windows 11/10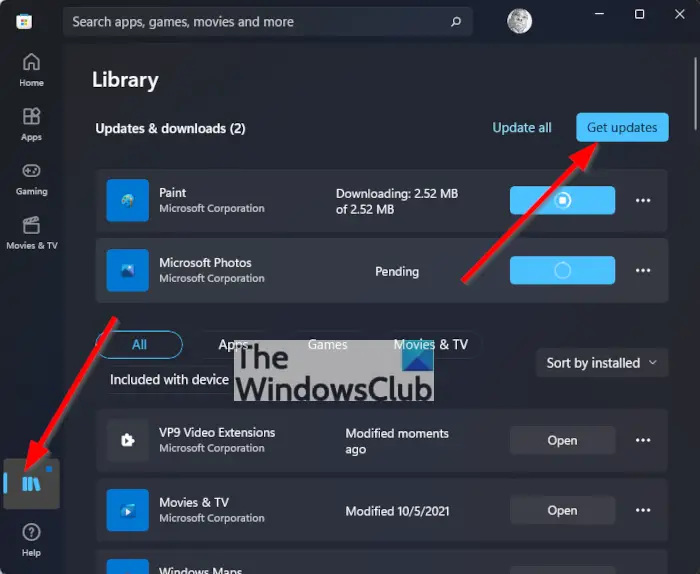 Updating this game on Windows 11/10 is very simple. All you need to do is to open the Microsoft Store, then select Library from the left pane. Finally, hit Get Updates and wait for the system to check for updates relating to Halo Infinite.
If any are found, then the system will automatically download and install.
Read: Halo Infinite keeps freezing or crashing on Windows PC.