If you need to fix Outlook and Office 365 problems, you can use the Microsoft Support and Recovery Assistant for Office 365 to resolve the issues easily. If it cannot fix the problem, it will suggest the next steps and help you get in touch with Microsoft support.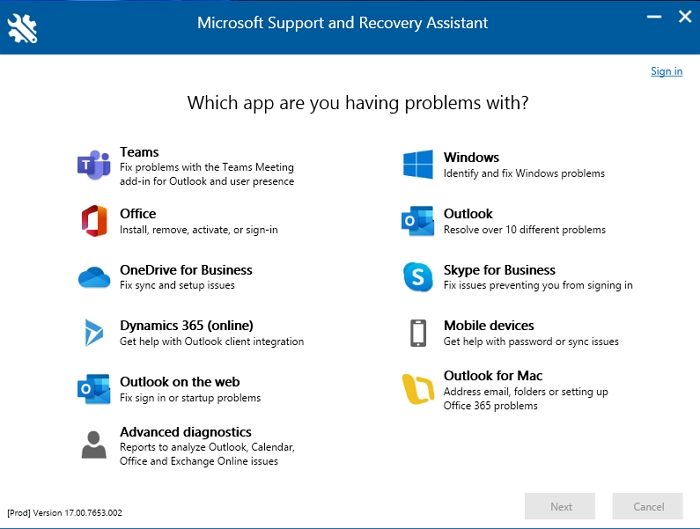 Fix Outlook and Office 365 problems
The Microsoft Support and Recovery Assistant for Office 365 is a one-click tool that Microsoft has released to make things easier for Windows users who are facing an issue with Office 365 or Microsoft Outlook.
Once you have downloaded the web installer from its home page, run it and wait for the download and installation to complete, and the tool to open.
You will see a screen that will ask you about the problem you are facing. The options you have are:
Teams
Office
OneDrive for Business
Dynamics 365 (online)
Windows
Outlook
Skype for Business
Mobile devices
Outlook on Mac
There is one more option available. The Advanced diagnostic. You will be able to run a diagnostic log collection
Microsoft Support and Recovery Assistant for Outlook & Office 365
The Microsoft Support and Recovery Assistant tool can fix the following problem for you:
Office
I get an error when I install Office
I can't activate Office
I need to uninstall Office
Outlook
Outlook won't start
I can't set up my Microsoft 365 email in Outlook
Outlook keeps asking for my password
Outlook keeps saying "Trying to connect…" or "Disconnected"
Shared mailboxes or shared calendars don't work
I'm having problems with my calendar
Outlook stops responding
Outlook keeps crashing
I can't send, receive, or find email
OneDrive for Business
I can't sync my files with OneDrive
I can't install OneDrive
Other Office apps
I can't sign in to Skype for Business
I can't get email on my phone
I'm having trouble opening or signing in to Outlook on the web
I can't install, connect, or enable Dynamics 365 for Outlook
Once you select your problem and run the tool, it will run tests to figure out what's wrong and then either fix the problems for you or tell you how to fix it yourself manually.
Go get it from outlook.com and let us know if it helped you fix your problem.
Do I need an account to use the Microsoft Support and Recovery Assistant?
No. All you need are the applications that the assistant supports.  Even if you have a local account, this will work fine with all user accounts not just admin.
Do you need an internet connection to use the Support app?
Yes, you need to have an internet connection as a lot of suggestions come from the internet. Along with that, the application also collects log that is sent to the Microsoft servers for further analysis.