Open Broadcaster Software or OBS in short form is a free and open-source program for video recording and live streaming which runs on both Windows and Mac. It has been the favorite broadcasting software for Youtubers and content creators since its release for its features. With OBS Studio, you can screen record with audio, Livestream events, do podcasts, etc. Some users around the world are reporting that OBS Studio is crashing on Windows 11/10. In this guide, we have a few solutions to fix the issue.
Woops, OBS has crashed!
Fix OBS Studio keeps crashing on Windows PC
When OBS Studio crashes on your Windows 11/10 PC, you can use the following fixes to resolve the issue.
Update graphics drivers
Allow OBS in Windows Firewall
Install or Update DirectX
Change OBS Compatibility on your PC
Reinstall OBS Studio
Let's get into the details of each method and implement them.
1] Update graphics drivers
The graphic drivers of your PC might be the cause of the OBS Studio crash. They might be outdated or corrupted. You have to update them to the latest versions which fix the bugs of previous updates and give improved performance. So, try updating the graphic drivers and check if the issue still persists.
You can use one of the following methods to update your graphics drivers:
2] Allow OBS in Windows Firewall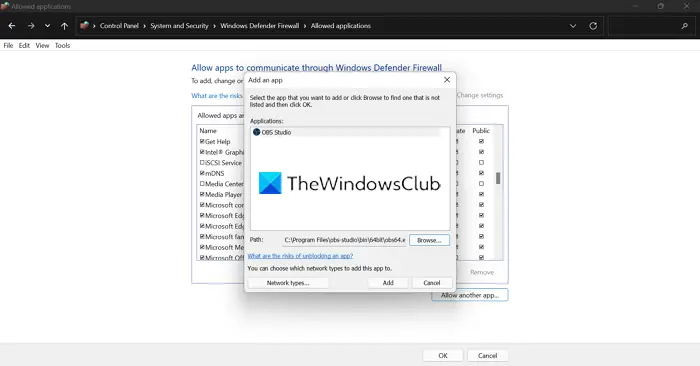 Windows Firewall may be causing the crash of OBS studio. You need to allow OBS in Windows Firewall and eliminate the possibility of it.
To allow OBS in Windows Firewall,
Open Start menu and search for Windows Defender Firewall
Then, click on Allow an app or feature through Windows Defender Firewall on the side panel
It opens Allowed applications window. Click on Change Settings button.
It enables Allow another app button at the bottom. Click on it and browse OBS Studio and click on Add
Then tick all the boxes beside it and click OK to save the changes
3] Install or Update DirectX
DirectX is necessary for heavy multimedia applications like OBS Studio. If it is not installed on your PC, OBS Studio might crash. Even the outdated DirectX can cause the issue. You need to install or update the latest version of DirectX. To update DirectX, you can use Windows Update and Optional Updates option. To install DirectX, you visit Microsoft Download Center and download it.
4] Change OBS Compatibility on your PC
OBS Studio can crash even if it is not compatible to run on your Windows. You need to change its compatibility to fix the issue.
To change OBS Compatibility,
Open Start Menu and find OBS Studio
Right-click on it and select Open file location
It opens OBS Studio folder
Right-click on OBS Studio (64bit) and select Properties
Then, click on the Compatibility tab
Check the button beside Run this program in compatibility mode for.
It enables the drop-down menu under it. Click on it and select your OS. You won't find Windows 11/10 in the list.
Then, you have to click on Run compatibility troubleshooter above it.
It will run and find all the issues with OBS compatibility and fixes them automatically.
5] Reinstall OBS Studio
OBS Studio crash should have been fixed by now. If not, you need to uninstall the program from your PC. Then, download the latest version form OBS Project website according to your PC and install it. To uninstall OBS Studio,
Open the Settings app
Select Apps and then click on Apps & features
Find OBS Studio in the list and click on the three-dot menu beside it
Click on the Uninstall button and follow the on-screen wizard.
Read: Fix OBS not capturing Game Audio on Windows
How do I stop OBS from crashing?
OBS Studio can keep crashing if your PC doesn't have updated graphics drivers, DirectX. If the OBS studio is not compatible with your PC, it might crash. Even the antivirus or Windows Firewall might cause the OBS to crash. Make sure your OBS Studio is up to date, graphics drivers and DirectX are up to date. and allow OBS Studio through Windows Firewall.
Read: OBS not capturing Game Video on Windows PC.
Why is my OBS keep crashing?
There are numerous causes that can make OBS Studio crash on your PC. They are,
The version might not be compatible with your PC
It is being blocked by Windows Firewall or antivirus
Outdated or corrupted graphics driver
DirectX failure or not installed
Bugs or corruptions in OBS Studio
You need to implement fixes (mentioned in the post) based on the possible causes.
Read next: OBS Display Capture not working for OBS.