When browsing using Chrome, you get an error saying NETWORK_FAILED. This simply means that it is not able to send your request through the network connection. So, either your PC has an issue connecting to a stable internet connection or a plugin like some Proxy plugin is causing this interruption. The worst case is that malware or virus might be causing this issue for you. This guide will help you to fix this NETWORK_FAILED error in Chrome on Windows PC.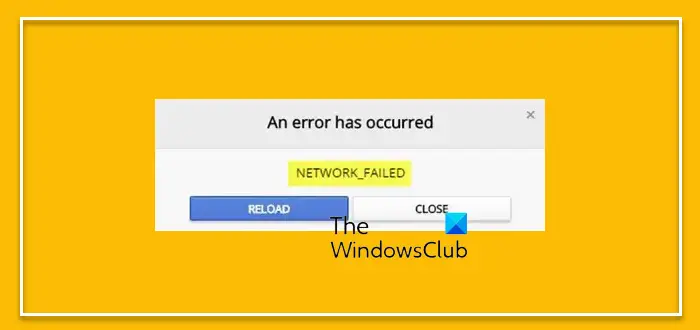 Fix NETWORK_FAILED error in Chrome
I will divide the troubleshooting steps into two. First relates to troubleshooting Chrome, and second relates to troubleshooting your Windows PC.
Chrome Troubleshooting
1] Disable Unnecessary Chrome Extensions
Most Chrome users make use of extensions. One of these extensions may be causing trouble for you. For some reason, they might be interrupting the connection. While you can disable all of them at once, I will suggest doing it one by one and see which one is causing the problem.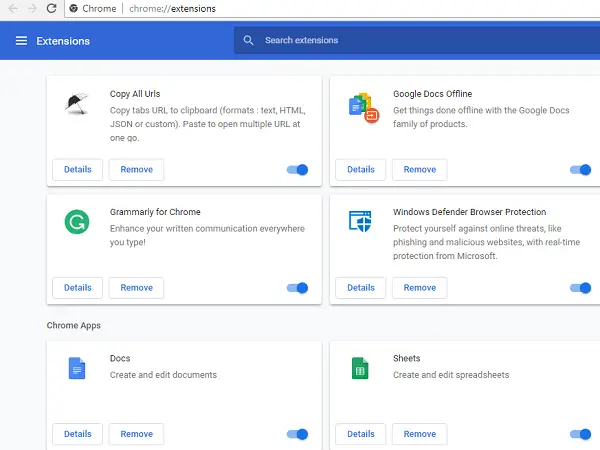 Launch Chrome, and type chrome://extensions in the address and hit Enter.
This will show you all listed extensions installed in Chrome.
Disable each of them(Toggle off), and restart Chrome to check if the issue is fixed.
2] Run Chrome's Malware Scanner & Cleanup Tool

Run Chrome browser's built-in Chrome's Malware Scanner & Cleanup Tool. It helps you remove unwanted ads, pop-ups & malware, Unusual Startup pages, toolbar, and anything else that spoils the experience by crashing websites by overloading the pages with memory requests.
3] Reset Chrome Settings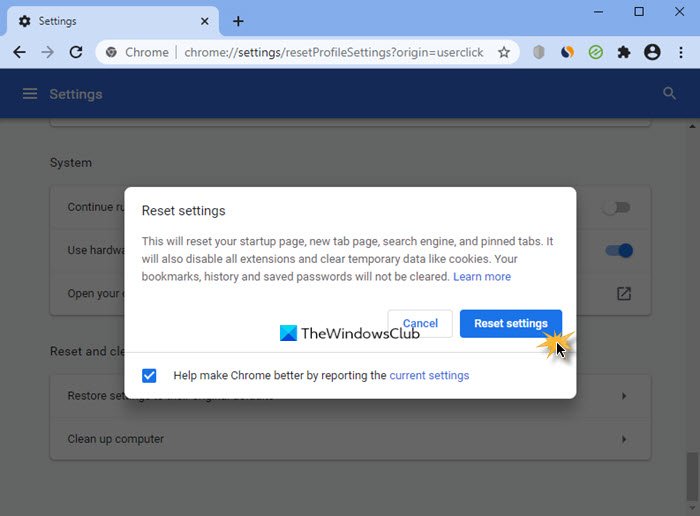 When you reset Chrome, it takes your default settings which were during the fresh installation. Majorly, it will disable all extensions, add-ons, and themes. Apart from these, the content settings will be reset. Cookies, cache, and Site data will be deleted.
PC Network Troubleshooting
1] Disable Proxy
If you are using Proxy, you may want to disable it, and then see if you can connect to the internet.
Press Windows Key + R then type "inetcpl.cpl" and hit enter to open Internet Properties.
Next, Go to Connections tab and select LAN settings.
Uncheck Use a Proxy Server for your LAN and make sure "Automatically detect settings" is checked.
Click Ok then Apply and reboot your PC.
Find out more about how you can disable PC proxy.
2] Flush DNS and reset TCP/IP
Sometimes the websites don't resolve because the DNS in your PC still remembers old IP. So make sure to Flush the DNS, and Reset TCP/IP.
3] Delete WLAN Profiles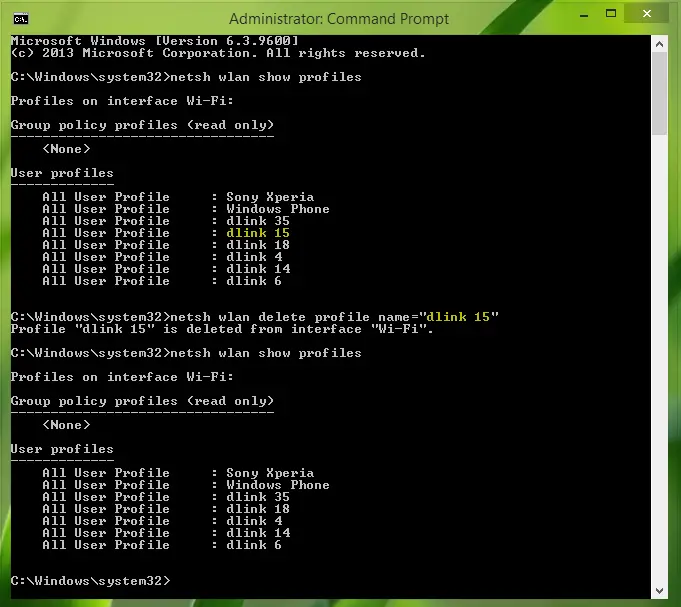 If you cannot connect to the internet from anything on your PC, and you are using WiFi, you may want to delete all your WLAN Network profiles. It is possible that those previously connected networks have gone rogue, and it's not connecting properly, or it probably keeps disconnecting from that network.  It is best to delete all the WLAN Network Profiles, and start fresh.
Let us know if these solutions help you solve the network problem with Chrome.