While you can always stream Netflix videos using any browser, Windows 10 offers you a native app to watch videos.  Now it may so happen that while it works on the browser, the app doesn't work. You may be receiving errors like the Netflix app stopped working, there is no sound, or it's a black screen when you start playing a video. This post may help you fix Netflix errors like There is a problem connecting, Stuck on the loading screen, An error occurred loading this content, System configuration error, There is a problem with the Windows media element that is preventing playback and so on.
Before you begin, please make sure you have the latest Windows Updates, and Video Drivers installed. There could be multiple reasons for this apart from drivers such as issues with App cache, incorrect network configuration, and so on.  In this guide, we will tell you what to do if the Netflix app is not working on Windows 11/10.
Netflix app not working on Windows 11/10
Just before we start, I would recommend you to make sure of the following:
Restart your App.
You have a stable internet connection.
Date and Time settings are correct, and
Make sure you restart your PC once.
1] Update Graphics Drivers
Make sure your graphics drivers are updated to their latest version and are also compatible with the current version of installed Windows. You may have to download the latest version from the OEM website if it's not available with Windows.
2] Reset the Netflix Windows app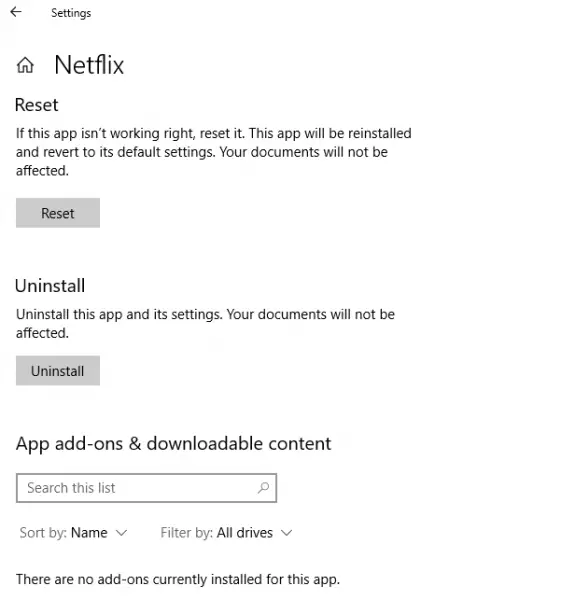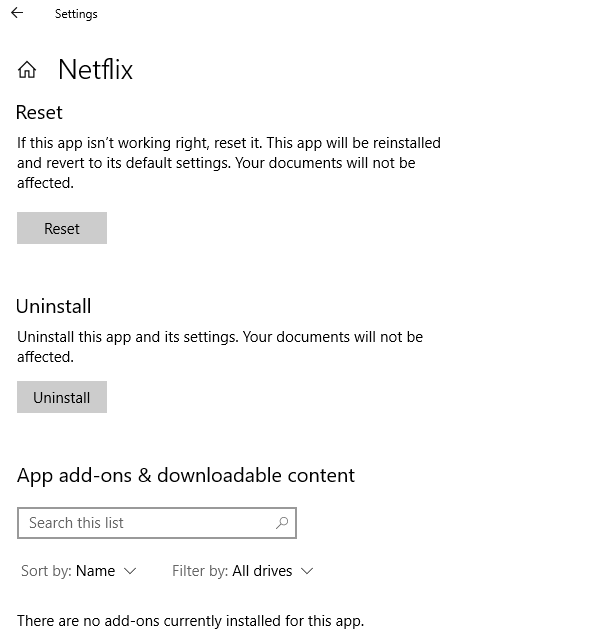 This will reset the app to its default setup. You may have to sign-in again after the reset.
Open Settings > Apps > Apps & Features
Scroll to find the Netflix Apps.
Select the Netflix app, and click on the Advanced options.
Find the Reset section and click on Reset.
3] Update your NetFlix App or Reinstall it
Launch the Windows Store.
Search for Netflix App.
Check if there is an update available. If yes, update it.
If this doesn't work, uninstall the App, and reinstall it.
4] Flush DNS and reset TCP/IP
Sometimes when the NetFlix app is not able to connect to the server, it will result in a black screen. The app is not able to resolve the server IP address because the DNS is trying to connect with an IP address that is not valid anymore.  So make sure to Flush the DNS, and Reset TCP/IP. You may also try changing the DNS server to Google Server, i.e., 8.8.8.8 and see if it works for you.
5] Install the latest version of Silverlight
Netflix uses Silverlight to stream videos in Windows 10. You can download it manually from the Microsoft website, and install it. Restart your computer, and see if the problem is resolved.
6] Let Netflix use the graphics card or the GPU
You can give exclusive access to Netflix apps to use the graphics card for better performance.
7] Deleting the mspr.hds file
Videos streamed from Netflix are DRM protected. To stream DRM content, it uses Microsoft PlayReady, which is a Digital Rights Management (DRM) program. It is commonly known to cause Netflix streaming to malfunction. The solution here is to delete the mspr.hds file. It will force Windows to create a new clean one which will eliminate any errors.
Open-File Explorer, and navigate to 

C:\ProgramData\Microsoft\PlayReady\

Select all the mspr.hds files, and delete it. Also, empty the Recycle Bin.
You can also delete files under  C:\ProgramData\Microsoft\Windows\DRM
Restart your PC, and launch the Netflix app again.
8] Check Netflix status
Finally, check if Netflix is down by going here. If you have an error code, you may also search for it here.
Hope something helps!
If you are a Netflix user, these Netflix tips and tricks are sure to interest you.