Being the best online streaming site, Netflix offers many TV shows, movies, and more. You can watch hundreds of awesome TV shows, films, etc. right on your computer or mobile screen. Netflix offers Profile management that allows users to manage content based on age or interest. If your kids often use your mobile phone, but you do not want to let them use Netflix, this Netflix tip will show you how to set Parental Controls on Netflix.
What happens when you set Parental Controls on Netflix

You can set a 4-digit Pin Code to password-protect all the content on Netflix. Once you do this, whenever you or anybody else want to watch anything on Netflix, you need to enter the specific 4-digit pin code. That implies nobody can watch anything on Netflix until or unless he/she enters the code. It doesn't matter what device you use; you will certainly get the pin code prompt whenever you play any TV show or movie.
How to set up Parental Control on Netflix account
Netflix offers this option on the web version. So head over to Netflix website and log in to your Netflix account. Next, choose a profile. Now, hover your mouse on the profile name and go to Account settings. Alternatively, you may simply click here.
In the Settings category, you will find an option called Parental controls.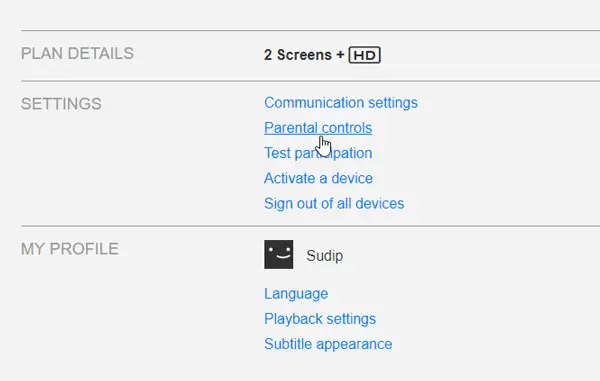 Click on it and enter your Netflix account password to expand the options further. Following that, you can enter your 4-digit Pin in the empty boxes. You will also find another option called PIN Protection Level, which helps users to allow or block a certain type of content. Here you can find four different levels i.e. Little Kids, Older Kids, Teens, and Adults. The grey bar indicates the blocking.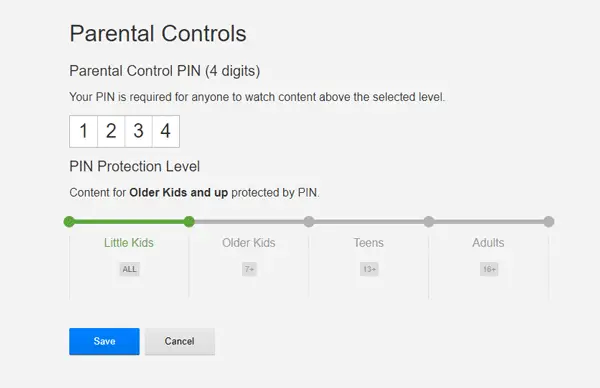 If you set the pin protection as shown above, everything will be password protected except "Little Kids" section. Once you have set your preferences, don't forget to save all the changes.
Now, whenever you will try to play any show, you will get a password prompt like this;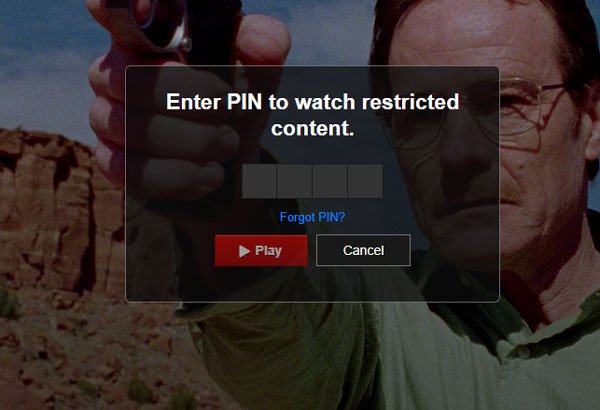 Read: How to Set up and Use Parental Controls in Windows 11.
Turn Off Parental Controls in Netflix
If you do not need the Pin protection, you need to set the PIN Protection Level as Green. To do this, go to this page, and mark everything as green, and save your changes.
Note: If you set the Pin protection in one profile, it will be set on other profiles as well.
TIP: Did you know that Netflix allows users to download shows to watch offline?