Netflix is one of the best streaming services offering tons of online content to watch on an array of devices.  Still, every so often, you will encounter Netflix error codes that break your entertainment tracks. Are you facing the Netflix Error Code M7111-1331 or Netflix M7111-1331-2206? Do not worry as you can easily fix this error with the instructions given in this blog.

What is Netflix error code M7111-1331?
M7111-1331 error code on Netflix occurs when the users access Netflix from a browser, particularly from Google Chrome. It may indicate the following:
You are using a link to a webpage that no longer exists.
One of your browser extensions is incompatible with Netflix.
Apart from those discussed above, other potential causes of this error are:
Downtime of Netflix servers
Outdated Cache data
Unavailability of Netflix in a location
Slow internet connectivity
Server latency
The Netflix error M7111-1331 may be resulting from the bad data stored in the web browser. Resolving this error demands refreshing the stored information.
How to fix Netflix error code M7111-1331
There are few workarounds, with which you can resolve this issue. Some of these are as follows:
Do not use bookmarks
Use a different browser
Reset Google Chrome
Disable Chrome extensions
Clear all browsing data
Try disabling proxy
Verify the server status
Let us go through each of these solutions to see how to resolve this error efficiently:
1] Do not use bookmarks
Accessing Netflix from a browser bookmark is one of the most common causes of Netflix Error Code M7111-1331. So, instead of using bookmarks go directly to the browser and type www.netflix.com in the address bar. If this resolved your issue, update the old bookmark URL to www.netflix.com to avoid any future issues.
2] Use a different browser
Now since we understand that the M7111-1331 error often relates to bad browser data and extensions, so, using a different browser could be a simple workaround. Several users report that using alternative browsers on their system fixes the issue. So, ditch your go-to browser for the time and stream Netflix in another one. You could turn to Microsoft Edge, Google Chrome, Internet Explorer, Firefox, and Opera; all of these are compatible with Netflix.
3] Reset Google Chrome
M7111-1331 error code occurs when the users access Netflix from a browser, especially from Chrome. Hence resetting Chrome is another solution that will clear all the old browsing data. Hence, if you wish to continue enjoying Netflix on Chrome again, try resetting its values to default. Follow these steps:
1] Open Google Chrome.
2] Click Customize and Control Google Chrome i.e. the three dots located at the upper right corner.
3] From the options, select Settings.
4] Scroll down to the bottom and hit the Advanced button.
5] Scroll further down and click 'Restore settings to their original default' appearing under the section 'Reset and Clean Up'.

6] Press the Reset settings button.
Done, now try opening Netflix and see if the issue is resolved.
4] Disable Chrome extensions
This fix is again for the Google Chrome users, try disabling unnecessary add-ons and try opening Netflix again. Here is how to do it:
1] Open Google Chrome.
2] In the address bar copy the following code and press the Enter key.
chrome://extensions
3] Now, disable the extensions by clicking on the switches as shown below:

Once you have disabled the extensions try using Netflix once again. If Netflix works, try enabling the extensions one by one to see which one was clashing with Netflix.
5] Clear all browsing data
Netflix Error Code M7111-1331 will bother the user if their browser contains data that has turned corrupted. Here are the steps to clear browsing data for Chrome. Similar steps will apply for Edge or Firefox.
1] Open Google Chrome.
2] In the address bar copy the following code and press the Enter key.
chrome://settings
5] Under the Privacy and Security section, click the Clear browsing data option.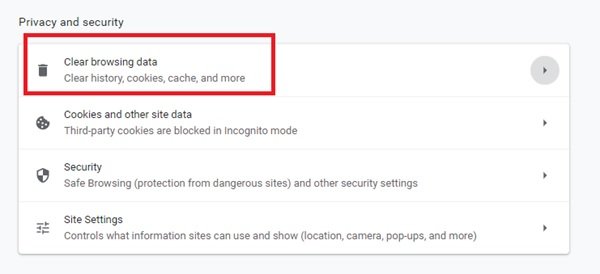 6] In the pop-up, select all the options in the Advanced tab.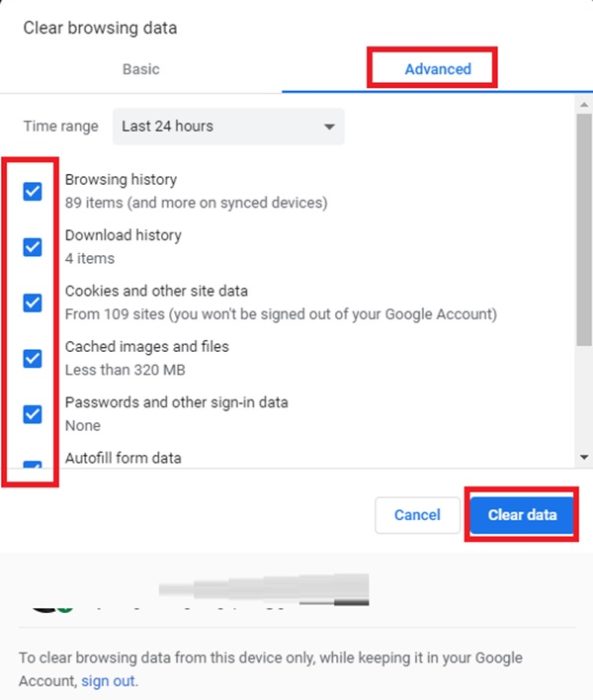 7] Now click on the 'Clear Data' option
Finally restart the Chrome browser and reopen Netflix.
6] Try disabling proxy
Netflix places geographic restrictions on streaming content based on the user's current location. In simple words, it means that when a user opens Netflix in the UK, he/she will have access to different content than he/she would if they were logging in to Netflix within the United States. This could be one of the many reasons for getting Netflix Error Code M7111-1331. Therefore, skipping using a proxy could help in resolving this error. Follow these steps:
1] Press Win + I keys together to open Settings.
2] Now, go to the Network & Internet section and click on Proxy from the left menu.
3] Under the Manual Proxy Setup section, uncheck Use a proxy server option.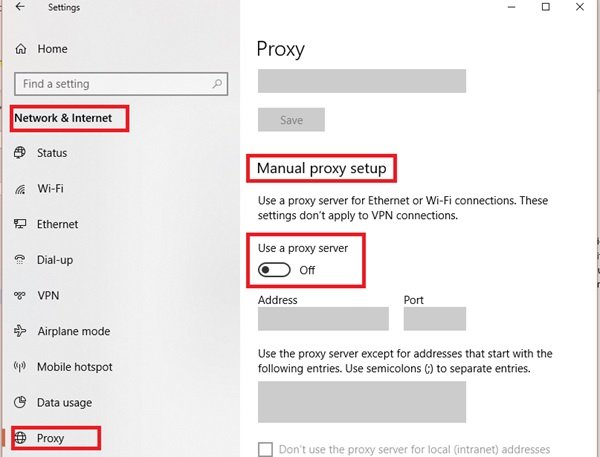 There is another way to disable Proxy on your system, follow these steps:
1] Open the Control Panel.
2] Select Network and Internet and select Internet Options.
3] On the new window, navigate to the Connections tab.
4] Click the LAN Settings button.
5] Now, uncheck Use a proxy server for your LAN.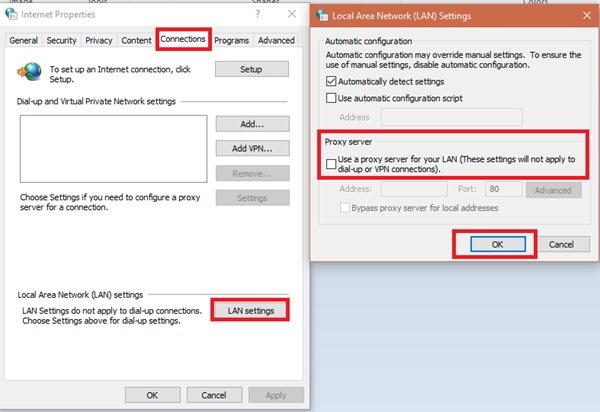 Done! If the proxy was to be blamed for Error Code M7111-1331 the above fix should work.
7] Verify the server status

Sometimes Netflix servers could be the reason behind error code M7111-1331. As suggested, first try to test Netflix on another browser and device, if it continues to display the same error go to the Netflix Help Center from your system.
A yellow symbol with an exclamation mark indicates the Netflix server is down. If the server is working fine, you will see a green icon with a tick on it as shown below:
Here, there is nothing much that can be done than wait for the service to be up and running fine once again.
These were the best solutions to fix Error Code M7111-1331. If you have any questions do drop it to us in the comments section below.