The Xbox app for Android, iOS, and PC is a great way to manage your gaming console and games. Using the app, you can manage your installs, stay connected with friends, and check for the latest games. However, when you try to log in to the Xbox app, you might encounter an error that says, " Looks like you're stranded in the Xbox app.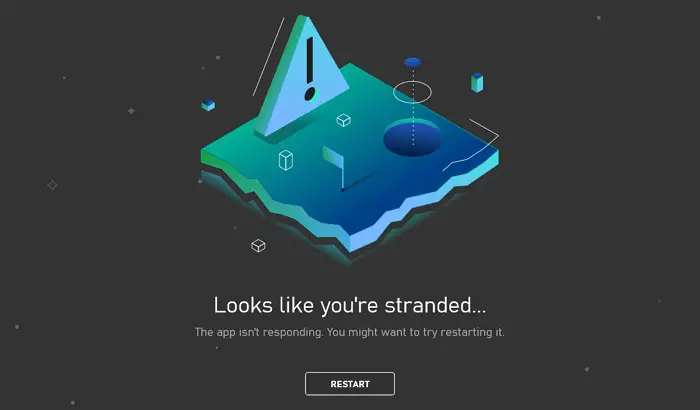 This error can happen for many reasons, but fixing the error isn't so complicated. And below, you will find a bunch of quick solutions:
What does Looks Like You're Stranded Xbox app error mean?
The Looks like you're stranded error on your Xbox app means that the app is having trouble connecting to the internet or Xbox servers. This means the Xbox app is facing network connectivity issues, or Microsoft is running server maintenance or troubleshooting other technical problems at their end.
Fix Looks Like You're Stranded Xbox app error
We now know what the leading cause behind the Xbox app error is. Now there are a couple of ways to fix it; these methods are:
Reset Xbox App
Sign Out Out and Sign In Again
Check Xbox Network Status
Change DNS
Contact Xbox Support
So let's talk about these methods one by one briefly below:
1] Reset Xbox App
There is a good chance that the Xbox servers were down for a while, and you faced the error. However, the Xbox app might still use the old cache files, leading to the same error. To fix this, resetting the Xbox app would be your solution.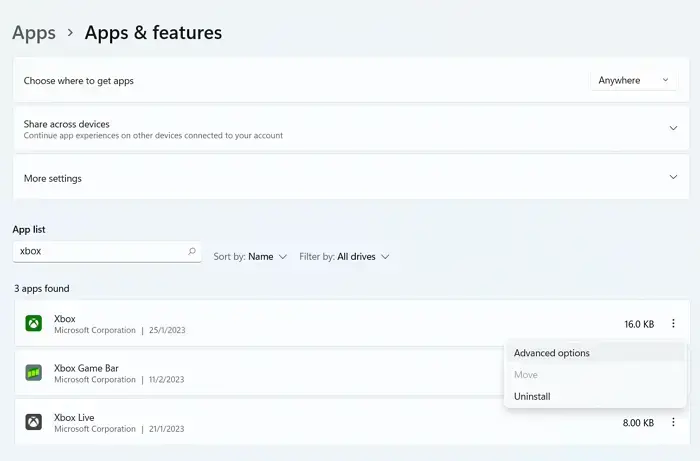 Press the Windows key + I to launch settings.
Go to Apps > Apps & Features.
From the list of apps, search for Xbox.
Click on the three dots icon next to it and select Advanced options.
Scroll down to the bottom and click on Reset.
2] Sign Out Out and Sign In Again
In case you are trying to search on the Xbox app and encountering the Looks like you're stranded Xbox app error. Then, check if you are signed into the Xbox app or not.
There could be a chance that the Xbox app logged you out, and you didn't notice it. However, even if you are not signed out of the app, consider signing out of the Xbox app and then signing in back to see if you are still getting the same error.
3] Check Xbox Network Status
You should also ensure that Xbox servers are up and not under maintenance. To check Xbox status updates, you can visit Xbox Status official page.
Over here, check if any of the services have a yellow sign next to them. You can expand the menu to know more about the cause if it does.
If the servers face downtime or ongoing maintenance, it is a temporary issue and should get resolved soon enough.
4] Change DNS
As the error happens because of an internet connectivity issue, a DNS change could help you fix it. Changing DNS is an easy way to get rid of unreliable internet services.
So consider switching your DNS settings to Google's DNS; it should solve the error for you. To change your DNS settings, follow the below steps:
Press Windows Key + I to launch Settings.
Navigate to Network & internet > Ethernet.
Click on the Edit button next to the DNS server assignment.
Now use the dropdown menu to switch to Manual.
Next, toggle on IPV4.
Finally, set your preferred DNS to 8.8.8.8 and Alternate DNS encryption to 8.8.4.4.
Finally, click on Save and launch Xbox and see if you are still getting the same error.
5] Contact Xbox Support
Finally, if nothing works out for you, then consider contacting Xbox support. You can reach out to them through the Xbox support page. Alternatively, you can address your issue at @XboxSupport on Twitter for further help.
So that was all for Looks like you're stranded Xbox app error. This is a pretty common error that occurs because of an internet connectivity issue. However, even after trying all the above methods, if you find no solution, consider reinstalling the Xbox app or using the Xbox app on another device like your smartphone.
How do I fix download error on Xbox app PC?
If you cannot download any game via the Xbox App on the PC, then it's best to clear the cache by going to App lIsting and then to advanced settings. It's usually the corrupt cached files that cause the problem. If that doesn't help, you should reinstall the app and sign in using your Microsoft account.
How do I fix my Xbox app not signing in to my computer?
First, you must check if you have a Microsoft account associated with your PC. If not, you can create one and then sign in using it. If this doesn't work, you need to create a local account, remove it, and then add it again.