Some users reported that they are not able to play Call of Duty: Modern Warfare 2 due to a DIVER error. The error message implies that the files needed by the game are not downloaded. In this article, we are going to see how we can fix Error Code DIVER in Call of Duty: MW2.
DOWNLOAD FAILED
Download has failed. Do you wish to retry?
Error code: DIVER
If issues persist, please contact activision support quoting the error code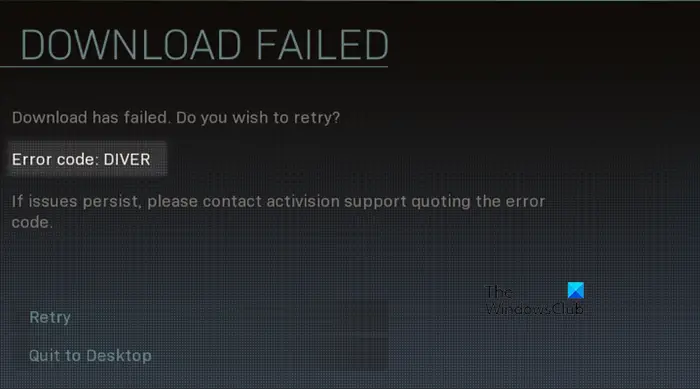 The error code Diver in COD can be resolved by fixing your network. In this post. we have given all the solutions you need to fix your network and hence resolve the issue.
Fix Error Code DIVER in Call of Duty MW2 on Windows PC
If you encounter the Error code Diver in Call of Duty: MW2, follow the solutions mentioned below to resolve the issue:
Check your Internet connection
Add the game through the Firewall or switch it off temporarily
Update your Graphics Driver
Disable VPN
Change your DNS server
Let's start with the first solution.
1] Check your Internet connection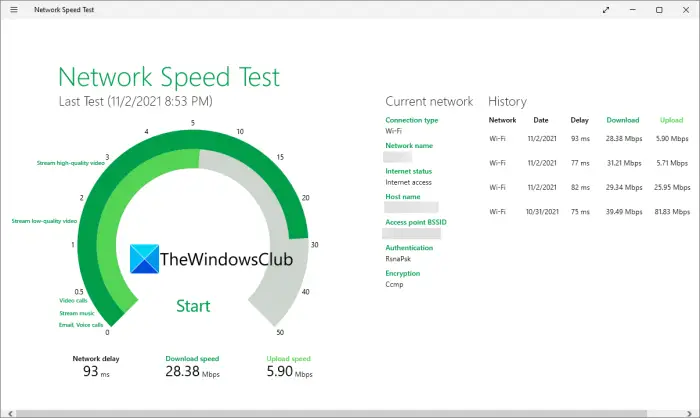 A lot of users complain about the error message DIVER keeps popping continuously in MW2, and this implies glitches or Internet problems. The issue can be easily resolved by restarting the game. However, if the issue persists, check your Internet connection using free Internet speed testers.
If it is slow, change the Internet connection, or restart your router. Sometimes, simple tasks such as restarting the router resolves the issue.  You can also contact your ISP if the problem is out of your knowledge.
2] Add the game through the Firewall or switch it off temporarily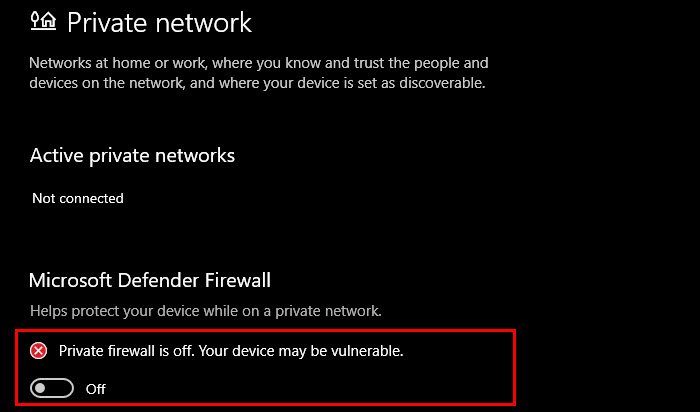 Windows has a built-in Firewall that can block outgoing and incoming connections unintentionally, causing the error in question. In such situations, you have two solutions, either add your game through the firewall or temporarily disable the Firewall. If you want to disable the firewall while you play the game, follow the steps prescribed below.
Click Win + S to open Start, type Windows Security, and hit Enter to open it.
Go to Firewall & network protection.
Now, turn off Windows Defender Firewall for both Public and Private networks by clicking on their respective links and turning off the toggle.
Doing so will disable your Firewall, however, we don't recommend you disable the firewall for a long time as this put your computer at virus risk. Instead of this, go for adding the game through the firewall. And to do so, follow the first 2 steps that we did for disabling Firewall, and then select Allow an app or feature through Windows Defender Firewall > Change settings. Click on  Allow another app > Browse and go to game files > Add. Tick the boxes next to both Public and Private options, and finally. Launch the game and see if the error message persists or not.
3] Update your Network Driver
As we mentioned earlier, the error code Diver is a result of a bad network connection and it stems from outdated Network Drivers. Therefore, to resolve the issue you can update the Network driver, to do so, simply go to the manufacturer's website and get the driver or install a free driver update software. You can also install Driver and Optional Update or update Driver from Device Manager. After this, start the game and see if the error message is still popping up on your screen. If it does, see the next solution.
4] Disable VPN
According to a lot of users, disabling third-party VPNs resolves the issue. If you are wondering how VPN causes the issue, the answer is pretty simple, it restricts high bandwidth, a necessary aspect needed to run demanding games such as COD. Here's how you can do the same:
Click Win+I to open Settings.
Click on Network & internet, and select the VPN option.
Now, select the Remove button to disable VPN.
Now, close Settings, launch the game and look out for the error. If you have a third-party VPN, make sure to disable it as well. Hopefully, this will do the job.
5] Change your DNS server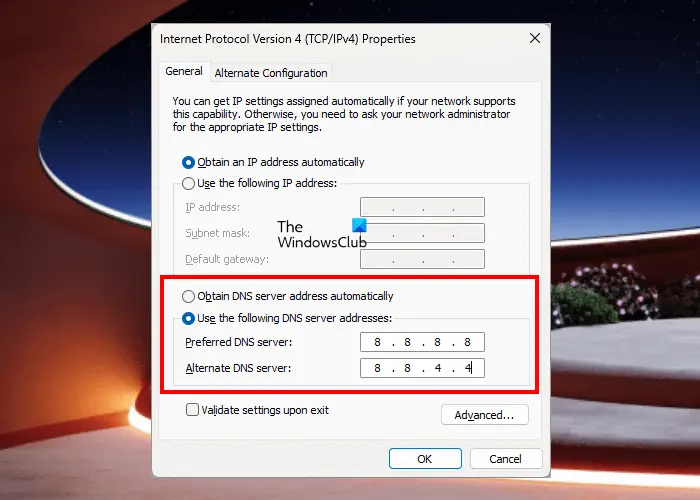 The issue in question can be triggered if there is any discontinuity between the game server and your DNS server. You can change your DNS server and see the steps mentioned below to see how:
Press Win+I to open Settings.
Go to Network & internet, and select Advanced network settings.
Click on More network adapters, right-click on Network adapters, and select the Properties option.
Double-click on Internet Protocol Version 4 (TCP/IPv4) and click on Use the following DNS servers addresses.
Now, add the Google Public DNS address (Preferred DNS server: 8.8.8.8, Alternative DNS server: 8.8.4.4 ) and click the OK button.
Once done, relaunch your game and hopefully, there will be no issues.
Read: COD Modern Warfare 2 Flickering and White Screen Issue.