If your installed VPN software offers a Double VPN facility, but you cannot use this feature, or if Double VPN is not working in any VPN app on Windows 10, then follow these troubleshooting suggestions to resolve the issue. Whether you are using NordVPN, ExpressVPN, or any other VPN software, this article will be useful for you.
What is a Double VPN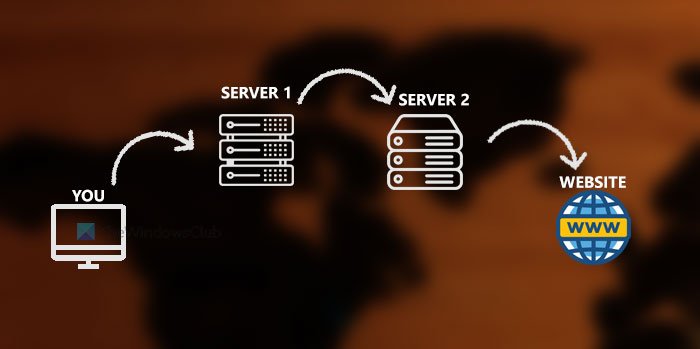 Double VPN is an additional layer of security for your VPN connection. When you connect to a VPN server, it establishes a link between the original website and your computer. In other words, a regular VPN server works as a middleman. However, if you use a Double VPN facility, you will be connected to two VPN servers. In other words, your computer will be connected to a VPN server(1), which will be connected to another VPN server(2). The desired website's data will pass through the second VPN server(2) to the first VPN server(1) to your computer.
Note: All the following screenshots are of NordVPN. However, if you are using a VPN software that offers the same feature, then the method will be more-or-less the same.
Double VPN not working in VPN apps
If Double VPN is not working in VPN apps on Windows 10, follow these suggestions-
Switch to OpenVPN
Change auto-connect settings
Connect to the fastest server
Disable custom DNS
Disable proxy
Troubleshoot using diagnostics tool
To learn more about these steps, keep reading.
1] Switch to OpenVPN
NordVPN requires users to enable OpenVPN to use two primary security features – Double VPN and Obfuscated servers. Like Double VPN, if Obfuscated servers are not working, you have to enable OpenVPN. Like NordVPN, your VPN app must have that option. However, if you use the mentioned VPN app on your Windows 10 computer, follow these steps.
First, open the VPN app, and click on the Settings gear icon. Next, switch to the Auto-connect tab and toggle the Choose a VPN protocol and server automatically button. Following that, expand the VPN protocol drop-down list, and select OpenVPN (TCP).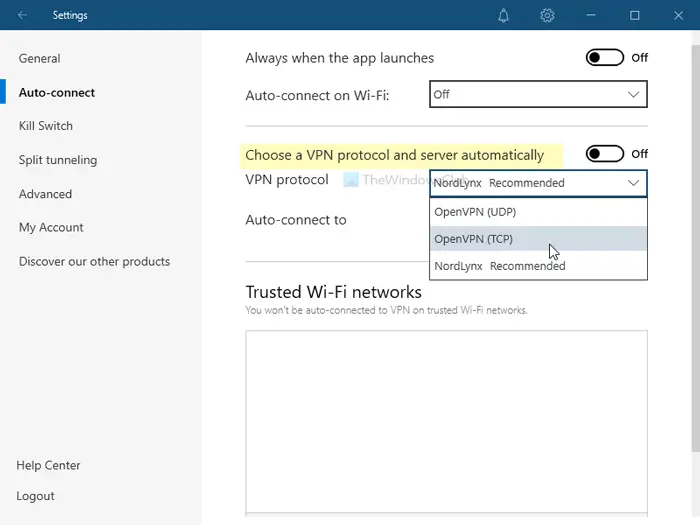 Now, you can see the Double VPN option in the main interface.
2] Change auto-connect settings
This functionality helps you connect to a server automatically. It happens in two different situations.
First, let's assume that you are browsing the internet, and suddenly, you get disconnected from the server. If you enable an auto-connect facility, it lets you connect your computer to another server according to your selection.
Second, if you enable the auto-connect at startup, it lets you connect your computer to a VPN server when you open the app. You do not have to choose a server manually.
However, if you do not select Double VPN as the auto-connect server, the Double VPN server will stop working when you get disconnected from an existing connection.
So, open the Auto-connect settings, open the Auto-connect to drop-down menu, and select Double VPN from the list.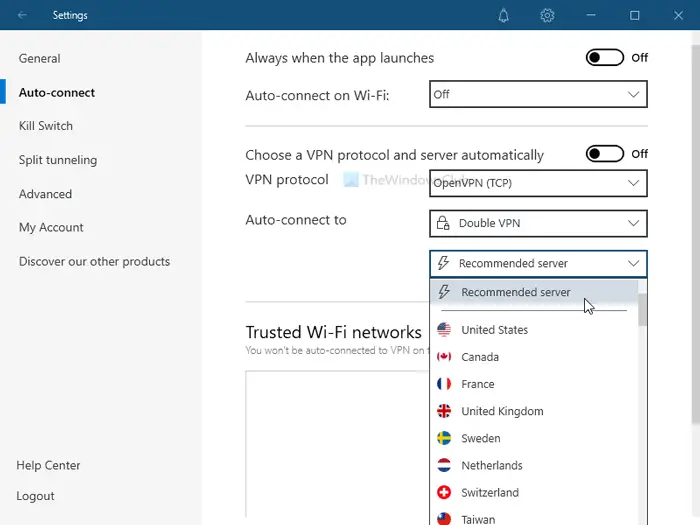 Following that, choose Recommended server from the subsequent drop-down list. It is recommended to opt for that option as your VPN app might not detect other servers manually.
3] Connect to the fastest server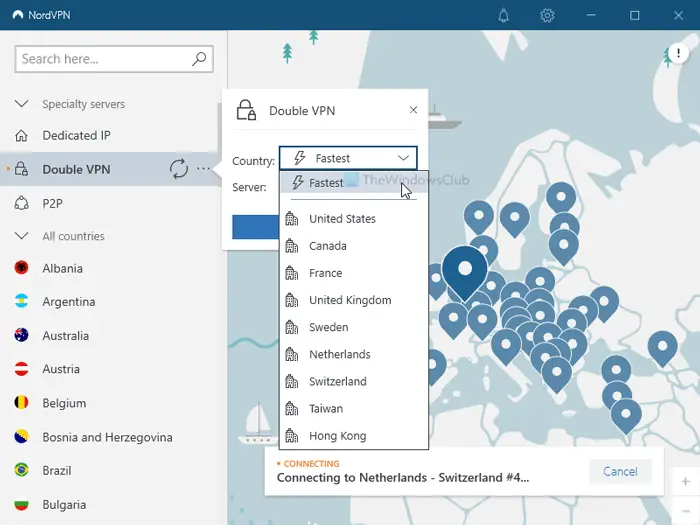 It is possible to choose a specific country and server for the Double VPN. At times, a specific country or server might not work due to an internal network issue. Therefore, it is suggested to opt for the Fastest option. If you are using NordVPN, click on the Double VPN option on the main interface, and choose the Fastest option in both drop-down lists.
4] Disable custom DNS
Almost every VPN app allows users to use a custom DNS for comprehensive security and privacy. If you are using the same and the Double VPN is not working, it is better to turn it off. For that, click on the Settings gear icon, and switch to the Advanced tab on the left-hand side. Next, toggle the Custom DNS button to disable it.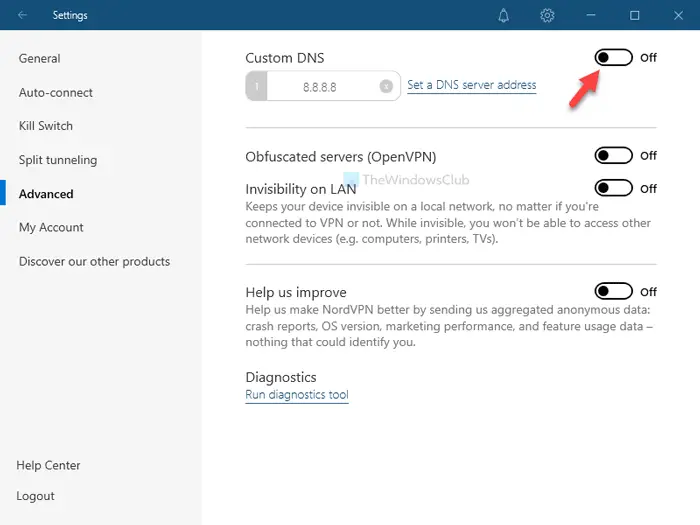 Following that, restart the VPN app and try using the Double VPN functionality.
5] Disable proxy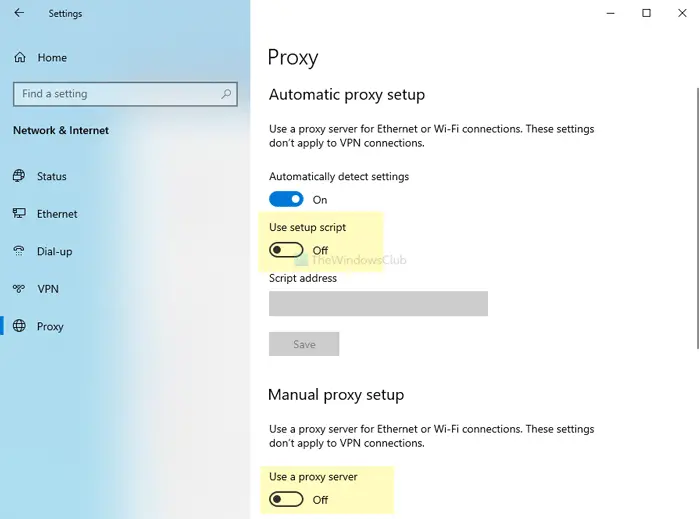 If you have enabled proxy in the Windows Settings panel earlier, it is recommended to delete that setting before choosing Double VPN. At times, they might create conflict with the VPN app and respective servers.
Therefore, press Win+I to open the Windows Settings and go to Network & Internet > Proxy. On the right-hand side, make sure the Use setup script and Use a proxy server settings are turned off. Also, verify that the Automatically detect settings is enabled.
6] Troubleshoot using diagnostics tool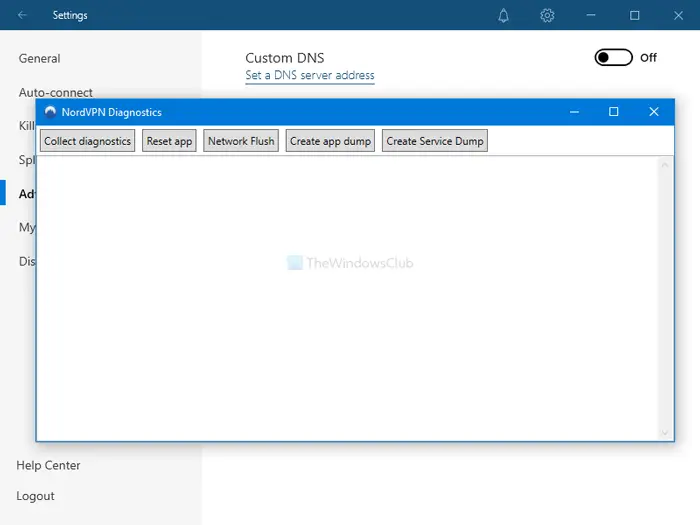 NordVPN includes a diagnostics tool to troubleshoot common issues like this. At times, such problems occur due to an IP conflict or so. You can collect some data, share them with official support and do a few more things.
Reset app: It resets your app to the factory defaults.
Network flush: You can flush DNS cache using this setting.
Create app dump
Create Service Dump
To use this tool, go to the Advanced tab in NordVPN, and click on Run diagnostics tool.
These are some of the working methods to fix the Double VPN not working issue in Windows 10. You need to follow similar steps for your VPN app.