If your VPN Kill Switch and Obfuscated Servers are not working on your Windows 10 computer, follow these troubleshooting tips. Whether you are using NordVPN, ExpressVPN, or any other, the processes are almost the same to eliminate these glitches.
What does the Kill Switch do in a VPN app
If you enable the kill switch in your VPN app, the connection will be disconnected when you lose the VPN server. Let's assume that you have connected your computer to a VPN server placed in New York, and it is not running very well. It is connecting and disconnecting frequently. If you do not have the kill switch enabled, your PC will keep opening the websites without a VPN when disconnected from the VPN server.
However, if you have turned on the kill switch, the connection between your computer and the website's server will be disconnected instantly. In other words, it helps you hide your original identity to the websites when the VPN server is causing issues.
What are Obfuscated Servers in VPN
If a website is blocking you from opening when you are connected to the VPN, you can use the obfuscated servers to get rid of it. In other words, these VPN servers will manipulate your VPN usage identity to bypass VPN blockers.
VPN Kill Switch and Obfuscated Servers not working
If your VPN kill switch and obfuscated servers are not working, follow these steps-
Change VPN protocol
Restart service from Services
Disable the firewall software
Run apps as administrator
To know more about these steps, keep reading.
1] Change VPN protocol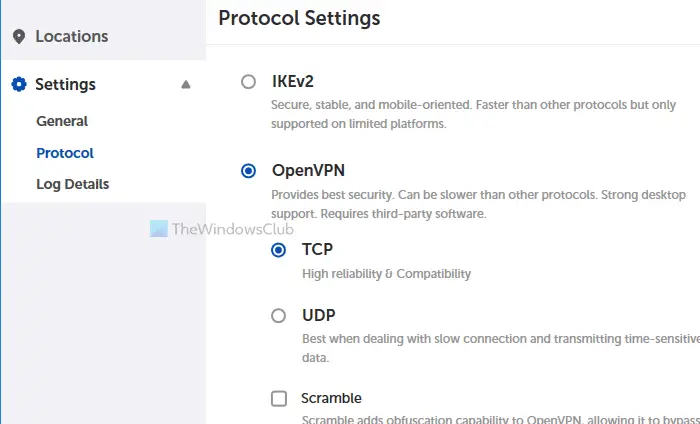 Changing the VPN protocol helps you fix the issue. However, different VPN apps have different options to opt for. For example, ExpressVPN, NordVPN, etc., have IKEv2, OpenVPN, etc. Also, you have to go through different steps to change this protocol.
In ExpressVPN you will have to go to Settings > Protocol. You will find Lightway, OpenVPN, IKEv2, L2TP, etc.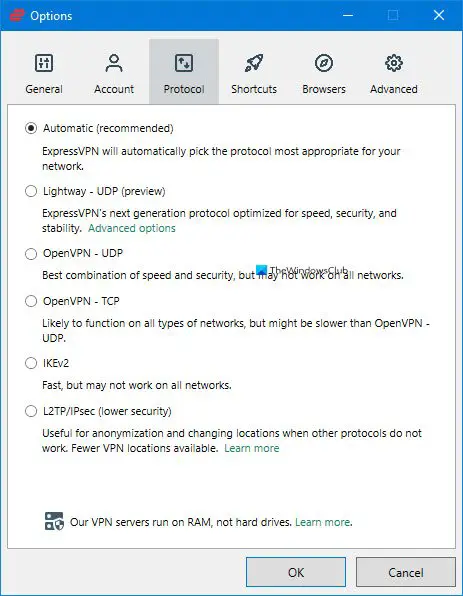 In NordVPN, you have to open the Settings and go to Auto-connect. Here you can find an option called VPN protocol. Expand the drop-down list, and select OpenVPN(UDP) or OpenVPN(TCP).
You will have to change the current VPN protocol and switch to anything else that available in your app.
2] Restart the Service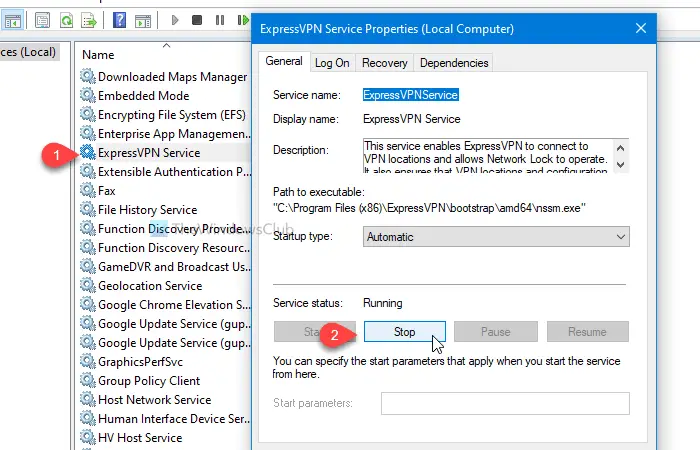 Popular VPN apps assign a service in the Services panel in Windows 10. Restarting this service may fix common issues like this one. To get started, search for services in the Taskbar search box and open the respective search result. After that, find your VPN name in the Services panel.
Let's assume that you are using ExpressVPN. In that case, you will see ExpressVPN Service in the Name column. Double-click on it and click the Stop button.
Next, click the Start and OK buttons accordingly. Once done, open the VPN app and try to use those features.
3] Disable the firewall software
The in-built Windows Firewall doesn't create issues in most cases. However, a third-party firewall software may be the culprit. To verify that, disable the firewall software temporarily and check if those functionalities are working or not. If they are working, you might have to find a substitute for the existing firewall software.
Do the same with antivirus or any other third-party security shield as well.
4] Run apps as administrator
At times, these problems get resolved by opening the app with administrator privilege. For that, find out the app name in the Start Menu, right-click on it, select More, and choose the Run as administrator option.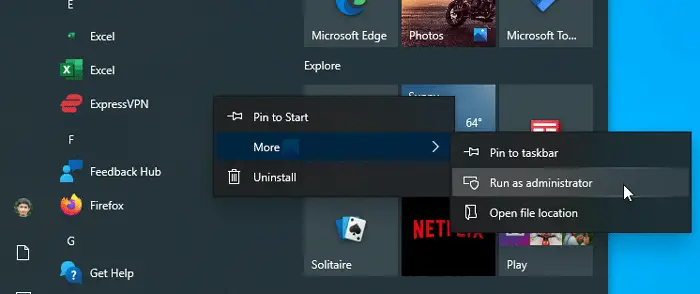 Click on the Yes button in the UAC prompt to open the app. If it solves the issue, follow this detailed guide to make programs always Run as Administrator in Windows 10.
Apart from these, follow these tips:
Restart your computer.
Change the internet connection source. If you are using Ethernet, try using Wi-Fi and vice versa.
Check if there is an update available for your VPN app. If yes, install it.
Contact the developers since it might be a bug or glitch.
That's all! Hope they help.