When I installed the latest version of Windows one of the biggest challenges I faced is to get my ATI display drivers to work. Sure, the generic display got installed but none of the ATI CC features worked – especially the pictures weren't sharp and crisp like it used to be earlier. When I connect my LED TV using HDMI cable the resolution was totally messed up. I spent hours and finally got it to work.
Fix ATI Display issues on Windows 10
One of the major challenges that Laptop users face is that sometimes the generic drivers won't really work. So we have to get the older driver to work and need to get the ATI Control Center to work as well.
So the first thing I did was remove the generic drivers.
I used the Uninstall function to remove the drivers completely. But one of the features of Windows is that it will scan and automatically reinstall the drivers. So I had to delete them.
I downloaded the freeware Driver Sweeper to remove the leftover files.
Once you remove all the left-over files, clear the temp files, and reboot the system. Now download the appropriate drivers compatible with my Windows OS (Laptop users may download it from the manufacturer's website).
Once you download them, you need to open the setup file compatible with Windows 7 (Earlier versio). To load the program under Windows 7 compatibility mode, right-click on setup.exe and click on Troubleshoot Compatibility. Follow the wizard and you'll reach this screen.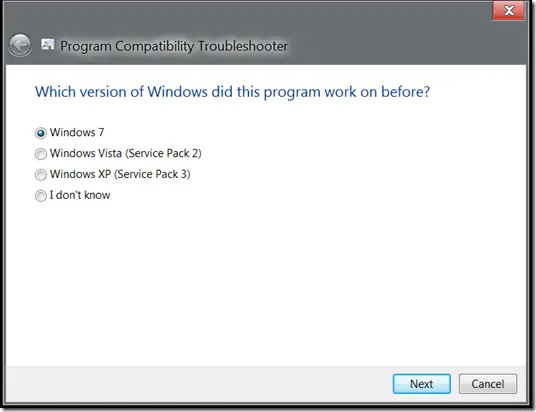 Select the earlier OS version and click next and select "Start the Program" now the setup Windows launch under Windows 7 compatibility mode and install it. You should have a fully functional ATI driver with ATI CC.
You could also download and install the ATI Test drivers for Windows after that.
Hope this guide helps you.