Windows Activation error code 0x803FABB8 is one of the numerous activation errors you may encounter after you change hardware (like processor, motherboard, or disk drive). In this post, we will offer the most suitable solutions to this issue.
Error Code 0x803FABB8, Donor hardware ID does not own operating system entitlement.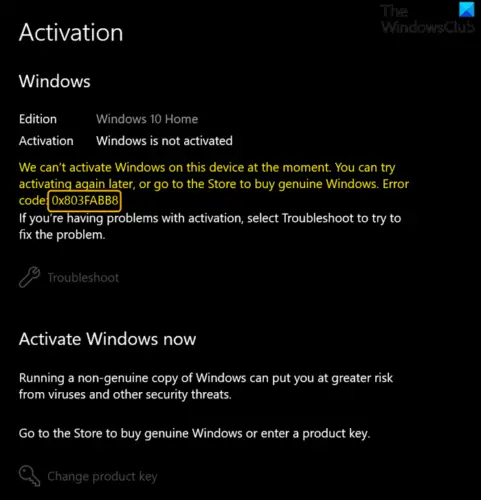 Regardless of the Windows edition you're running, when you encounter this issue, you'll receive the following full error message;
Activation
Windows

We can't activate Windows on this device at the moment. You can try activating again later, or go to the Store to buy genuine Windows. Error code: 0x803FABB8
If you're having problems with activation, select Troubleshoot to try to fix the problem.

Activate Windows now
Running a non-genuine copy of Windows can put you at greater risk from viruses and other security threats.
Go to the Store to buy genuine Windows or enter a product key.
This error code indicates that your Windows 10 or Windows 11 device is unable to recognize the product key. When Windows fails to recognize the digital license after the replacement, this activation error appears.
Fix Windows Activation error 0x803FABB8
If you're faced with this Windows Activation error 0x803FABB8 issue, you can try our recommended solutions below in no particular order and see if that helps to resolve the issue.
Run Activation Troubleshooter
Enter the correct and genuine product key
General steps to activate Windows after hardware change
Contact Microsoft Support
Let's take a look at the description of the process involved concerning each of the listed solutions.
1] Run Activation Troubleshooter
Your first port of call in troubleshooting this is to run the Windows Activation Troubleshooter and see if the wizard resolves the issue. If not, try the next solution.
Activation troubleshooter requires you to have a digital license linked to Microsoft Account. Also, bear in mind that activation depends on what type of Windows 8.1/10/11 license for your device. If Windows 8.1/10/11 came pre-installed with the computer, then the device has an OEM license. For an OEM license, the license dies as soon as the MOBO dies. So essentially it is non-transferable. If that is the case you need to get a new license. However, if you purchased the license through Microsoft store, then that's a Retail license, and it does carry transfer rights.
2] Enter the correct and genuine product key
In some cases, this issue occurs because the PC user have entered the incorrect product key and Windows fails to identify it. In this case, make sure you're entering the correct and genuine product key. You can check the email that came with the digital download when you purchased from Microsoft Store or any authorized reseller like Amazon.
3] General steps to activate Windows after hardware change
This guide outlines general steps PC users can take to activate Windows after a hardware change.
4] Contact Microsoft Support
If nothing has worked so far for you, you can contact Microsoft Support for assistance on re-activating your Windows PC.
Hope this helps!
How do I activate Windows 10 without a Microsoft account?
Windows 10/11 can be installed without using a Microsoft account by replacing your administrator account with a local account. You can achieve this by using the 'Sign in with a local account instead' option on your device.
How many times can I reactivate Windows 10?
If you purchased Windows 10 or upgraded from a retail license, there is no limit to the number of activations. Bear in mind that you can perform repeated system resets to restore your device back to its original state or factory settings default.
Related post: Fix Windows 10 Activation Error 0x80070422.