There can be a number of reasons for Microsoft to take action against you and stop Windows 11/10 activation by displaying the error code – 0x004f200. For example, the copy of Windows you are using is not genuine or you have not inserted the Windows Product License key for your version of Windows 11/10 OS. Whatever the case may be, you can try and fix the Windows Activation error 0x004f200 (Non-genuine).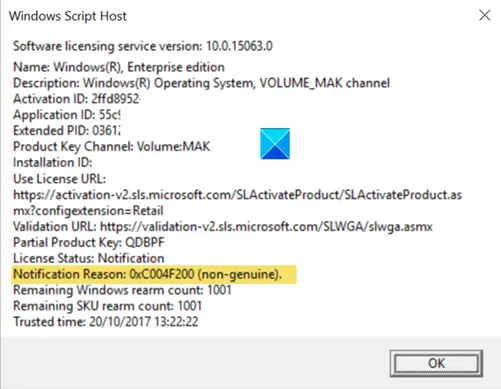 Fix Windows activation error 0x004f200 (Non-genuine)
The issue can be fixed by the following methods:
Run Windows Activation Troubleshooter
Uninstall a recently added update
Change the Product key
Check the more detailed description below.
1] Run Windows activation troubleshooter.
Activation is an important step to carry out as it helps to verify that your copy of Windows is genuine and hasn't been used on more devices than the Microsoft Software License Terms allow. So, if you are experiencing trouble activating Windows, the Windows 10 Activation Troubleshooter could help.
Go to Start, choose Settings > Update & Security.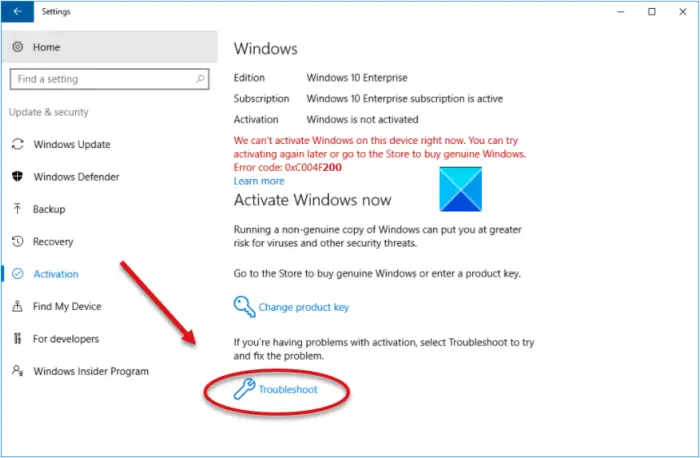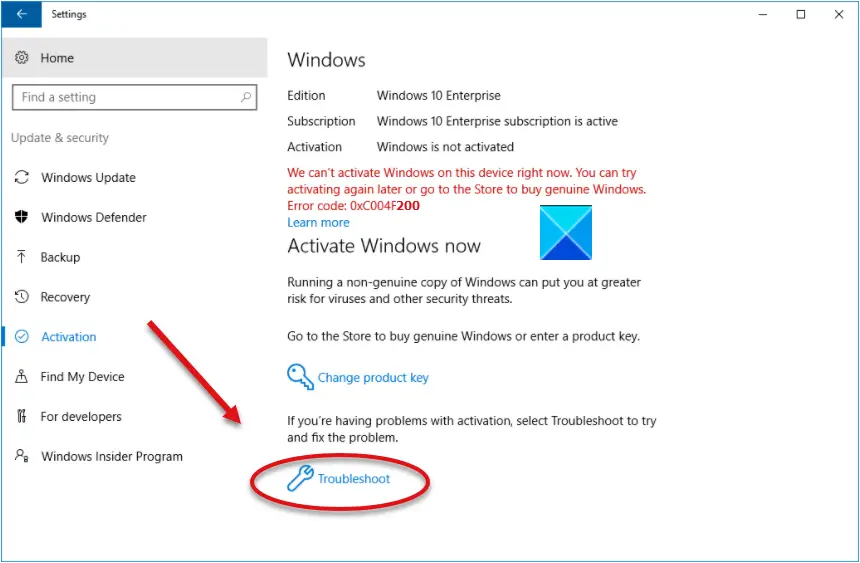 Under the Update & security panel on the left, scroll down to Troubleshoot. Please make sure to be signed in as an administrator to use this option.
Here, if your copy of Windows 10 isn't activated, the Troubleshoot option should be visible to you.
Click it to fix the issue. Once your Windows activation is done, the Troubleshoot button will disappear.
2] Uninstall a recently added update
If you recently observed this change after installing an update, uninstall it to check if the problem persists.
Go to Windows Settings and choose the Update and Security tile.
Next, select Windows Update.
Click View Update History entry.
Click the Uninstall updates link.
Then, from the Control Panel window that opens, go to the recently installed update, right-click it and choose Uninstall update. Some updates have known to cause an Activation or Validation error. Validation is an online process that enables users to verify that the copy of Windows, running on their computer is activated correctly and is genuine.
Once you have uninstalled the recent problematic update, you may need to Hide the Update using PowerShell for a while.
3] Change the Product key
If all the above methods fail to work, go to Settings > Update & Security > Activation.
On the right, click the Change product key.
Then, enter the correct product key digits again and see if the activation is successful.
It should work!
Related: Fix This copy of Windows is not genuine error message.
More suggestions here to fix Windows Activation errors.