It is pretty common to encounter errors while updating Windows. Windows often throw different errors, and fixing them in most cases is a pretty easy job. Two such error codes are 0x8024A005. While these two error codes mean two separate things, the methods to fix the errors are the same.
0x8024A005 WU_E_AU_NO_REGISTERED_SERVICE: No unmanaged service is registered with Automatic Update.
Why does error 0x8024A005 occur?
When Windows Update components get corrupted or the Services required by Windows Update process get corrupted, this error code can occur. Error 0x8024A004 is another code that can appear along with 0x8024A005.
Fix Windows Update Error Codes 0x8024a005
If the above troubleshooting methods didn't help you out, then you can try the following fixes:
Basic Troubleshooting
Run Windows Update Troubleshooting
Check the status of all Windows Update related Services
Unpause Windows Update
Clear Windows Update Folder and try again
Reset Windows Update Components to default
Perform Clean Boot and then run Windows Update
Use DISM to repair Windows Update components
Install the problematic update manually
Check if the issue is resolved after trying each suggestion, and use an administrator account. Now let's talk about these methods one by one briefly.
1] Basic Troubleshooting
Let's start with the basic troubleshoots which should fix your problem in most cases. These basic checks are:
First, ensure that you have an active internet connection. So Windows won't have any problem connecting to the update server and downloading Windows updates. To check your internet connection, fire up your web browser and visit a few websites. You might have to troubleshoot your network or contact your internet service provider if your internet is not working.
Even though your internet is working fine, Windows still might not connect to the internet. So first, ensure that Airplane mode is not turned on; if it's enabled, you won't get access to the internet.
To check it, click on the Sound icon from the system tray, which should open a small window with an Airplane icon. Over here, make sure it is not turned on. If the laptop is stuck in Airplane mode, follow our troubleshooting guide. 
Alternatively, you should also check your Ethernet and wifi connection. You can disable them and enable them again to ensure that your internet is working fine.
2] Run Windows Update Troubleshooter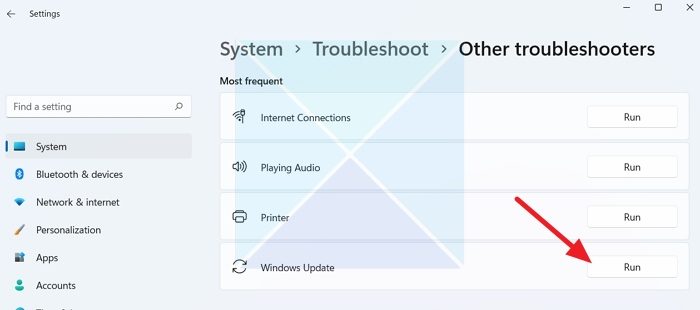 Windows troubleshooter can be a great help in fixing the error on its own. If it's not so, it will still give you some hints about the error so that you can look for it further. To get started with Windows Update Troubleshooter, follow these steps:
Go to Windows Settings.
Navigate to System > Troubleshoot > Other troubleshooters.
Look for Windows Update and click on the Run button next to it.
Let the troubleshooting process run for a while and see if Windows fixes the issue.
3] Check the status of all Windows Update related Services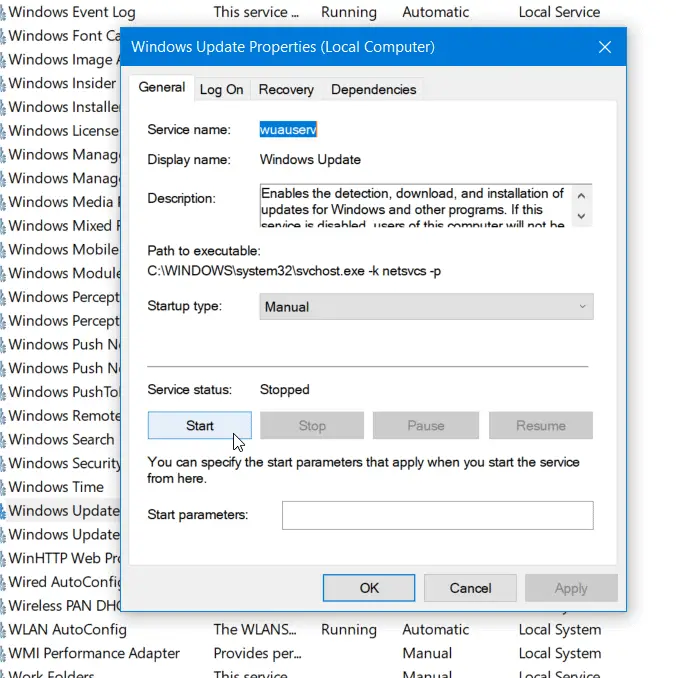 Open Windows Services Manager and check the Windows Update related Services like Windows Update, Windows Update Medic, Update Orchestrator Services, etc are not disabled.
The default configuration on a standalone Windows 11/10 PC is as follows:
Windows Update Service – Manual (Triggered)
Background Intelligent Transfer Service – Manual
Windows Update Medic Services – Manual
RPC Endpoint Mapper –  Automatic
Windows Installer – Manual.
Cryptographic Services – Automatic
DCOM Server Process Launcher – Automatic
To get started, search for "services" in the Taskbar search box and click on the search result. After opening the Services window, check if they are running or not. If not, you need to start those services one after one.
4] Unpause Windows Update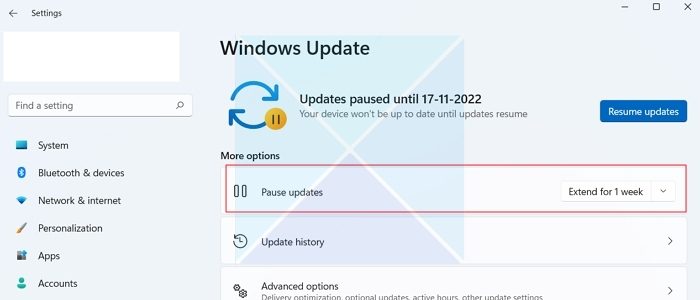 The primary reason behind the 0x8024A004 error code is that you have probably paused Windows updates. As a result, Windows faces trouble updating itself. So make sure you have not paused Windows updates. If you did so, resume the updates and see if it worked.
If you didn't pause Windows updates, you can try pausing the update and resuming it after some time. To do so, follow these steps:
Go to Windows Settings.
Click on Windows Update from the sidebar.
Over here, check if you have paused Windows updates. If you did so, click on the Resume updates to allow Windows to start downloading updates.
If you haven't paused updates, click on Pause for 1 week to pause the updates. Then, resume the updates and see if it worked for you.
5] Clear Windows Update Folder and Try Again
Sometimes, Windows update fails to install some updates. The error can happen due to updated files being downloaded and getting corrupted. Or you have deleted or renamed the update folder. You can delete all the content of the Windows update folder and download updates repeatedly to fix this error. Follow our detailed guide on how to clear the Windows Update Software Distribution folder.
If the above methods did not help you out, then you can download Updates manually and then install it.
6] Reset Windows Update Components to default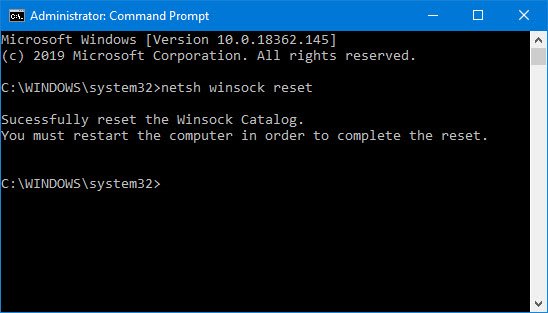 While running a Windows Update troubleshooter can sure help shell out the potential cause behind this error, you are also recommended to reset the Windows Update Components to default. Here are the steps you need to follow for the same as have been detailed in the linked post:
Use Command Prompt to stop Windows Update Services
Delete the qmgr*.dat files.
Flush the SoftwareDistribution and catroot2 folders that contain acquired Windows Update processes
Reset the BITS and the Windows Update service
Re-register the BITS files and the Windows Update-related DLL files
Make Registry edits to delete the incorrect Registry values
Reset Winsock via Windows Terminal
Restart Windows Update Services.
In order to implement these settings changes, you have to restart your computer, post which you will find out that your Windows Update components are back to where they naturally were.
7] Perform Clean Boot and then run Windows Update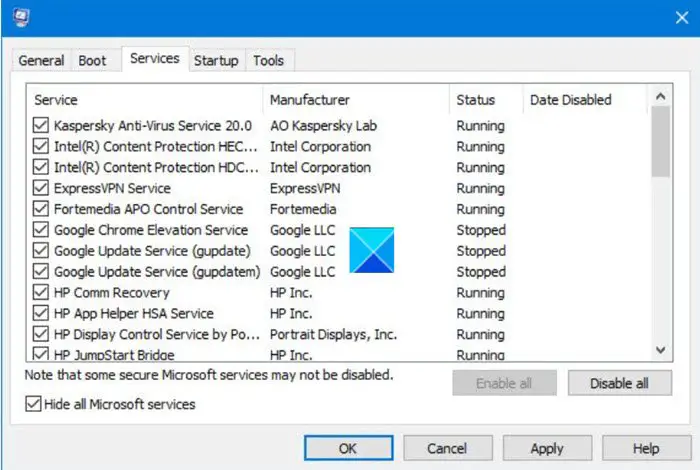 Another recommended potential for error 0x8024A005 is to perform a Clean Boot on your PC. A Clean Boot state helps you diagnose and remediate Windows problems of an advanced degree. Here are the steps you need to follow in order to boot your PC in a Clean Boot state.
Open the Configuration Utility by searching for msconfig in the search menu and hitting enter at the resultant option
From the General tab, select Selective Startup
Further, Clear the Load Startup Items checkbox but ensure that the other two boxes are checked
Then head to the Services tab and select Hide all Microsoft Services
Lastly, click on Disable All and save this change by clicking on Apply/Ok
Boot your PC back up by restarting it, but by performing the aforementioned, it will open in a Clean Boot state. Once it starts up again, try running the problematic update again to see if the error has been fixed.
8] Use DISM to repair Windows Update components
If running the usual DISM command does not help you, and if your Windows Update client is broken, you will be prompted to use a running Windows installation as the repair source or use a Windows side-by-side folder from a network share, as the source of the files.
You will then be required to run the following command instead:
DISM.exe /Online /Cleanup-Image /RestoreHealth /Source:C:\RepairSource\Windows /LimitAccess


Here you have to replace the C:\RepairSource\Windows placeholder with the location of your repair source.
Once the process is complete, DISM will create a log file in %windir%/Logs/CBS/CBS.log and capture any issues that the tool finds or fixes.
Close the command prompt, and then run Windows Update again and see it has helped.
Read: Fix Windows Update Error Code 0x8024a205
9] Install the problematic update manually
If the problem continues to persist and you're still being restricted from installing the new Windows update, you can install it manually from the Microsoft Update Catalog.
Open your Microsoft Settings and in the Windows Update tab, locate the problematic update via the Update History option
Click on the Learn More tab which will open a link to the update's official page on Microsoft.com
Here, you can easily get the KB number of the said update (it will be mentioned in the page's title)
Copy it and paste it into the search bar of the Microsoft Update Catalog website
Find the correct update for your system's specifications and click on Download
In order to install it, comply with the guidelines you're presented with, and once done, restart your PC to make the change take effect.
How do I fix Windows Update error 0x80070422?
The error means that the Windows Update (WUAUSERV) is not running or Background Intelligent Transfer Service (BITS) cannot be started. You can fix the error by checking the status of Update-related Windows Services and disabling IPv6 in Network Center. Read or detailed guide on how to fix it.
How do I bypass Windows Update?
While you cannot bypass it but delay updates for weeks, the settings are available in the Windows Update section, where you can choose to delay by a max of 5 weeks. You can always resume back instantly by clicking on the Resume updates.
What does error 0xc1900223 mean and how can we fix it?
Generally, the error 0xc1900223 occurs when your PC isn't able to connect to Microsoft Update servers or the content delivery system. Another possible cause could be you using a specialized DNS server to block third-party web addresses. Potential fixes for it include checking your VPN systems and turning off Windows Subsystems.
How do I fix error 0x80240fff in Windows?
Fixing the error 0x80240fff on Windows involves dealing with the Windows Update mechanisms. The primary solution for it is to run the Windows Update troubleshooter, as is with most update errors. Other than that, you can also restart the BITS service or run relevant command lines on your terminal.