Software updates are a very crucial part of any modern device. Updates bring in new features, remove vulnerabilities, and make the devices more secure. Windows 11/10 too, gets Windows Updates which make sure you are always secure and running the latest version of the software. This is facilitated with the help of Windows Services that may be running in the background. Update Orchestrator Service is one such service that happens to handle Windows Updates.
Update Orchestrator Service (UsoSvc) in Windows 11/10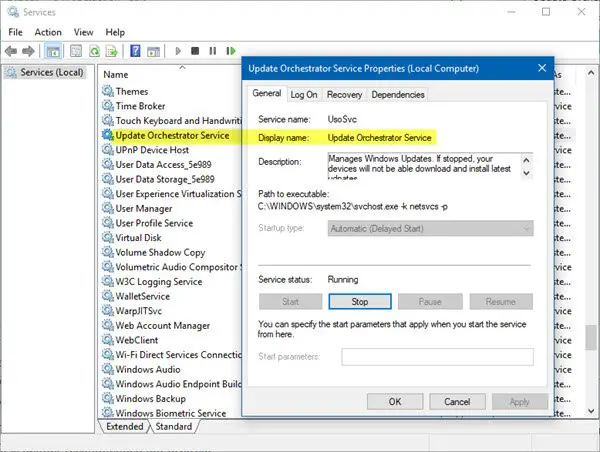 Update Orchestrator Service, as the name suggests is the service that arranges Windows Updates for you. This service is responsible for downloading, installing, and verifying the updates for your computer. If it is stopped, your device will not be able to download and install the latest updates.
If you are using Windows 10 v1803 or later, then your computer is configured to start as follows – Automatic (Delayed). The service depends on the Remote Procedure Call (RPC) service and cannot be started if RPC is disabled.
There might be scenarios when you might notice in Task Manager that Windows Update is consuming a lot of CPU, Memory, or Disk resources on your computer. And there are fair chances, Update Orchestrator Service could be responsible. The reason behind this Service consuming a lot of resources is that there might be an ongoing update installation in the background. Remember that resource consumption is temporary, and it will automatically settle down after some time.
During this time, Update Orchestrator Service is either installing or verifying the integrity of the downloaded update. It is not at all recommended to stop or disable this service. Disabling it means, disabling the latest updates and features on your computer which is neither recommended nor desired.
Read: What is MoUSOCoreWorker.exe?
Can you disable Update Orchestrator Service?
In case you need to, you can temporarily stop Update Orchestrator Service. All you need to do is open Services Manager, locate the Update Orchestrator Service in the list, right-click on it and select Stop button to stop the service completely.
But if you open its Properties and see, you will not be able to change the startup type – it will be grayed out! So stopping the Service can serve as a temporary measure – you cannot disable it. When convenient you may use the Start button to start the service, or it will be started once you restart your computer.
If it starts consuming resources again, it is best to leave your computer for a while so that updates are installed in the background.
Update Orchestrator Service is one of the most important services required by Windows to bring in new updates to your computer. It is not recommended to keep this service disabled for longer even if it shows high CPU and disk usage.
Read: Stop Update Orchestrator scan from waking my computer.
Update Orchestrator Service is turned off due to an error
If by chance, you receive this error, you may need to run DISM to repair Windows Update components.
Read next about the Windows Update Medic Service or WaaSMedicSVC.