Windows Update Error 0x8007001d may occur due to a corrupted Windows Update cache, outdated system drivers, damaged Windows Update files, etc. In this post, we will show you how to fix Windows Update Error 0x8007001d on Windows 11/10 computers.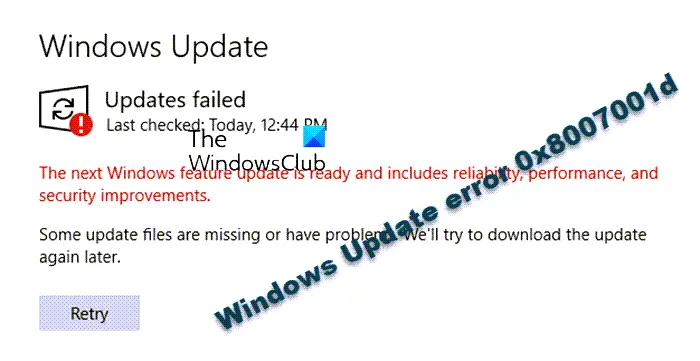 Fix Windows Update error 0x8007001d
Before you begin, restart your computer and router and make sure that you have a stable internet connection. If that doesn't help, you may follow the solutions below:
Run Windows Update Troubleshooter.
Check Windows Update Services status
Clear pending.xml file
Run Windows Update in Clean Boot State.
Clear contents of SoftwareDistribution and catroot2 folders.
Reset Windows Update Components.
Install the Update manually.
1] Run Windows Update Troubleshooter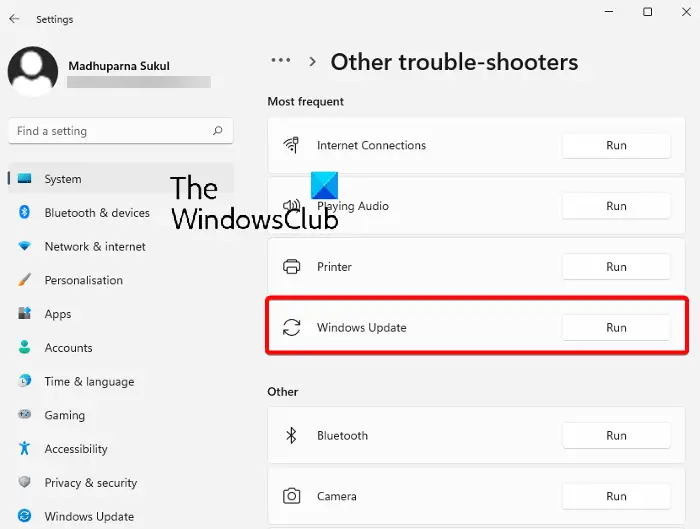 The first method to try would be to run the built-in Windows Update troubleshooter to fix the error 0x8007001d. The troubleshooter will look for any irregularities in the Update and apply the fix automatically. You can then restart your PC and check if the update error is resolved.
Read:   Windows Update Troubleshooter not working
2] Check Windows Update Services status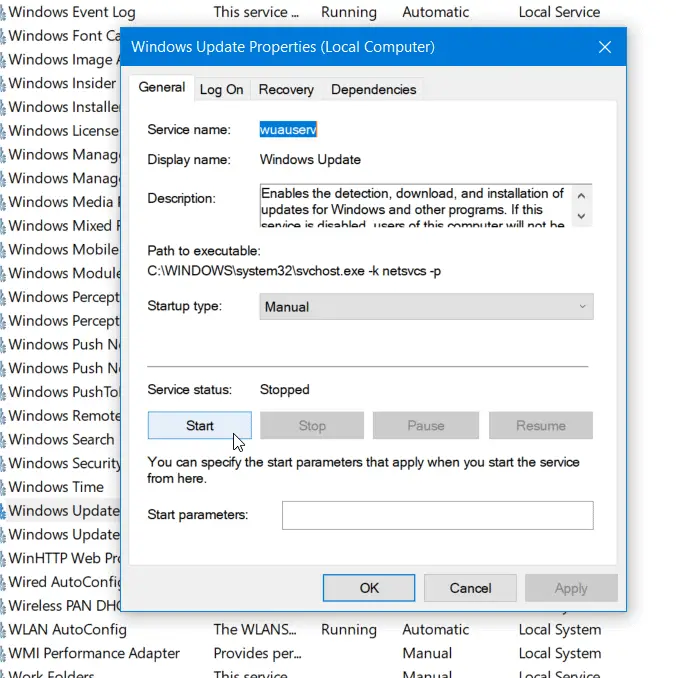 Open Windows Services Manager and check the Windows Update-related Services like Windows Update, Windows Update Medic, Update Orchestrator Services, etc are not disabled.
The default configuration on a standalone Windows 11/10 PC is as follows:
Windows Update Service – Manual (Triggered)
Windows Update Medic Services – Manual
Cryptographic Services – Automatic
Background Intelligent Transfer Service – Manual
DCOM Server Process Launcher – Automatic
RPC Endpoint Mapper –  Automatic
Windows Installer – Manual.
This will ensure that the required Services are available.
3] Clear pending.xml file
Open an elevated command prompt window, type the following and hit Enter:
Ren c:\windows\winsxs\pending.xml pending.old
This will rename pending.xml file to pending.old. Now try again.
4] Run Windows Update in Clean Boot State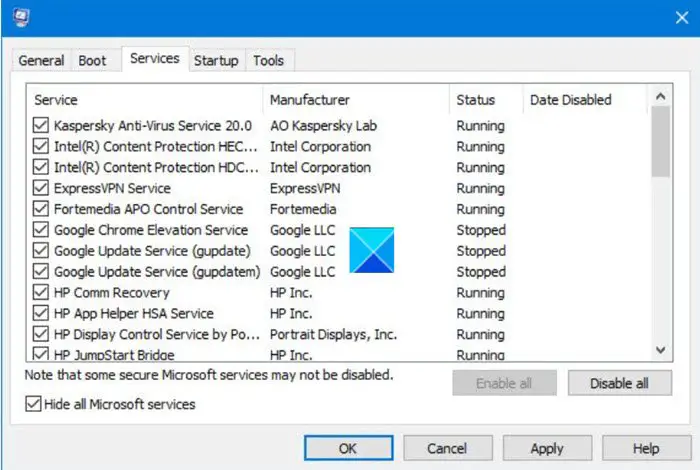 In some situations, troubleshooting the Windows Update error in a clean boot state is a better idea. Performing a clean boot will start your computer with a minimal set of drivers and startup programs. So run Windows Updates in Clean Boot State and check if the error persists.
5] Clear contents of SoftwareDistribution and catroot2 folders
The catroot and the catroot2 folders are the Windows OS folders required for the Windows Update process. The SoftwareDistribution folder is used to temporarily store files that may be required to install Windows Update on your PC.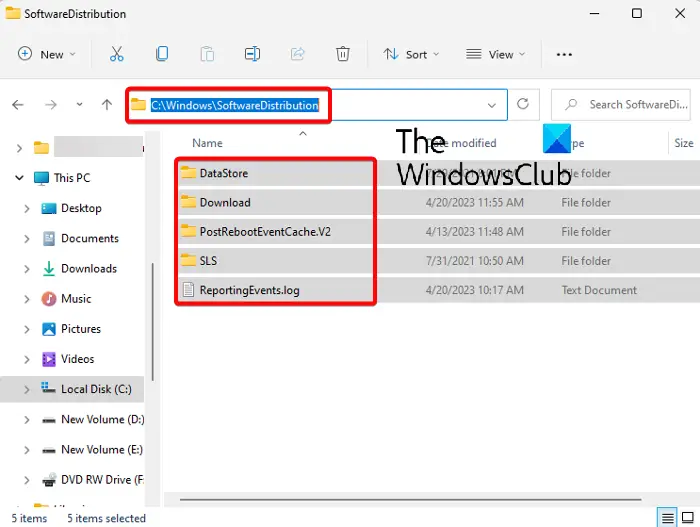 Sometimes, the contents of this folder may get corrupted and interfere with the system's Datastore and the Download folder leading to the Windows Update error 0x8007001d. Therefore, make sure you delete the contents of the catroot and the catroot2 folders, and clear the contents of the SoftwareDistribution folder to fix the update error.
6] Reset Windows update components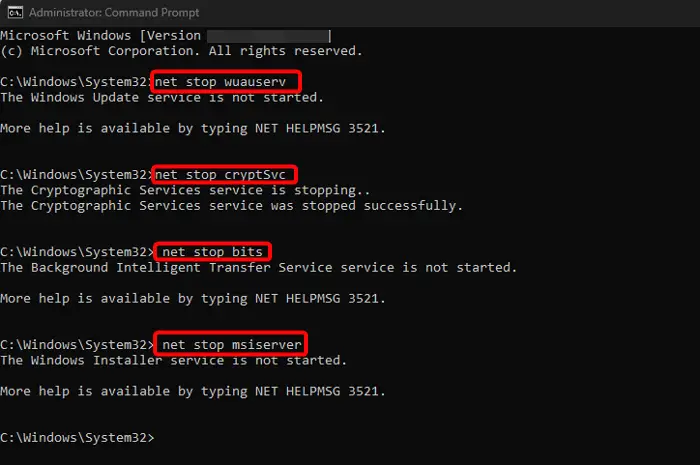 Windows Updates may often fail due to damaged update components. In such cases, resetting the Windows Update components can help.
Use the Reset Windows Update Agent Tool (Microsoft tool) or the Reset Windows Update Tool (From a 3rd-party) and see if it helps you. This PowerShell script will help you Reset Windows Update Client. See this post if you want to manually reset each Windows Update components to default.
7] Install the update manually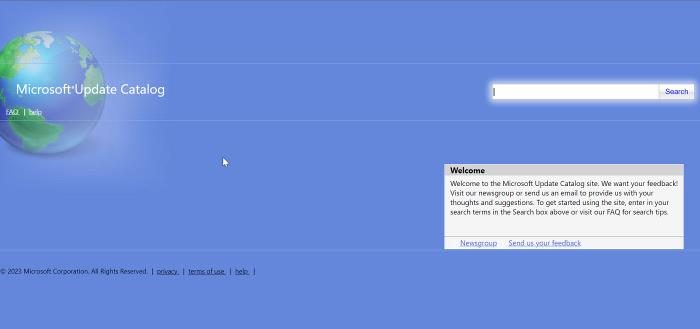 Sometimes, it's easier to install Windows updates manually and that can help you get rid of a lot of issues, like this error. For this, note down the KB number of the problem update, visit the Microsoft Update Catalog page, type in the KB number (for example, KB2565063) in the search field, and hit Enter.
On the next screen, click on Download and a new pop-up window will open. Download the file based on your system architecture (32-bit/64-bit) and follow the on-screen instructions. Once the installation is complete, restart your PC for the update to be applied.
Read: How to download Windows Updates manually
Why is Windows 11 not updating?
There could be different reasons why Windows 11 is not updating. The common cause includes corrupted Windows Update cache, poor internet connectivity, external hardware interference, insufficient drive space, or damaged Windows Update components.
Similar error codes:
What is a Windows 11 update loop error?
After an update or an upgrade, Windows may be stuck in an endless reboot loop, and your PC may keep restarting. This may occur if the system is not able to update the core files for some reason and so tries to do it every time after restarting – and fails again. This is called the Windows Update loop error.