NoClone is a freeware that lets you find duplicate files located on your Windows PC. This freeware allows you to safely find and remove true duplicate files, photos, MP3s as well as Outlook email messages.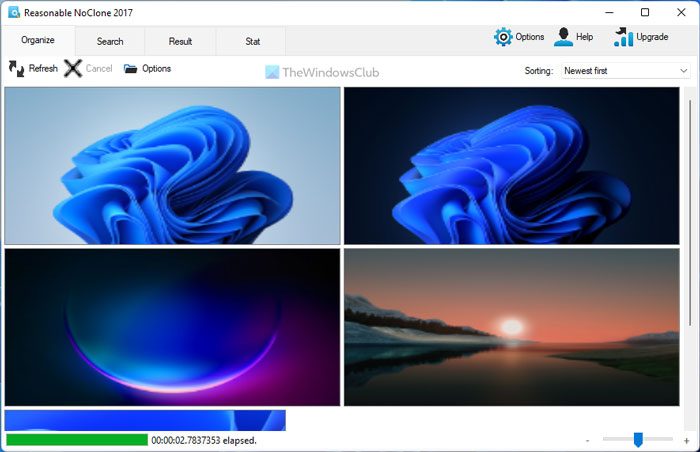 NoClone Duplicate File Finder
It uses the real-time byte-to-byte comparison to detect duplicate files regardless of their file names. You can limit the search to specific file types (images, programs, etc.) as well as by size, date, and location.
After the freeware completes searching your PC for duplicate files, it will present you with a list of all duplicate files found, and you can check the ones that you want to delete or move to a different folder.
In addition to finding true duplicates, the program also offers support for fuzzy search matches which enables you to find files that may not be exact duplicates but appear to be very similar.
Other features include side-by-side image preview, compare the content of folders and compare file changes against USB drives and other portable drives.
The free edition restricts itself to 300,000 files in a single session.
What is the easiest way to find duplicate files?
It is almost impossible to manually find duplicate files on your computer unless they have the same name. That is why you can use a third-party tool called NoClone. It is freeware and compatible with Windows 11, Windows 10, and most of the other older versions. It is pretty straightforward and less time-consuming to find duplicate files with the help of NoClone.
Does Microsoft have a duplicate file finder?
No, Microsoft doesn't have a native duplicate file finder app. However, you can find some of the handy apps on the Microsoft Store. For example, Duplicate Media Finder Free is a useful tool to find duplicate files. On the other hand, you can try other resources to find a reasonable duplicate file finder for your PC.
For more information, visit their home page on noclone.net. For downloading the Free Edition, click here.
Looking for more? Check out this post on duplicate files finder freeware for Windows.