As computer users, there are times when we tend to create duplicate files and sometimes, we have no idea. For many of us, our Windows 10 system has quite a lot of duplicate files, so the question is, then, how to get rid of them without having to search and delete one-by-one. What we need then, is a tool designed for removing a duplicate file with ease. A tool where users can find them all, and remove them with the press of a button. Well, chances are, that tool could very well be Makesoft DuplicateFinder.
It should be noted that this particular duplicate file finder isn't the only one out in the wild designed to get rid of duplicates on your computer, but it's the one we'll be focusing on today. Now, what's cool about this program, is the fact that there's no need to open Windows Explorer because users can do everything from within the app itself. Some might find this awesome, others may not. Whatever the case, we do not care just as long as it works as intended.
How to use Makesoft DuplicateFinder
There are two steps involved:
Find and remove duplicate files
Compare documents via MD5, SHA-1, or CRC hash
Find and remove duplicate files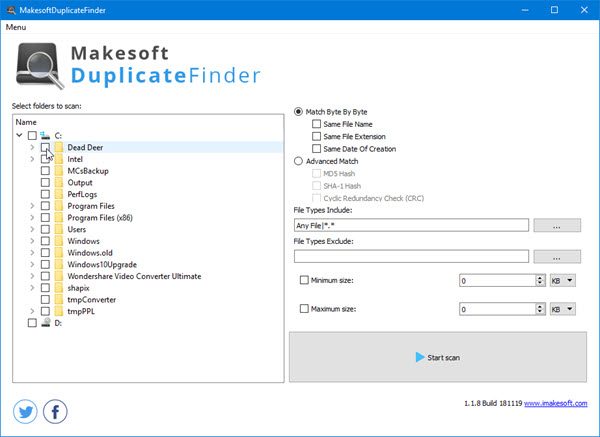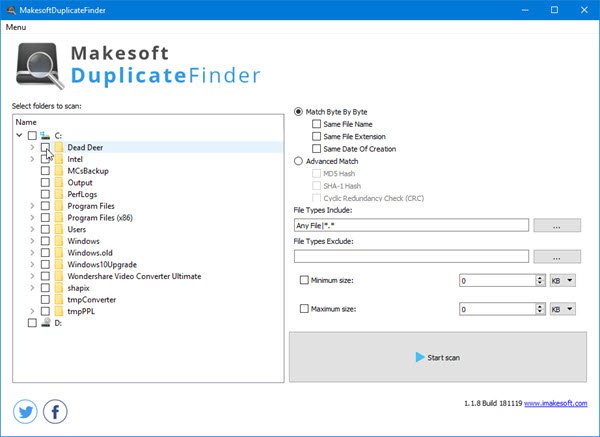 You'll see that the user interface is pretty basic, and that's good for the overall speed of the program. Now, to search for duplicate files, we recommend the option that says Match Byte By Byte. Below that, you can also match by same file name, extension, or date of creation.
Make sure you've selected the folder you want to scan from the left section. After that, hit the big scan button at the bottom and wait for the process to be completed. Depending on the speed of your computer and the number of files on your hard drive, it could take some time, so bear that in mind.
Compare documents via MD5, SHA-1, or CRC hash
If you're interested in going down this road, select Advanced Match. Here you'll see MD5 Hash, SHA-1 Hash, and CRC Hash. Choose the one you want, make sure the right folder is selected, then hit the scan button.
We should point out that only advanced who understand what the Hash is all about should take advantage of this option.
Include and exclude file types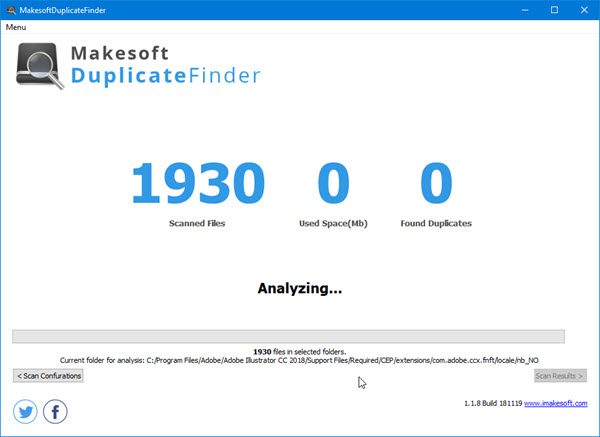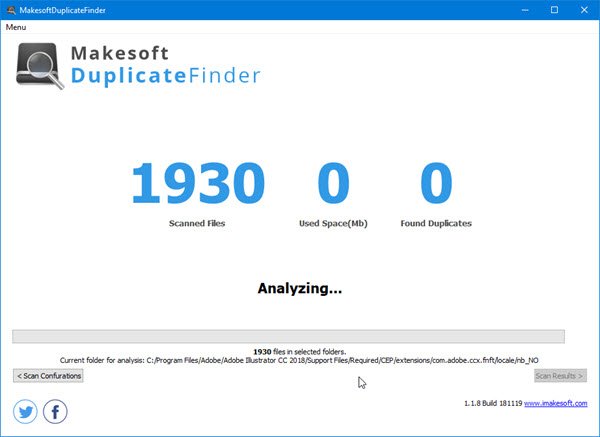 Chances are you're hoping to find duplicates of a particular file type. With this option, then, you can easily include the file types you're more interested in and exclude the ones you do not want the tool to scan.
Doing this should make the task of finding certain duplicate files easier. As expected, hit the Scan button and wait a while.
Overall, we like what Makesoft DuplicateFinder brings to the table and the fact that's simple to use and understand. Great tool, and fully recommended by us so visit the official website to download it for free. Download this freeware from its homepage.