Are there a lot of duplicate files occupying disk space of your computer? DupScout can help you out. DupScout is a free duplicate files finder and deleter that can scan your computer for duplicate files and perform various operations. It can help you increase the free disk space by deleting the duplicates of the same file. Dup Scout is available in Free as well as the Paid versions, but this post covers only the free version.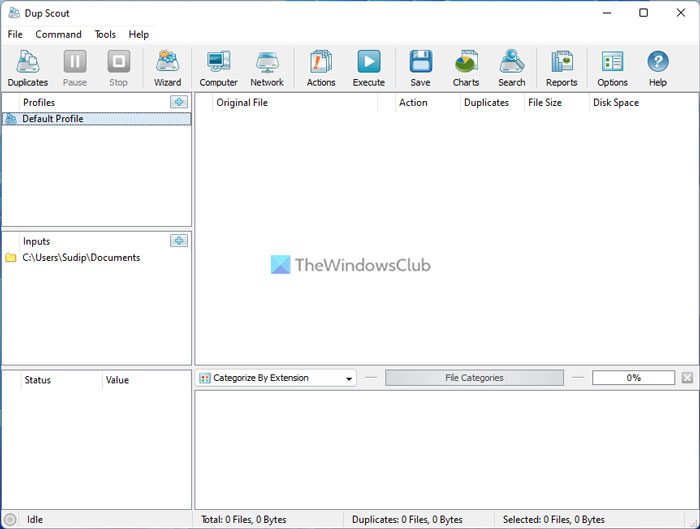 DupScout is a Duplicate files deleter
To find the duplicates, you need to click on the 'Duplicates' button from the toolbar. Then you need to choose the directories or the places where the DupScout should scan for duplicate files. You can add a directory or a shared folder from the network, or you can simply scan the whole computer for duplicate files. With DupScout you can also scan Servers or NAS devices by simply entering their IP addresses.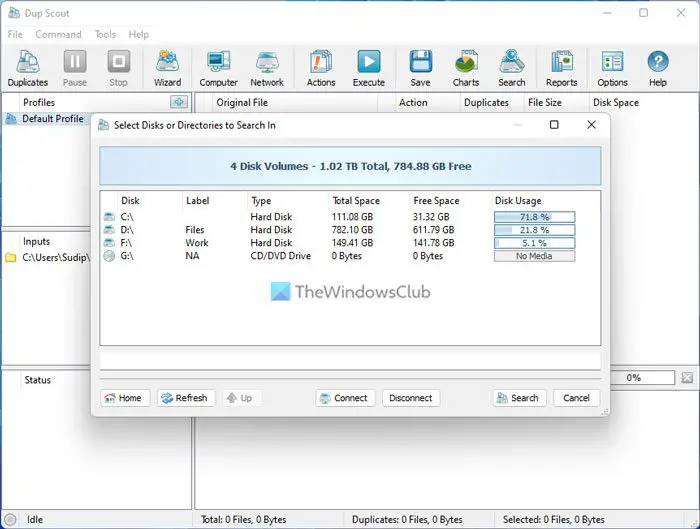 You can even create rules for the scanning process like you can create a rule that search files whose last accessed date is more recent than any of your chosen dates. You can create as many rules as you want. Then you can even choose the directories that should be excluded from scanning. After that, you need to create actions for the duplicate files. First, you need to choose the original file and then choose an action for the duplicate files. The removal actions include:
Replace With Shortcuts
Replace With Hard Links
Move to Directory
Compress Duplicate
Compress and move to
Delete Duplicates
Once a scan has started, it can be easily paused or stopped in between by simply clicking the pause or stop button from the toolbar. Once the scan has been completed, you can choose the removal actions and then execute them, or you can save the Duplicate Files Report. You can save the report as an HTML/TEXT/ CSV/XML/PDF file, or you can save it directly in a SQL Database. You can even generate pie charts and bar graphs showing the duplicate disk space per extension or showing a number of duplicates per extension. You can print or save these graphs.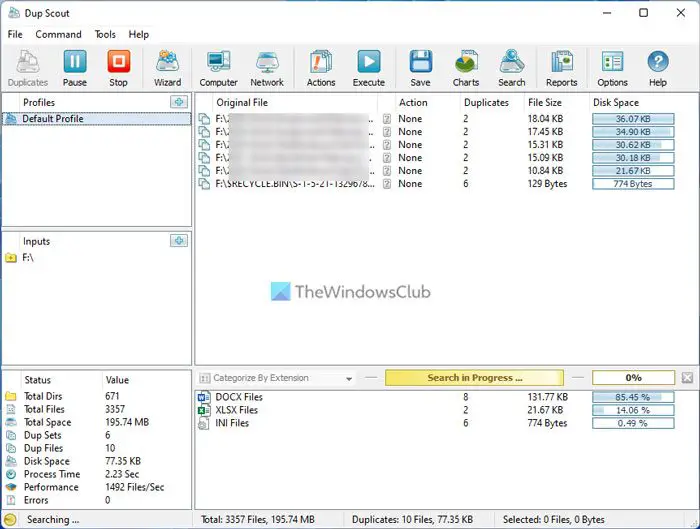 If we talk about the advanced customizations in the software, you can choose the shortcut keys for all operations, and you can choose the number of reports to be saved locally on your computer. Moreover, you can also enable options like "Request Admin Scanning Permissions' etc.
Overall the software is nicely built keeping in mind the main motive of saving disk space occupied by duplicate files. The software can easily yield you some extra disk space on your computer. But remember, you have to be very careful while deleting duplicate files – especially system files, because sometimes the same file may be placed in multiple locations. So best not to scan the Windows folder.
DupScout free download
Click here to download DupScout Free.
Want more options? Take a look at these Free Duplicate File Finder and Remover software for Windows.
How do I remove duplicate files from my hard drive for free?
There are mainly two ways to remove duplicate files from your hard drive for free. First, you can search for the file manually and remove them accordingly. Second, you can use third-party programs to find duplicate files. There are countless tools available for this purpose. For example, you can use DupScout, DoubleKiller, AllDup, etc.
What is the best duplicate file remover?
It depends on the type of file and category. For example, if you have multiple duplicate files by different names, you can use DupScout. It is an advanced duplicate file finder for Windows. However, if you have multiple files by the same name, you can take a look at other programs, such as dupeGuru, WinMerge, etc.