Glary Duplicate Cleaner is another simple yet powerful duplicate file cleaning software that can automatically find and delete duplicate files,  leaving behind more valuable free disk space. Glary Duplicate Cleaner works very intelligently and deep scans computer for more than one instances of a single file and then it presents you with the results in a very remarkable way.
Glary Duplicate Cleaner
To start with, you can scan an entire drive, multiple drives or a set of specific folders which can be chosen under the File menu. Once you've chosen the folders or drives you want to scan, hit the 'Scan' button. The scan will take some time, depending on the number of files and folders in the directory you've chosen, but I have to say Glary Duplicate Cleaner is real fast at its work.
Another promising feature of this free duplicate file finder software is the 'Scan Parameter'. Yes, you can tweak a bit of settings and customize the scan as per your requirements. By default the program scans only a handful of common formats, but you can even add more formats or delete the pre-existing ones. You can even tweak the duplicity criterion. There are three criteria which you can enable/disable, namely:
Same File Name
Same Time
Same Size
All the above criteria can enabled/disabled individually. Coming down to the Exclude list, you can maintain a list of such folders that should not be considered while scanning computer for duplicate files. An option for size filter is available, that lets you decide a minimum file size required to participate in the duplicate file scan.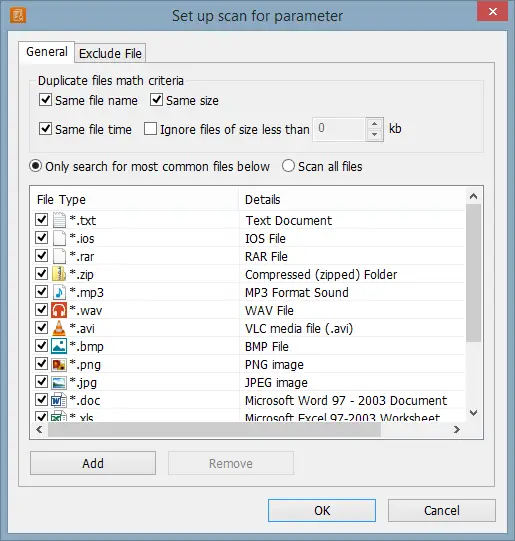 The scan results brought up are efficiently displayed and neatly categorized into different groups. You can switch to 'All File View' if you want to display all the files at once. You can even generate a Scan report for any further processes.
Glary Duplicate File Cleaner uses professional rapid scanning kernel method, to scan the files at a blazing speed. Once you've scanned a drive or a folder, it gets indexed so that the next time you scan the same folder again, not a second is wasted on scanning the files again, as they are just to be arranged – and this takes a minimal amount of time. The software is good to go and a great tool to clear disk space.
A word of caution! Do not indiscriminately use any duplicate files finder to delete duplicate files. Some are required to be present in different laces. So it is best you avoid scanning in the system files and use it only for your personal files, just to be safe.
Click here to download Glary Duplicate Cleaner.
You might want to also check out Glary Utilities – a freeware suite that lets you optimize Windows.