Tabs in File Explorer were among the new features added in Windows 11. You no longer need to use 3rd-party freeware or create a new window each time you need to open multiple folders in new tabs. the new feature lets you open tabs for various folders independently on the same Explorer window. While some users got File Explorer tabs on their computers after updating Windows 11 22H2 version, others have also reported the File Explorer Tab as missing on their Windows 11 computers.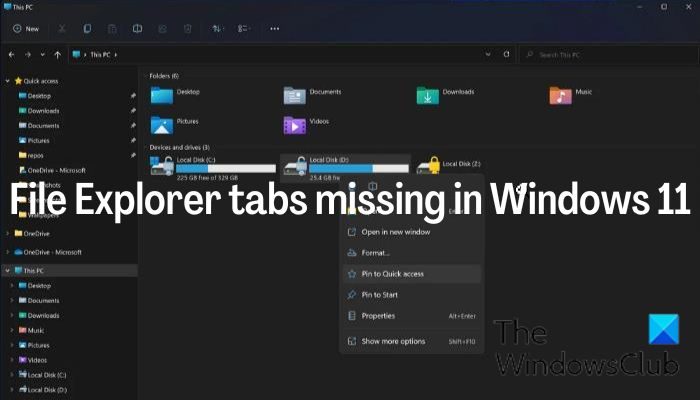 Why don't I have Tabs on my in File Explorer?
Most likely, the absence of tabs on your Windows PC is a result of either not having the most recent Windows update installed on it or the incompatibility of your system with the feature update. Sometimes, it can also be due to a problem with installing the Windows 11 22H2 version update.
Fortunately, there are fixes and workarounds you may employ to fix Windows 11's missing File Explorer tabs, and we will walk you through them in the following section of this article.
File Explorer Tabs are missing in Windows 11
If Tabs are missing in File Explorer of Windows 11 22H2 or later, here are some solutions and workarounds to help you get them to appear:
Check for and install the latest Windows Updates
Download Windows update manually
Repair or Reset Windows 11 OS
Use ViveTool on Windows 11 22H2
1] Check for and install the latest Windows Updates
As previously stated, File Explorer tabs come with the Windows 11 22H2 update; hence, if you don't have an updated version of this on your computer, you wont get the Tabs in Explorer. So the very first thing you should do if you are facing this issue is to check for and install the latest Windows Updates by following the steps below:
Press the Windows + I keys to open Settings on your computer.
Then click on Update & Security.
On the Windows Update page, you'll see if there are any available updates.
If there are, follow the prompts to install them
2] Download Windows Update manually
Sometimes, downloading Windows updates automatically through the Windows Update settings may not work. Then, it will be recommended that you manually download the Windows update by following one of the methods linked below:
3] Repair or Reset Windows 11 OS
If in spite of installing all the requisite Updates you do not see the Explorer tabs, perform Clean Boot to see if any 3rd-party process id blocking it. If it still does not help, you may need to follow one of these suggestions to repair or reset your Windows 11 system files:
4] Use ViveTool on Windows 11 22H2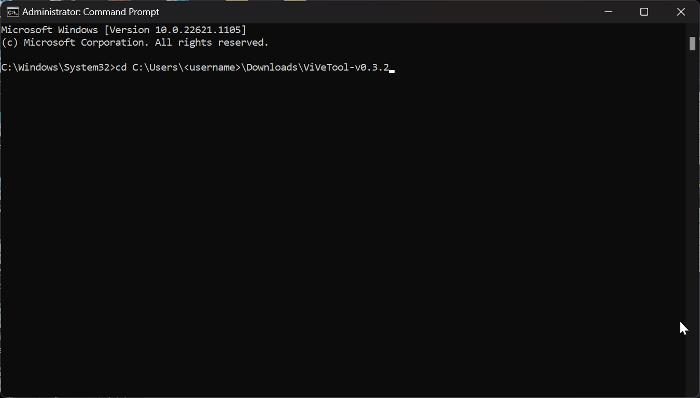 If your Windows computer is missing the File Explorer tabs feature, you can force-enable it by using a program called ViveTools. This approach can be used after you have updated Windows 11 22H2 version and the File Explorer tab is still missing. You can follow the steps below to use the ViveTool to enable File Explorer tab:
Download ViveTool ZIP file from GitHub
After the download completes, right-click the downloaded ZIP file and select Extract All.
Right-click the extracted ZIP file and select Copy as path from the resulting drop-down menu.
Now, press Windows + S to open the Search box; type cmd and select Run as administrator on the right pane of the result page
On the Command prompt window, type cd and paste the path you copied earlier by right-clicking on the Command Prompt window and hitting Enter afterward.
cd C:\Users\<username>\Downloads\ViVeTool-v0.3.2
Type the commands below one after the other and hit Enter after typing each, as you have to run them independently.

vivetool /enable /id:36354489
vivetool /enable /id:37634385
vivetool /enable /id:39145991

After successfully running each of these commands, the File Explorer tab should be restored on your computer.
However, you can also disable the File Explorer tab feature by running the commands below one by one.

vivetool /disable /id:36354489
vivetool /disable /id:37634385
vivetool /disable /id:39145991
You can restart your PC afterward to allow the changes to take full effect.
Does Windows 11 File Explorer have tabs?
There are no tabs in Windows File Explorer on the first iterations of Windows 11. To use this function, you must install the Windows Update with the KB update name KB5019509 on your computer because it has now been added to the Windows 11 22H2 edition.
Can I disable the File Explorer tabs in Windows 11?
Yes, you can use the ViveTool program to disable the File Explorer tab feature on your computer.